We are honored to have one of our master bath renovations featured on Houzz. and considered "one of their favorite tubs with incredible views". Houzz is committed to showcasing the world's most interesting homes of all sizes and styles. &In this case, they have highlighted a series of innovative, colorful or personality-filled master baths with freestanding tubs and noteworthy views.
Here's the complete Houzz article:
The bathtub tops the list for many people when it comes to ideal locations to unwind in after a long day. Add a breathtaking view and you might never want to leave. Here's a collection of some of our favorite tubs with incredible views. Which would you like to sink into?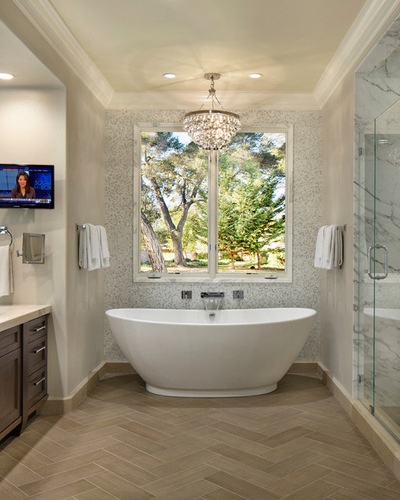 1. This London bathroom, created by Paul Archer Design features a classic claw-foot tub under a round window.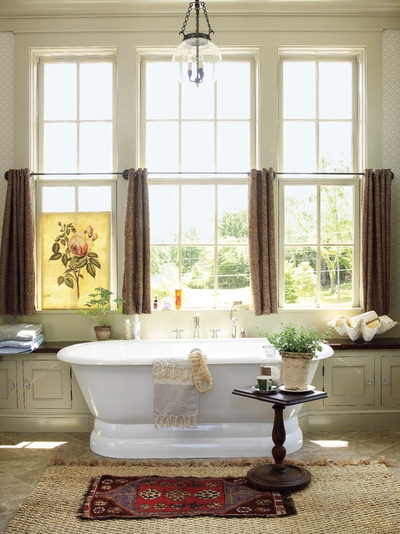 2. An oiled-bronze pendant light and a stylish accent table help to integrate the modern bathtub into this Atlanta country home.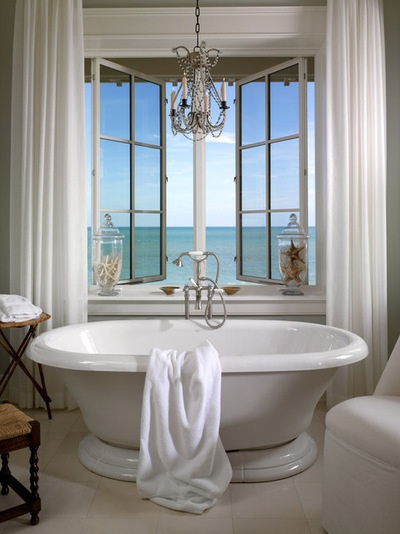 3. Outlooks to the ocean and glass jars full of starfish create a dreamy master bathroom in Florida, designed by Jill Shevlin.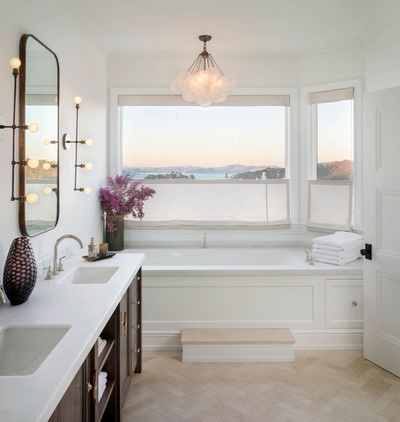 4. Skinny sconces and a ceiling light above the tub add drama to this master bathroom in San Francisco, created by Sutro Architects.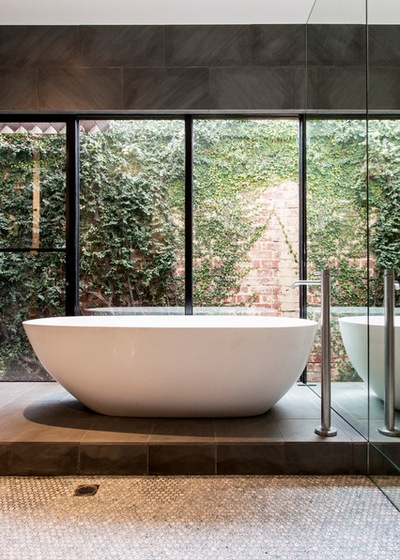 5. A brick wall covered in ivy creates a stylish backdrop for this modern bathroom in Melbourne, Australia.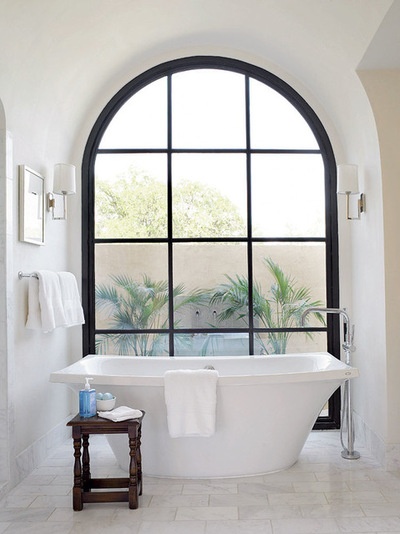 6. A courtyard with a fountain provides a lovely outlook through the arched casement window of this Austin, Texas, bathroom designed by Marcus Mohon Interiors.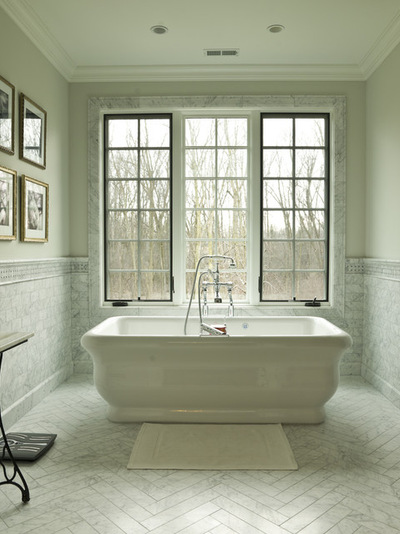 7. This traditional bathroom with a woodsy outlook in a Chicago suburb features a modern tub and Carrara marble tiles.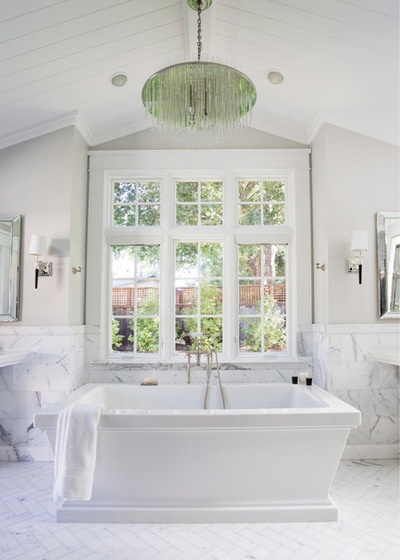 8. This bathtub by Michael S. Smith is stunning under a sculptural chandler in a room clad in Carrara marble.houz
9. Designer anya Schoenroth placed a cube tub in front of a corner window so bathers could take in the Vancouver views.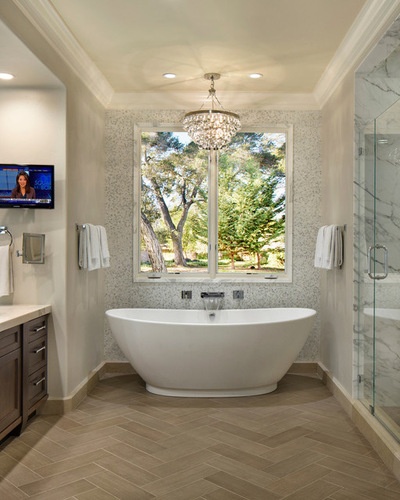 10. TRG Architects designed a mosaic tile window wall for this San Francisco bathroom with a leafy outlook.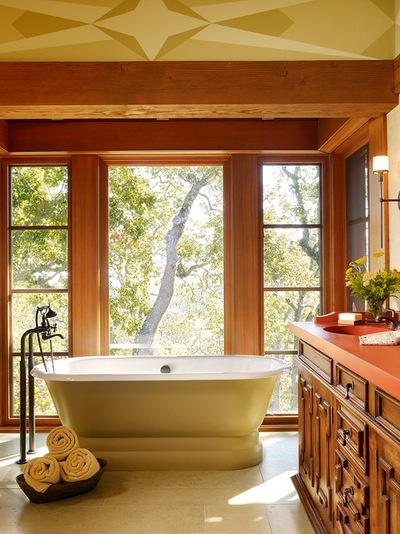 11. This woodsy retreat in Carmel Valley, California, created by Scavullo Design Interiors, has a painted bathtub with a treetop outlook.
12. The Victorian-inspired bathtub and reclaimed-wood floors in this historically renovated home create a cozy yet chic vibe.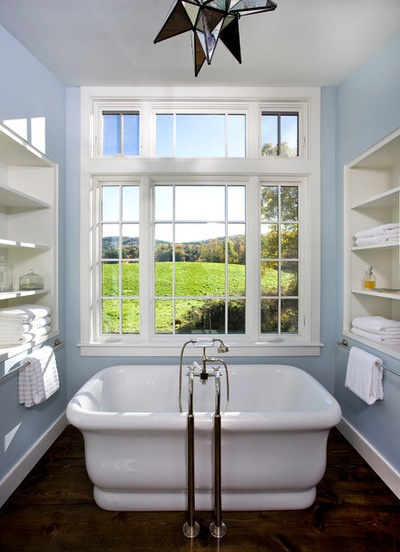 13. Architect James Dixon added built-in shelves to both sides of this bathtub in rural Massachusetts, to provide easy-access storage for bathers.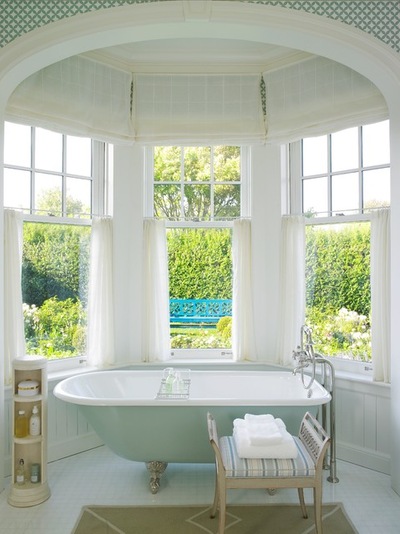 14. A Southampton, New York, garden provides a lovely backdrop for this bathroom designed by Anthony Baratta.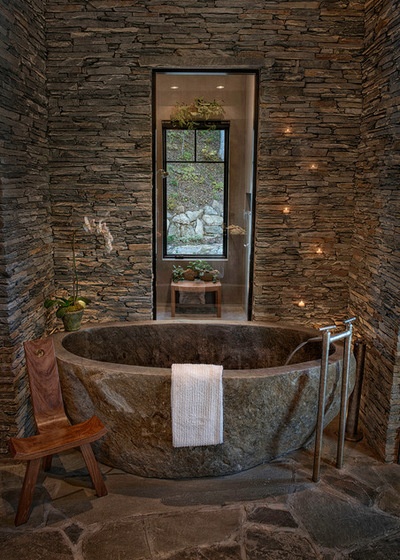 15. Welcome to the stone age. This rustic master bathroom created by In Site Designs has stone walls, stone floors and a deep stone soaking tub.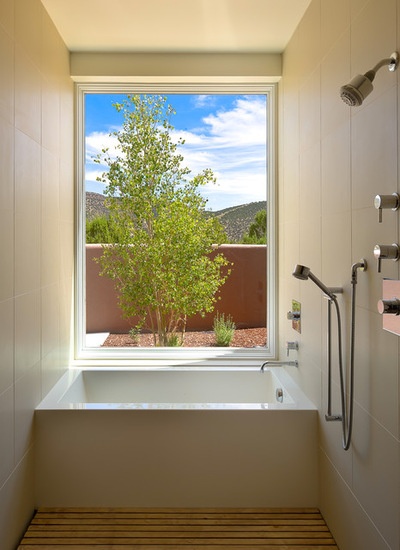 16. This narrow bathroom in Albuquerque, New Mexico, created by trell Design, includes a cube tub underneath a window providing desert views.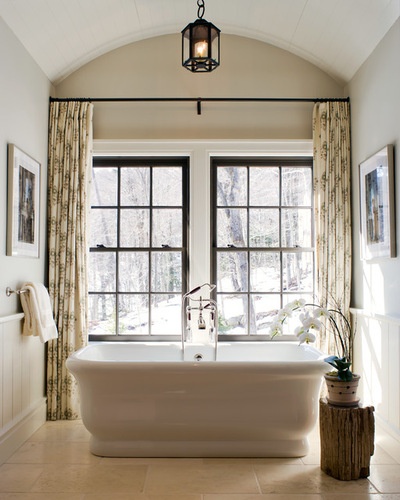 17. This lovely master bathroom designed by architect Mark P. Finlay includes a tub in front of two casement windows with a snowy view.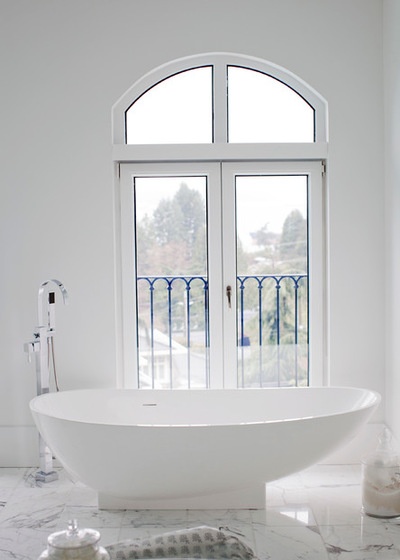 18. This all-white bathroom in Vancouver gets a pop of color from the blue terrace railing on the other side of the French doors.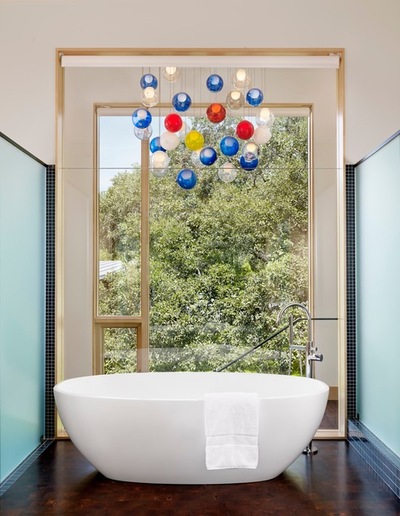 19. Colorful pendant lights from Bocci provide a whimsical focal point above the tub in this Austin, Texas, bathroom designed Lake Flato Architects.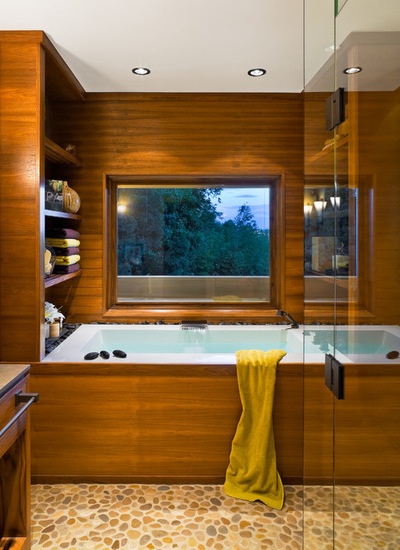 20. This hillside bathroom in Santa Barbara, California, features a classic soaking tub made from reclaimed antique Balinese wood.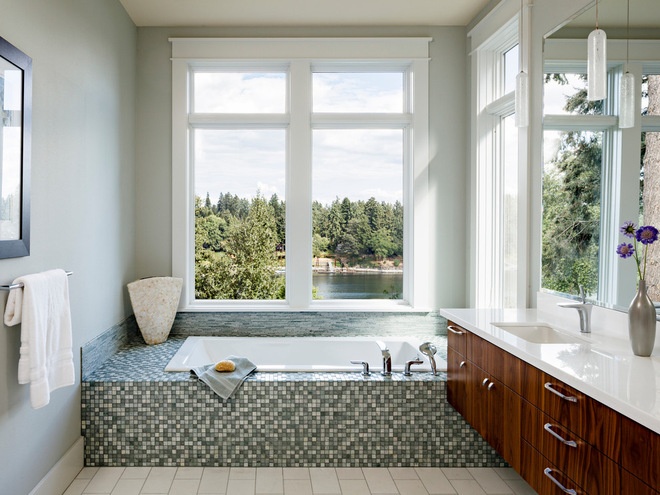 22. This master bathroom with lakeside views in Oregon was designed by Jenni Leasia. It features a tub with a glass mosaic surround.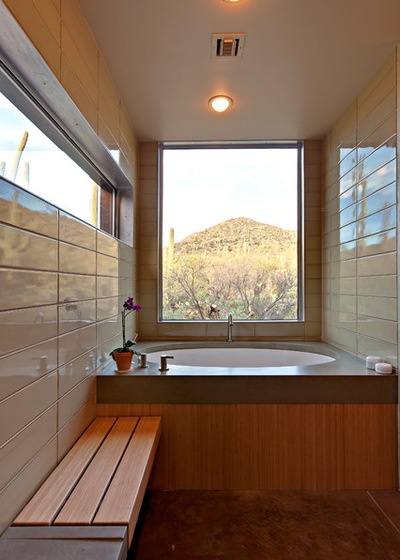 23. A hill covered with cactuses provides an intriguing window vista in this contemporary bathroom in Phoenix created by Taylor design + Build.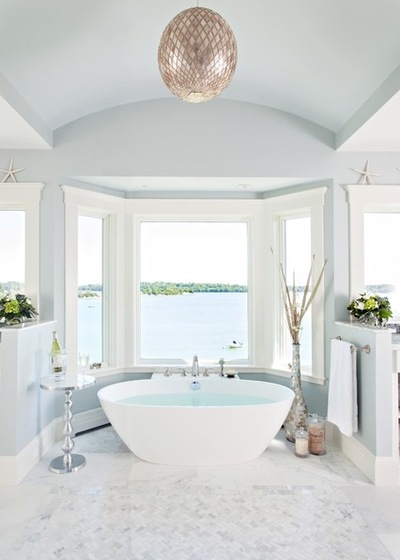 24. The aluminum accent table holding a bottle of bubbly is the perfect fit for this luxurious bathroom with watery views.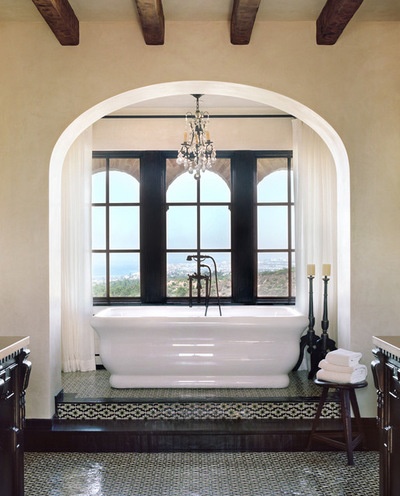 25. The mosaic tile floors and beamed ceiling create a glamorous bathroom with breathtaking vistas. The space was designed by Pal + Smith.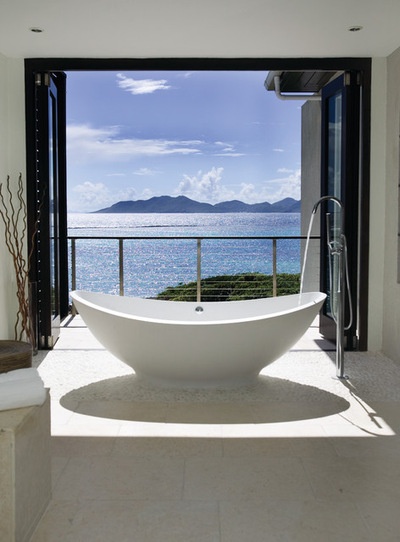 26. Opening up to a terrace featuring stunning Caribbean views, this bathroom designed by architect Lee H. Skolnick is a keeper.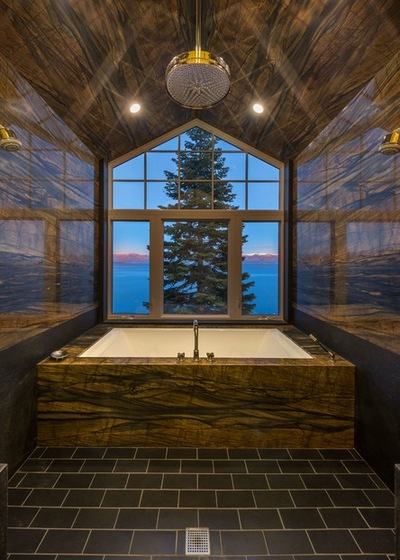 27. Welling Constructions says the black fired-granite slabs provide a visual anchor for this clean-lined bathroom in Lake Tahoe.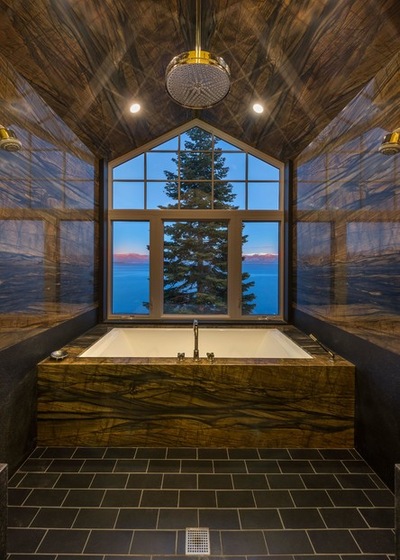 28. The arched window nook was an ideal spot for designer Mark Ashby to place this bathtub, which has shelves on both sides and a woodsy outlook.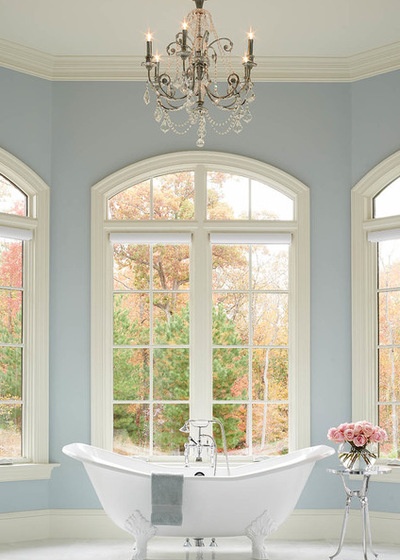 29. The autumn colors are vivid through the arched windows of this Raleigh, North Carolina, bathroom, which features a chandelier and a claw-foot tub.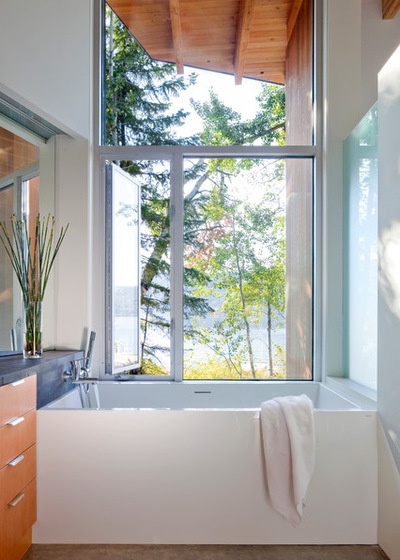 30. A wood roof overhang helps to frame the view from this modern bathroom created by splyce design for a Vancouver home.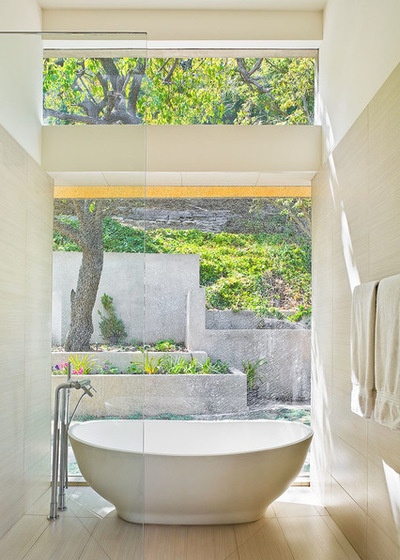 31. A wall of glass and a well-manicured backyard make this bathroom designed by Shubin + Donaldson Architects a great place to hang out for a while.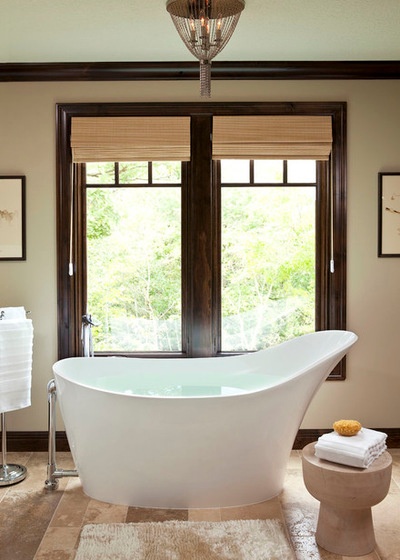 32. The espresso-stained wood window frame provides a nice contrast to the sleek white tub in this Minneapolis bathroom designed by Martha O'Hara Interiors.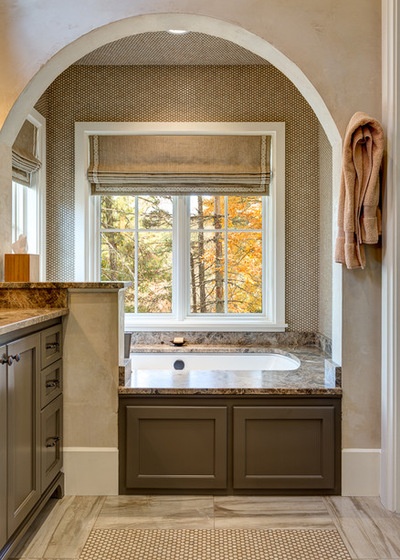 33. The brown and gold tones of this bathroom complement the autumn foliage outside the windows of this home in the Blue Ridge Mountains.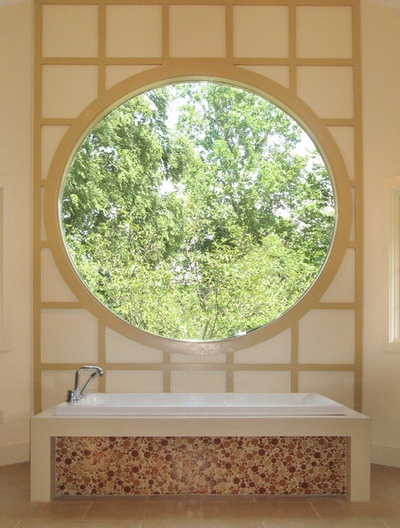 34. The circular shapes of the pebble tiles on the tub surround complement the circular window above it in this Connecticut bathroom.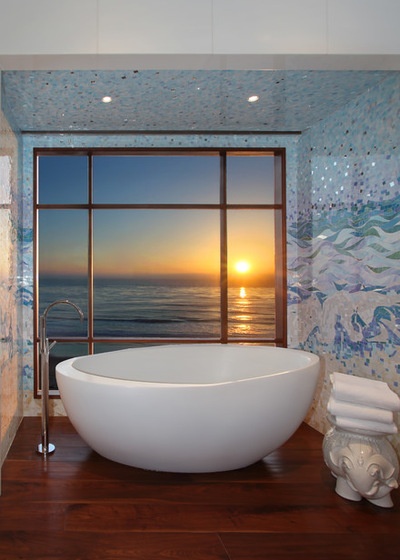 35. The mosaic tile walls mimic the watery view from this bathroom along Strand Beach in Southern California.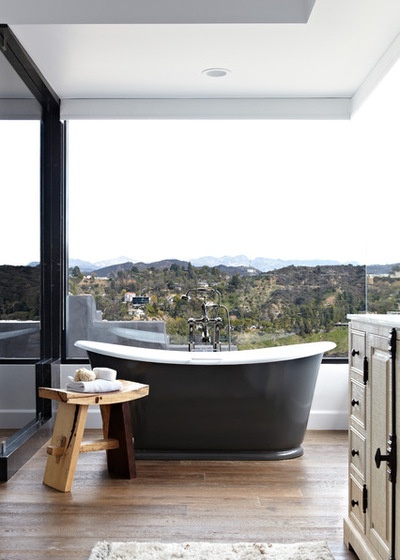 36. This free-standing oval cast iron bathtubis a great place to relax and take in the dramatic views of the Hollywood Hills in California.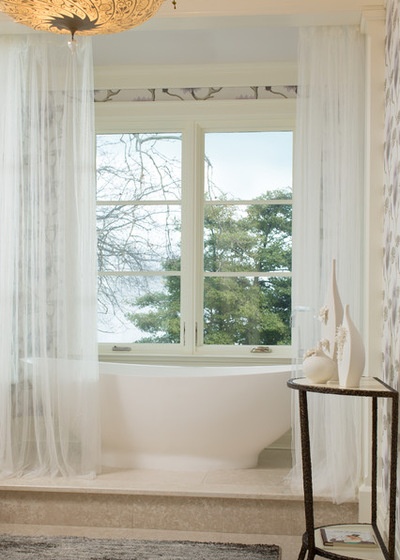 37. A single step up to the bathtub and a gauzy curtain provide a private space for lingering and taking in the woodsy Maryland views.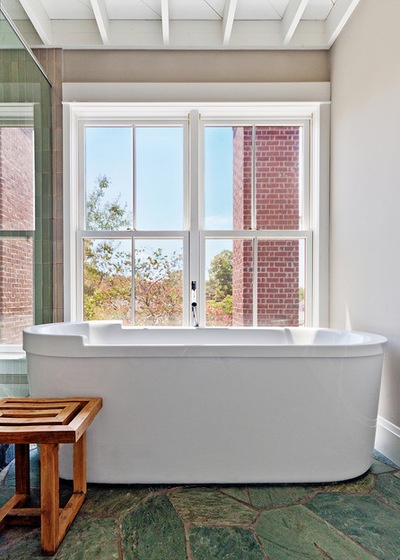 38. The sleek Stark bathtub from Duravit is a great fit for this master bathroom in Dallas.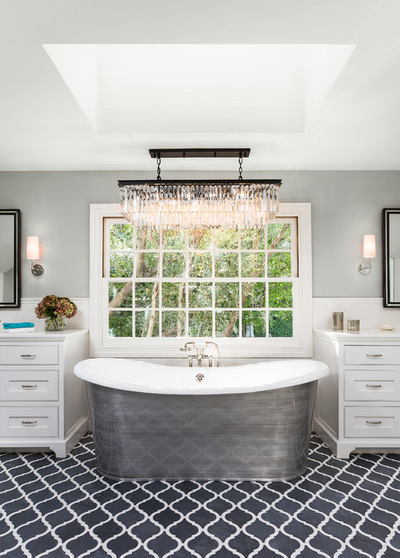 39. Moroccan-inspired flooring and a crystal chandelier from Restoration Hardware add drama to this Los Angeles bathroom designed by Robert Frank.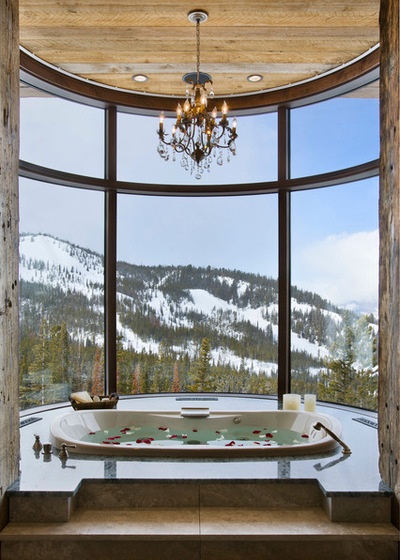 40. This rustic bathroom designed by Locati Architects is sure to give bathers a Rocky Mountain high. The floating rose petals in the tub are also a nice touch.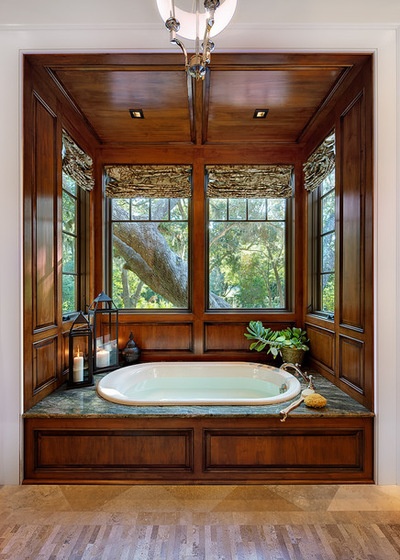 41. Custom wood paneling on the walls, ceiling and tub surround creates a grand space for taking a bath in Charleston, South Carolina.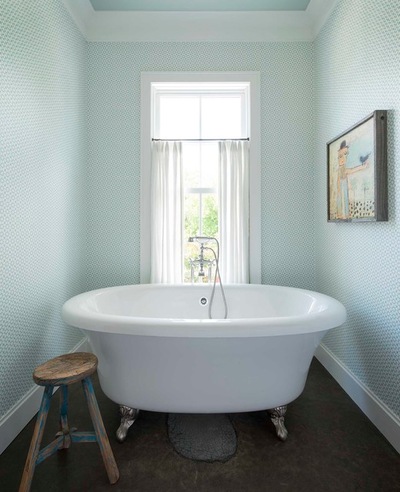 42. Stylish wallpaper, a blue ceiling and a rustic paint-splattered stool add up to a well-curated bathroom, designed by M. Barnes & Co.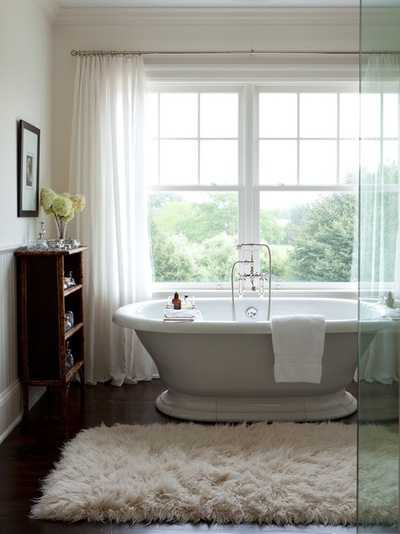 43. A faux-fur rug and an antique cabinet are among the many highlights of this serene bathroom in the Hamptons, New York, designed by Alice Black Interiors.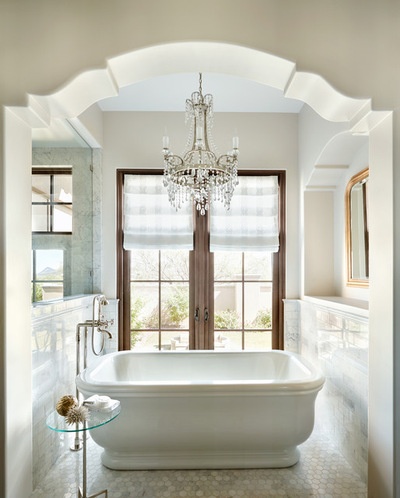 44. A dripping chandelier, intricate walls and stained wood French doors create an elegant bathroom in Phoenix.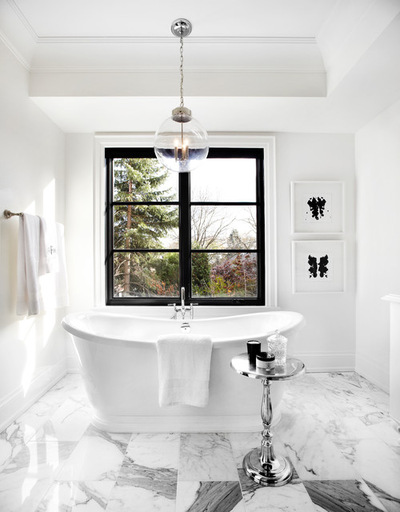 45. The designer of this master bathroom in Toronto had fun mixing black and white elements, such as the marble flooring, artwork, window frame and crisp walls.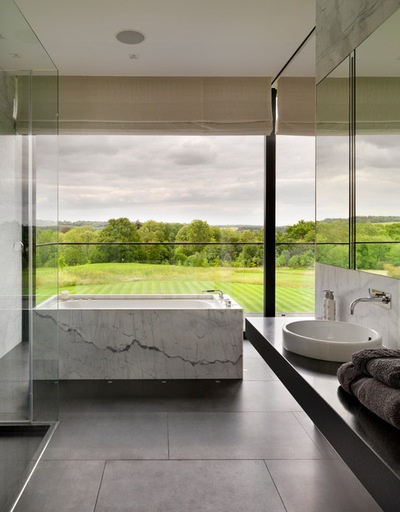 46. This stunning modern bathroom designed by architect Gregory Phillips features floor-to-ceiling windows and impressive views of the English countryside.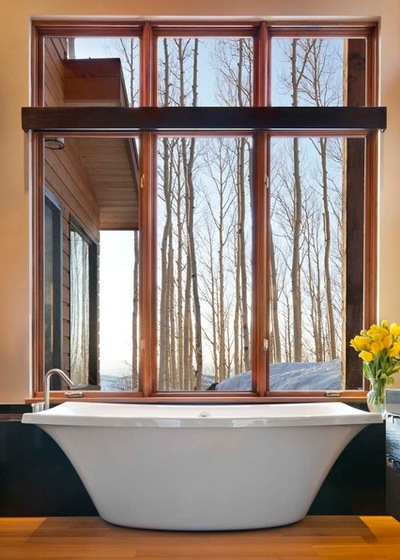 47. The Kohler Escale free-standing tub in front of a tall window provides breathtaking views of the surrounding Aspen, Colorado, forest.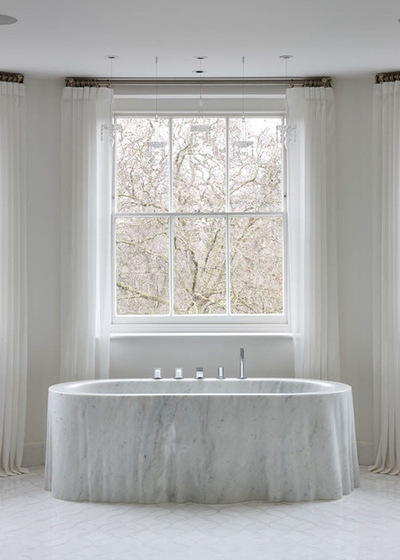 48. This dramatic marble bathtub in London appears to flow down to the floor in a similar manner to the floor-to-ceiling drapes behind it.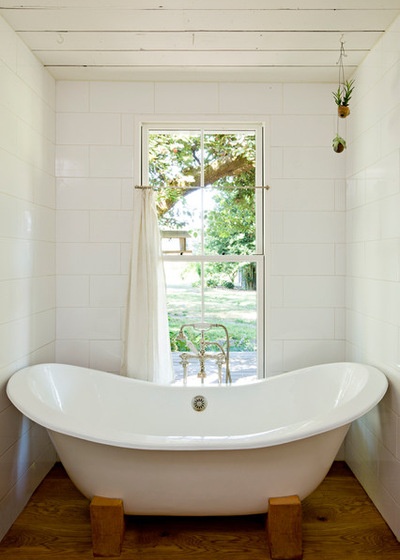 49. The white clapboard ceiling and chunky wood stand for the bathtub create a cottage-y look for this Portland, Oregon, bathroom.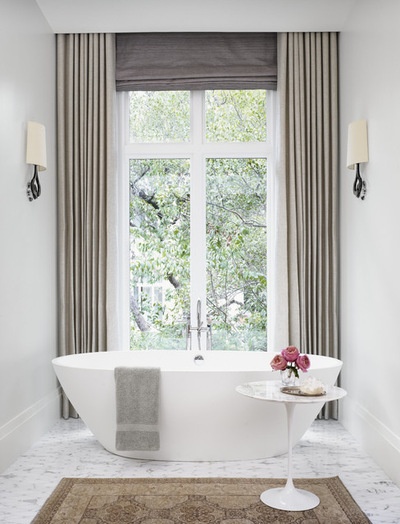 50. Recessed floor-to-ceiling drapes provide an elegant window border for this Austin, Texas, bathroom with a leafy outlook.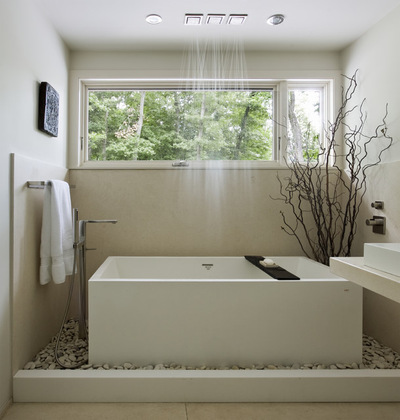 51. In this contemporary bathroom in Massachusetts, bathers can stand up in the tub to take in the views or to rinse off under the rain shower built into the ceiling.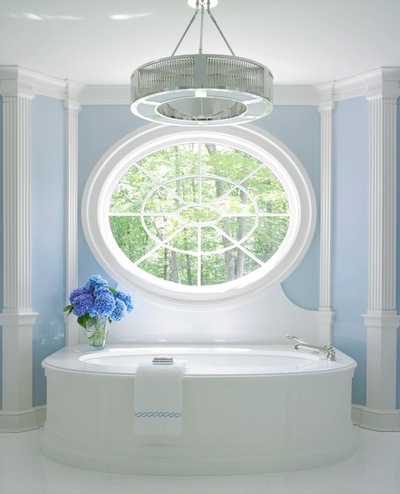 52. The shape of the pendant light mimics that of the window above the free-standing tub in this beach-style home in New York.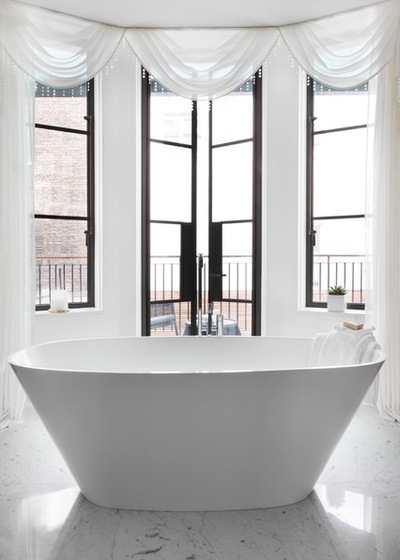 53. French doors leading to a corner balcony make for a stylish backdrop in this London bathroom designed by Oliver Burns.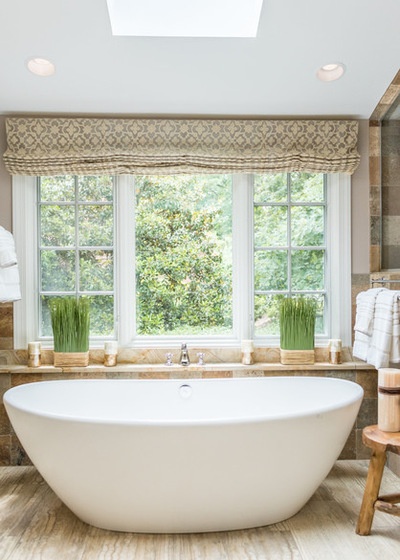 54. From the marble flooring to the skylight, this well-designed master bathroom provides a sumptuous spot for taking in the leafy view.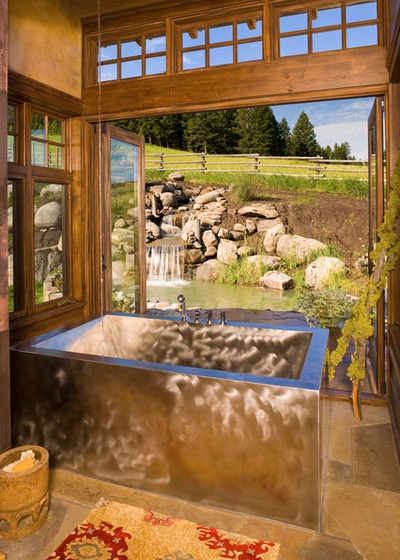 55. This stainless steel tub reflects natural light and provides a top-notch view of the surrounding pastoral charms. The space was designed by Locati Architects.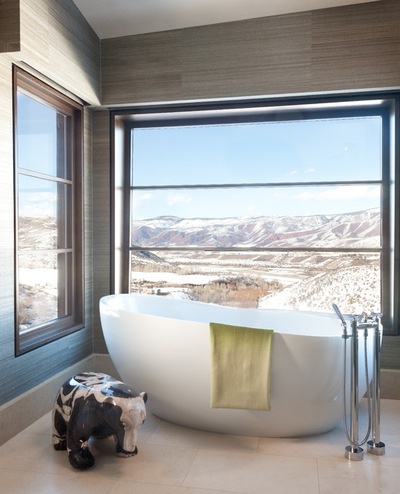 56. This modern bathroom in Aspen, Colorado, was created by Griffin Interior Design and includes a corner window with stunning Rocky Mountain views.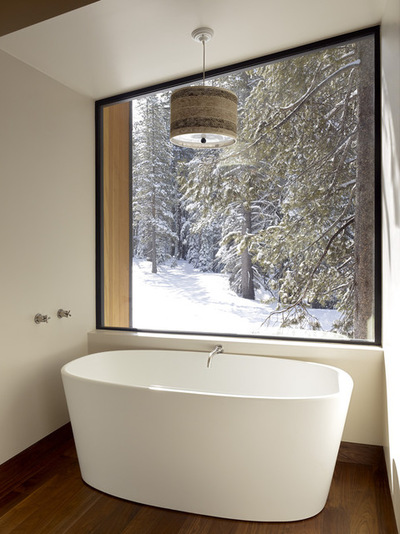 57. A drum pendant light helps to draw the eye to the snowy Lake Tahoe view in this bathroom created by John Maniscalco Architecture.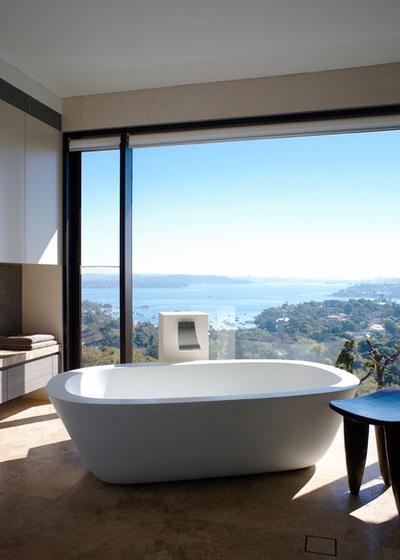 58. A master bedroom's spacious en suite bathroom created by New Mood Design features a dramatic soaker tub centered on an aggregate tile floor with a matte finish.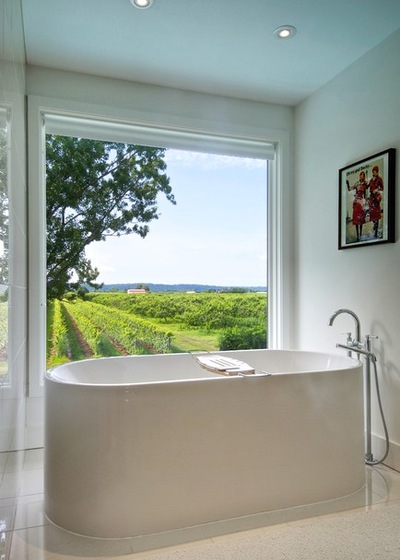 59. Leung Architects placed an Acanthus free-standing tub in front of a picture window to create a stunning perch up high in Sydney.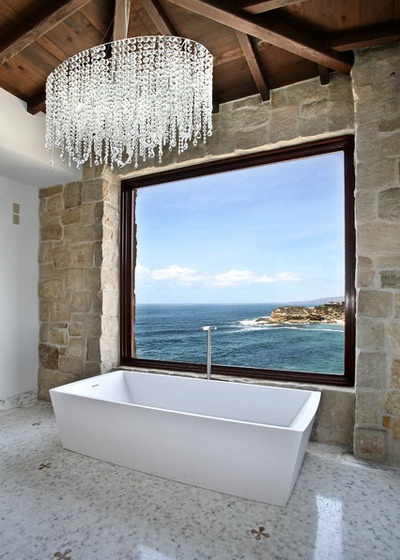 60. In a home along the Niagara Vineyards in Canada, this sleek soaking tub provides an ideal spot for taking in the romantic views.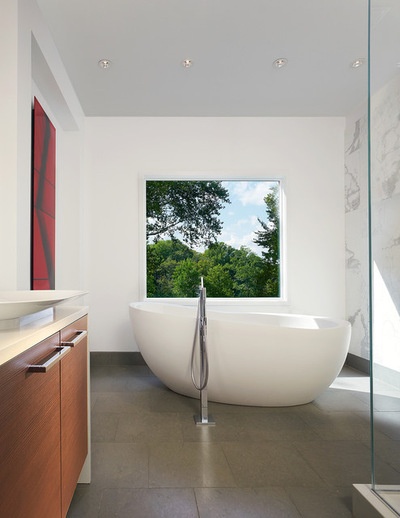 61. Stone walls and antique marble on the floor create a Mediterranean-style bathroom in this New York waterfront home.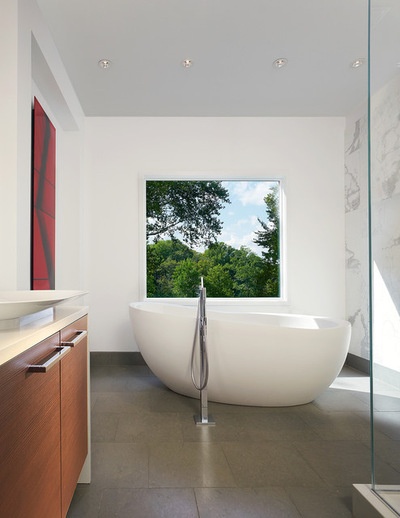 62. This modern bathroom near Washington, D.C., features a perfectly square window and a free-standing tub placed on an angle.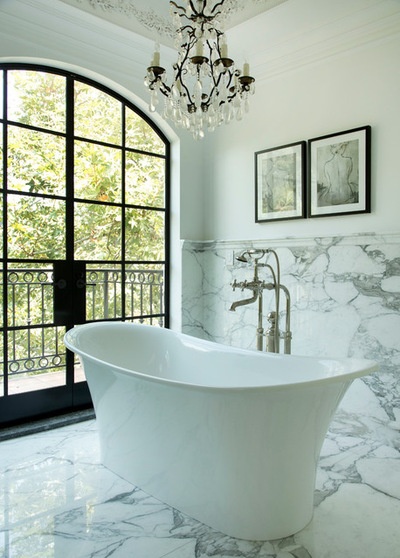 63. This elegant master bathroom in Los Angeles has all the hallmarks of European luxury: a free-standing tub, marble floors and a French door leading to a terrace.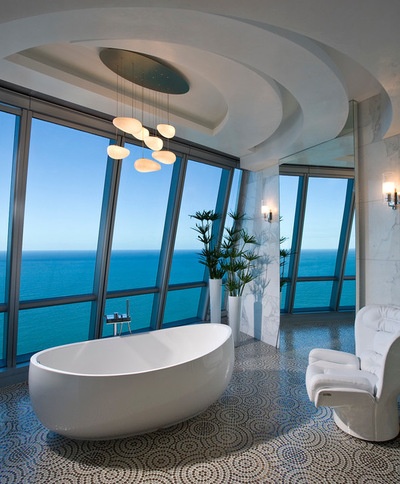 64. This contemporary bathroom in Miami is sleek and stylish and has a wall of windows providing endless Atlantic Ocean views.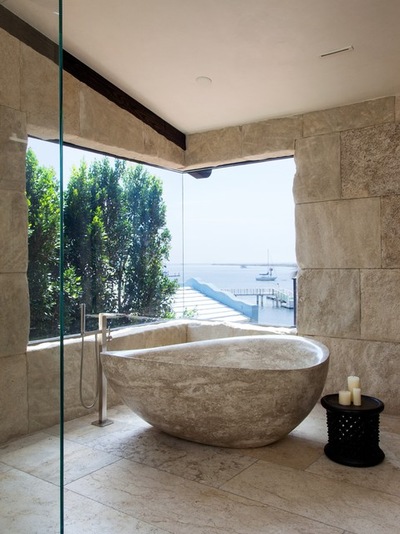 65. This bathroom with a watery outlook in Corona del Mar, California, includes a custom carved limestone tub and antique Maltese stone flooring.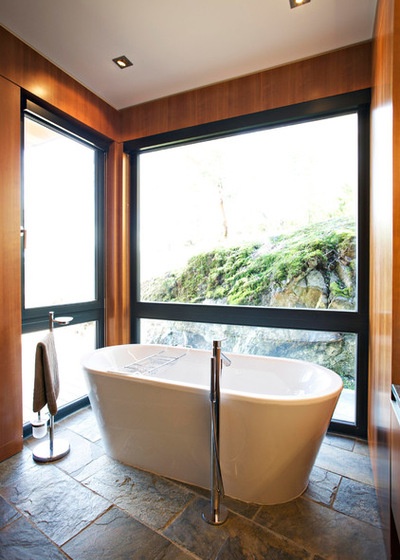 66. The slate tile floors inside this master bathroom in Canada connect to the moss-covered rocky outcrops viewed through the corner window.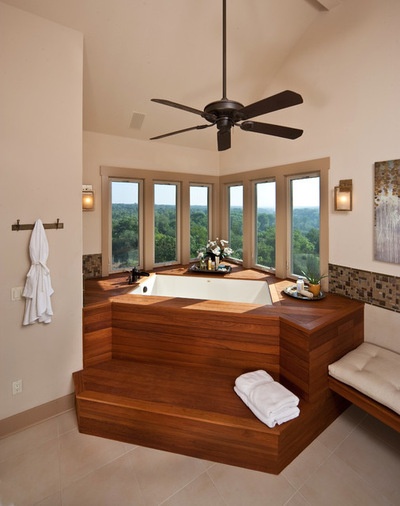 67. A stained wood platform with an inset tub takes bathers right up to the corner window in this master bathroom with treetop views.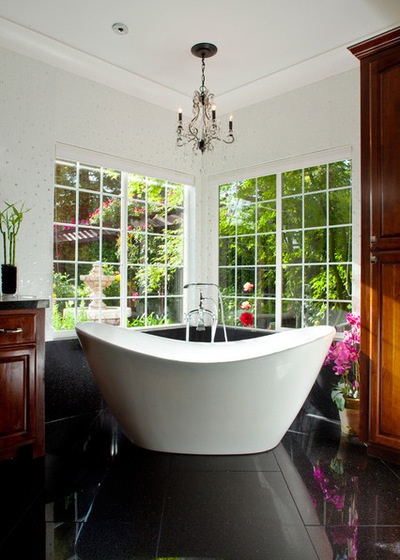 68. A white tub in front of a corner window boldly contrasts the black granite floors in this Atlanta bathroom.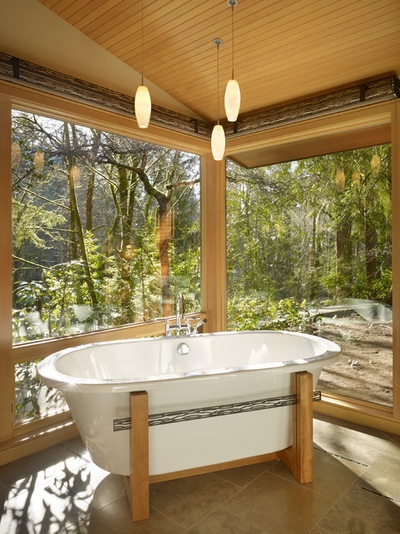 69. Finne Architects created a custom water-jet-cut stand for this bathtub in front of a corner window, in a home outside Seattle.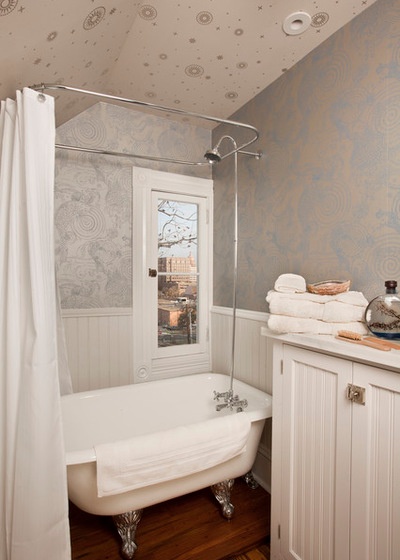 70. A sliver of a window in this master bathroom in an 1899 Queen Anne home in Austin, Texas, provides a view from the claw-foot tub.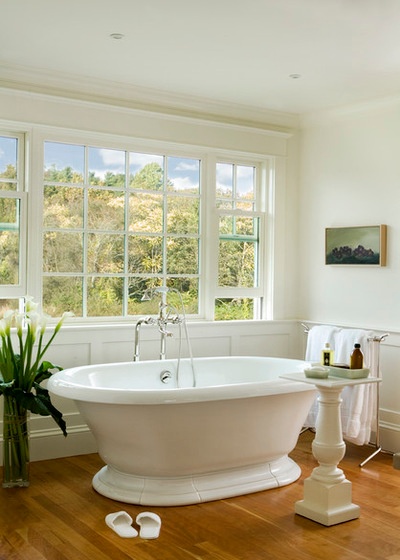 71. This serene traditional bathroom in Providence, Rhode Island, features a Kohler bathtub.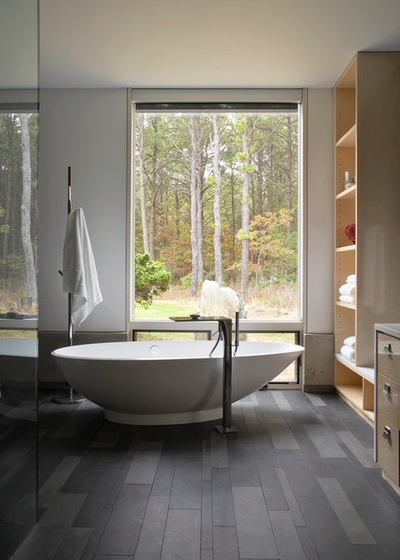 72. Architect Maziar Behrooz used sleek black porcelain tiles for the floor of this stunning modern bathroom in New York.