Kitchen designs with islands have risen in popularity in the last few years, and have become somewhat of a standard component of kitchen design. Both stylish and functional, they promise to be the heart of your kitchen, and are well worth the investment.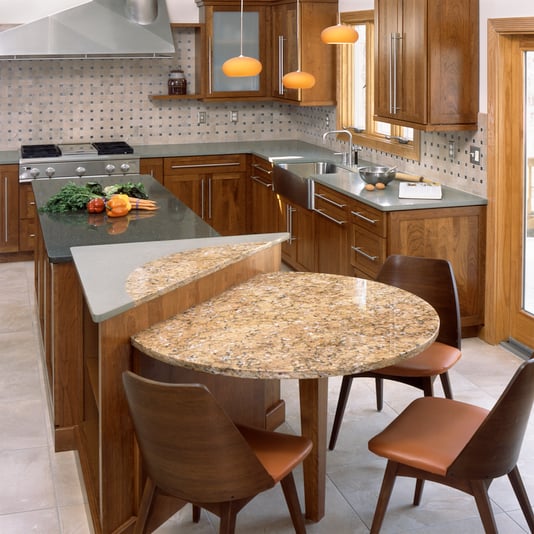 We all know, that, no matter what, everyone inevitably gathers in the kitchen – because the kitchen is the heart of the home. Adding an island serves many purposes and increases the usability of your space. Best of all, it looks great doing so!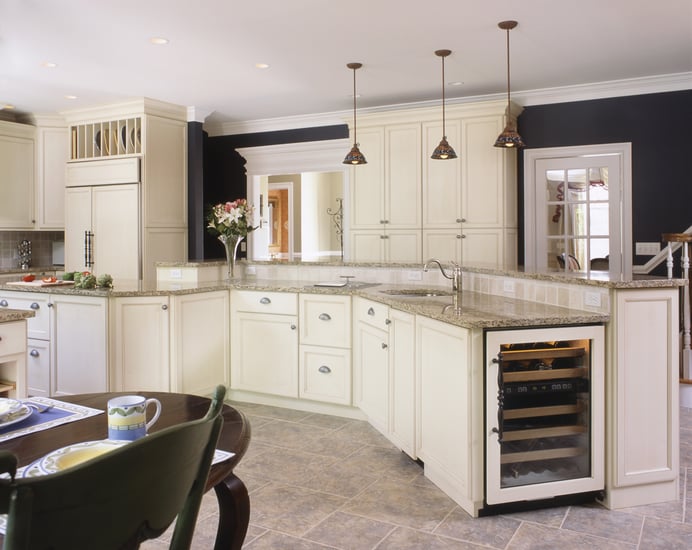 If you're looking to take the plunge, here are some reasons why choosing to add a kitchen island is a decision that you won't regret. You're in for a treat!
1. Create a gathering place with casual seating.
Having access to your family or guests is always an advantage while cooking and preparing meals. The addition of barstools or raised chairs at your kitchen island creates a comfortable space for people to gather, talk, eat, and relax, while keeping them away for your workstation.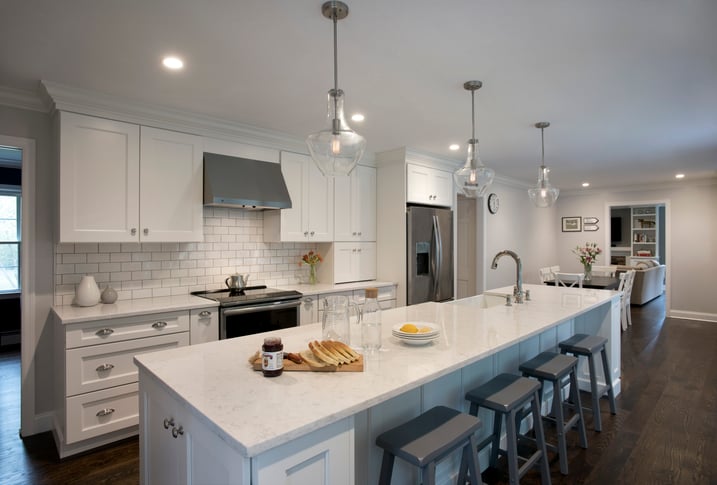 Whether your island can seat 2 or 6, it's always a plus to be able to accommodate more people.
Tuck-a-way seating on the island is perfect to create an informal dining area, a homework station, or a place for people to relax and interact with you while you're in the kitchen.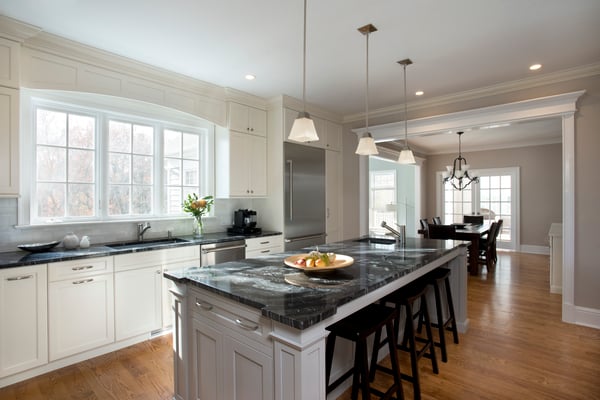 Even if your kitchen is small, a counter extension into the adjacent room can act as an island. This can serve as an informal dining area for the kids and a quiet homework spot. Whether they are just hanging out or they pitch in to help make dinner, it's a great place for kids to feel part of the action and be in close eye view.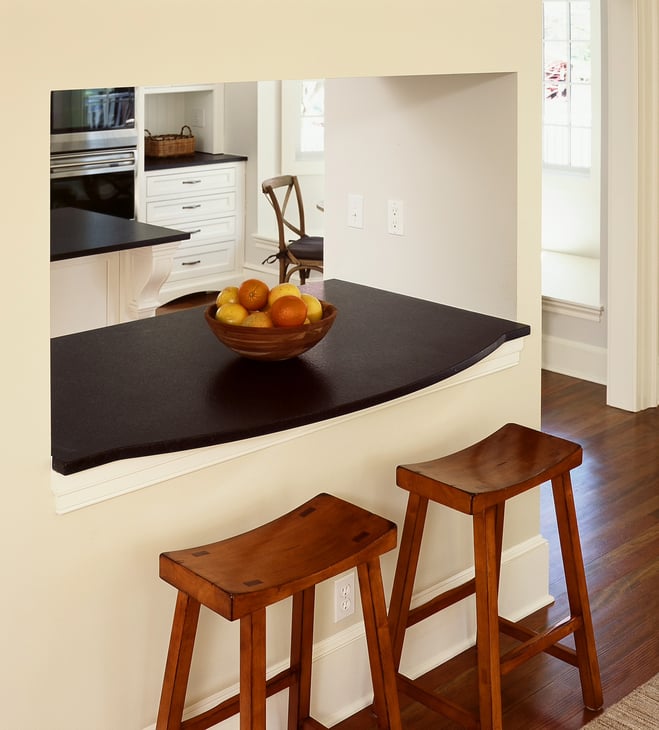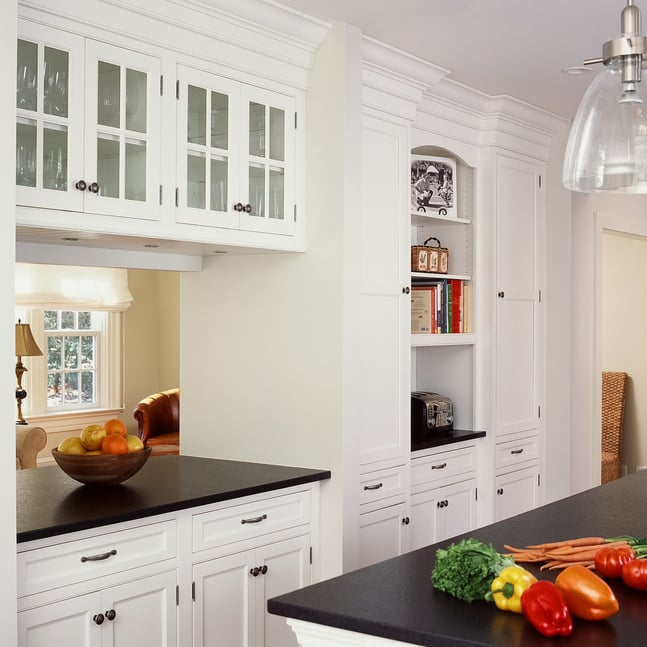 2. Get more prep and cooking space.
One of the most common reasons people choose to add an island is that it creates more surface space for them to cook and prep on. This can be highly valuable, especially if you have a smaller kitchen.
A generous kitchen island is ideal for entertaining , especially during the holidays. In addition to providing much needed extra workspace for food prep for a crowd, it's a central spot with room to serve appetizers, with extra seating for your guests.
Kitchen islands don't just have to be for prep or eating. With a sleek cooktop and a range hood they become the main hub of cooking and entertaining! Consider an induction cooktop to reduce the risk of getting burned.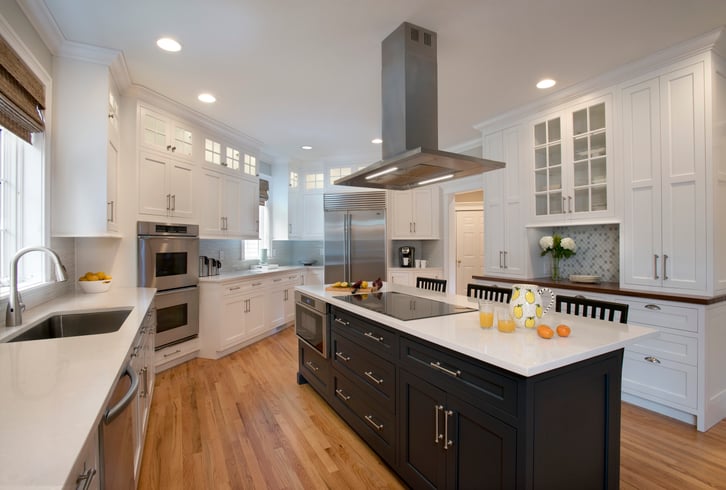 3. It's a place to express yourself.
A kitchen island is often the visual highlight of a kitchen. It provides an opportunity to do something different and exciting, whether it's a bold color you love, a custom color you can't live without, or an interesting countertop. Choose a different color than your perimeter cabinets for a flash of excitement. Or keep the cabinet color homogenous but go wild on the island counter.
It's a great place to use a slab that has a lot of movement in the veining, adding a level of texture and interest. Consider exotic woods, beautiful solid surfaces, stained concrete, butcher block, and granite. The material options for island countertops are endless.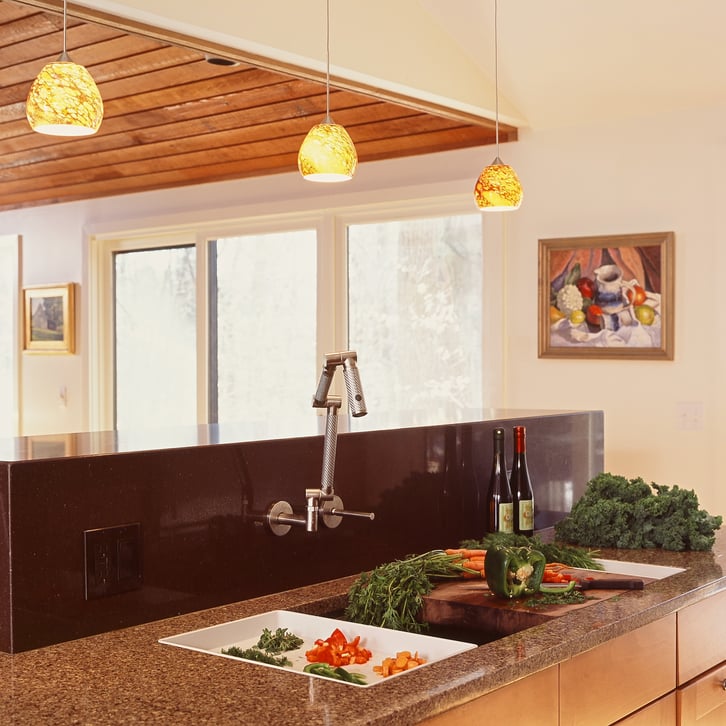 Whether you are using your island for utilitarian purposes and just want it to blend in, or you want the island to be the show stopper of the kitchen, there are combinations of colors and textures that will make your island "sing" to you.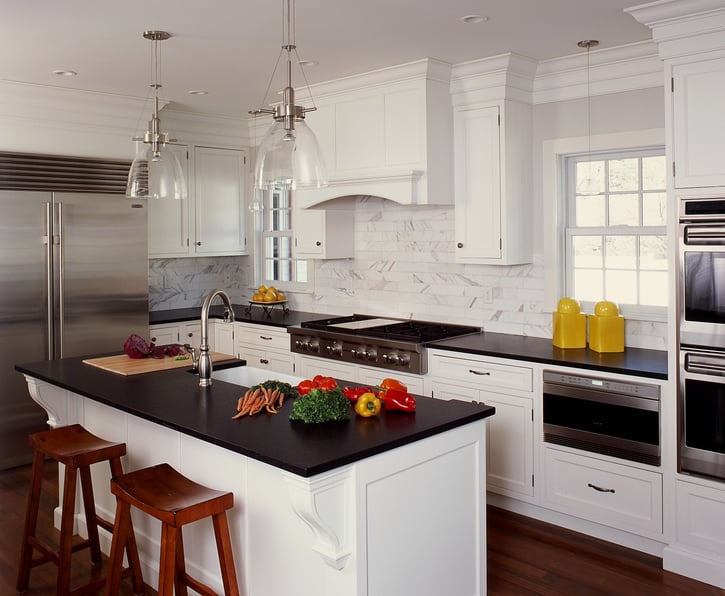 4. Perfect for Storage and Amenities
Having an island expands counter space to work on while providing many storage opportunities. Having this extra storage in a convenient location can help you better organize your kitchen and allows your kitchen to work better for you. Perhaps you want pegged drawers for dishes, or extra recyclable units? Custom storage drawers provide a convenient space for oils, kitchen tools and anything you need while cooking, allowing chefs to be more efficient and productive. The back of an island is a perfect spot for off season storage, "to-go bottles, or items you only use occasionally.
An island is also perfect for additional amenities you might have always wanted, but never had room for. Top choices of our clients are microwave drawers and wine fridges. Wouldn't you love an extra dishwasher, when you have a party or a food warming drawer for food to accommodate late stragglers for dinner?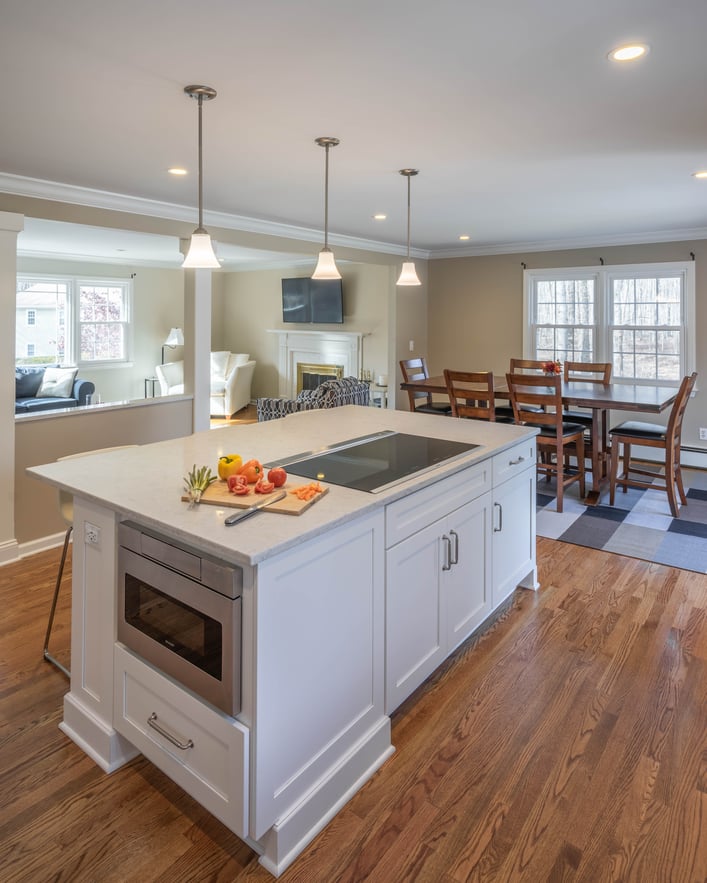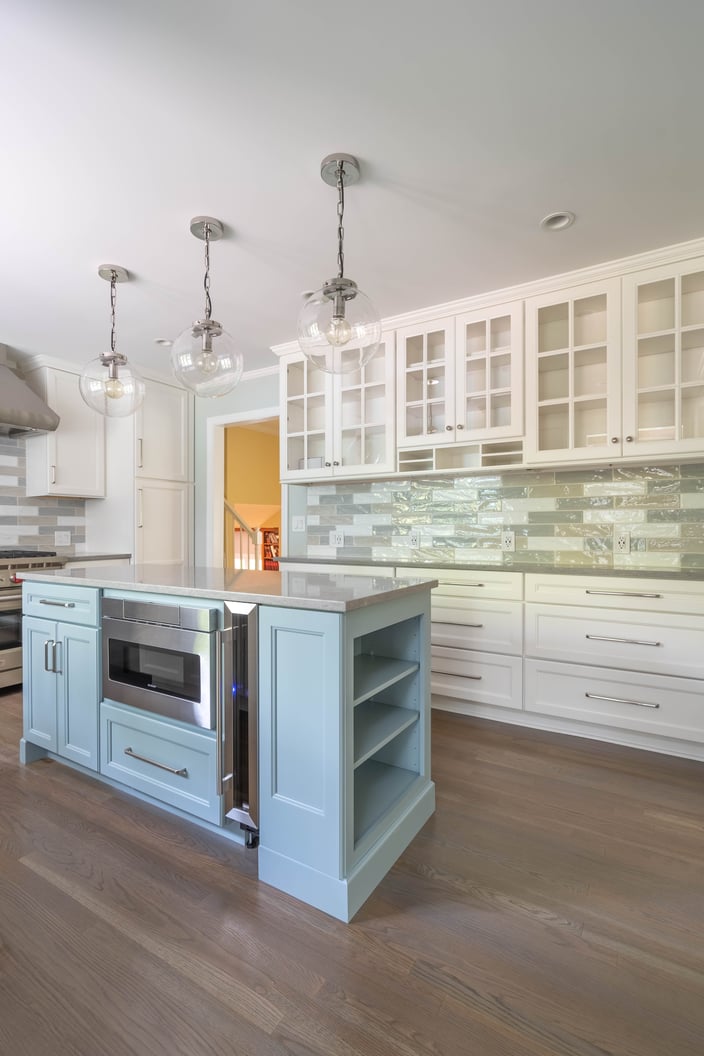 5. Opening up the space to an adjacent room.
Kitchen islands create a physical room divide, spanning two rooms, opening up, and bringing light in, without making a space that's too big and too open. It can balance and soften the transition, integrating two rooms in a way that makes both of them work better together in a way they could not do on their own.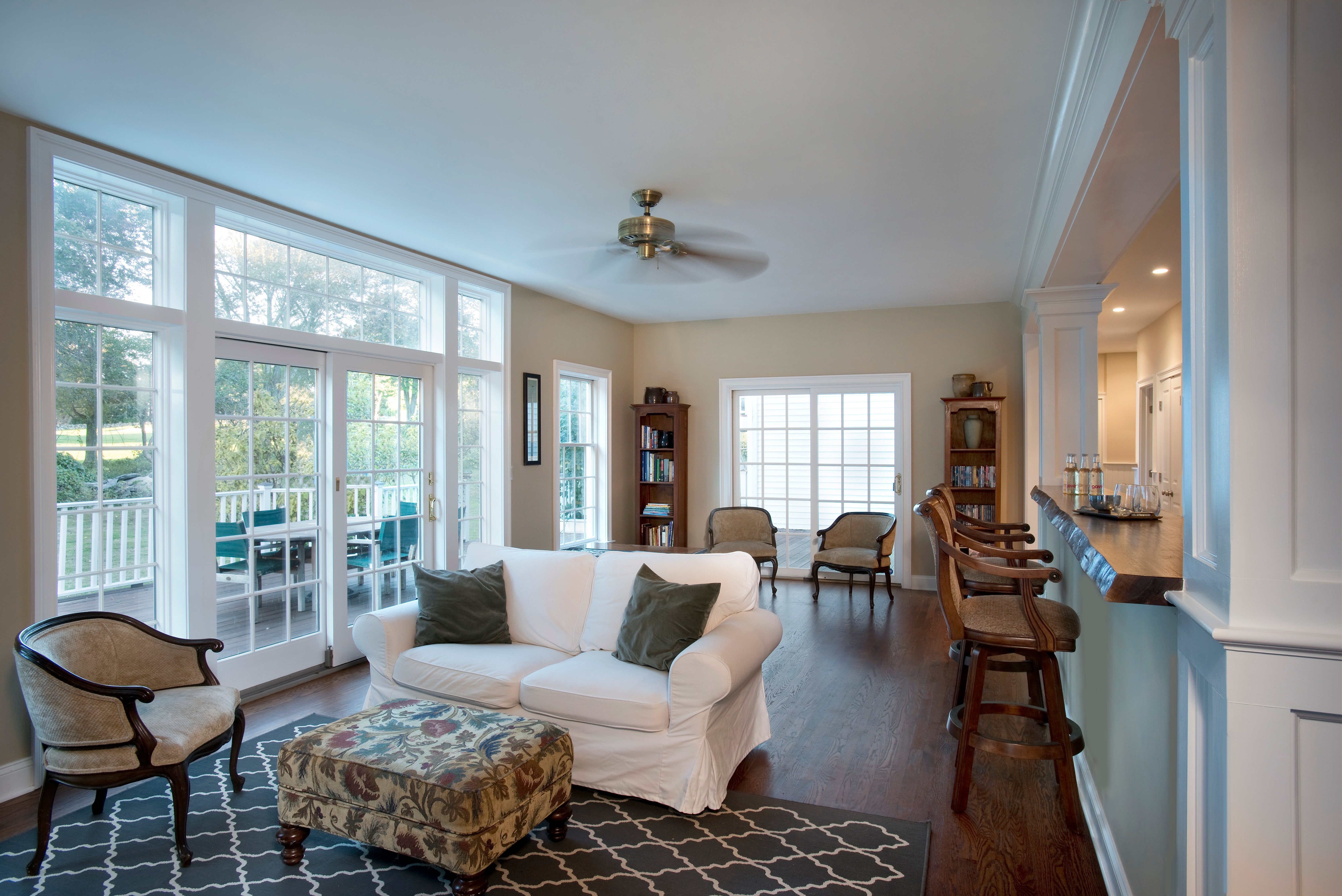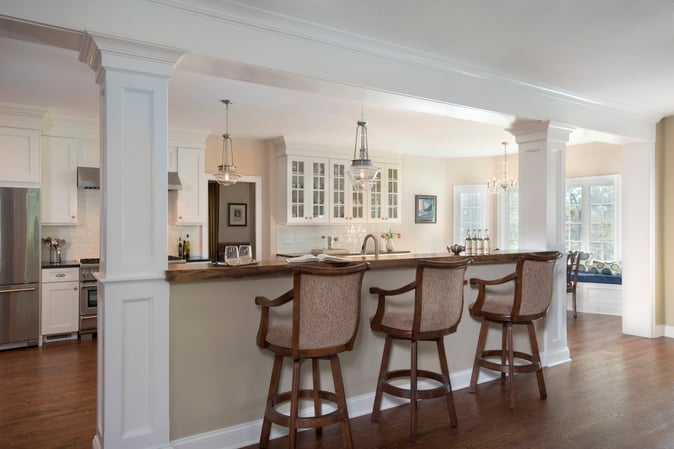 Conclusion:
A well-thought out kitchen design with an island will make your home come to life. We hope that the kitchen island ideas that we have shared spark inspiration for your next kitchen remodeling project. Let us know if we can be of assistance in designing yours!