An important part of the Clark Construction process has always been to protect our clients' homes to control dust and protect surfaces as we work, but we have ramped things up as the COVID-19 health challenge has come upon us.
The health and well-being of our clients, trade partners and employees is, as always, our top priority. It has called for moving with speed and fluidity: We are taking aggressive measures to minimize the spread of the virus as we continue to work with our clients in their homes.
What We are Doing
We plan in advance how we will control dust and air exchange between the work area and the living areas of your home, as well as how we will protect finishes that will remain. This plan is documented on our drawing set and before any work begins, we implement this jobsite protection plan that helps to keep your home and family safe.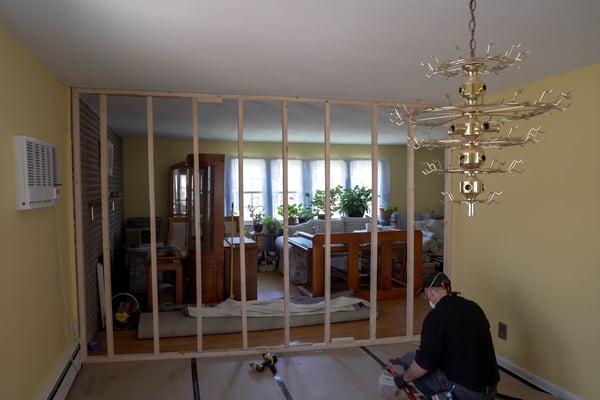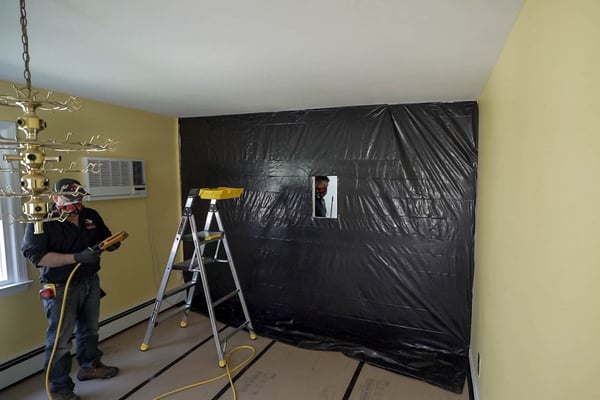 We create a construction containment zone, create negative pressure in this area, wearing masks, use hand sanitizer often, and disinfect as we go along.
Creating Negative Pressure with Air Scrubbers
The idea of negative pressure is to make the work area air-tight and then blow air out so that the work area is under lower pressure than the rest of the house. With the work area tightly sectioned off and under negative pressure we are able to keep the majority of dust and virus particles contained, keeping your home as safe and clean as possible.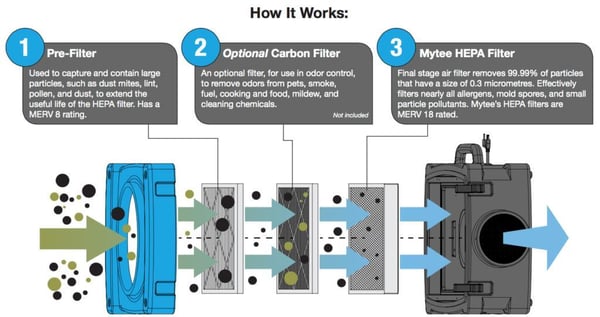 We create the construction containment area by using temporary walls, plastic, and other materials. The air is then blown out of the work area, to create negative pressure, using air scrubbers. The scrubbers are designed to move large amounts of air while filtering it, and are equipped with HEPA filters, which are capable of filtering out viruses.
Sanitizing Station & Masks
Disinfectant Spray and hand sanitizer are located on every job, at a central location. Signs are posted as a reminder for everyone working about the procedures we use, sanitizing hands often, etc. The sanitizing spray is used to disinfect surfaces that were touched, such as door knobs and switches before we leave each day.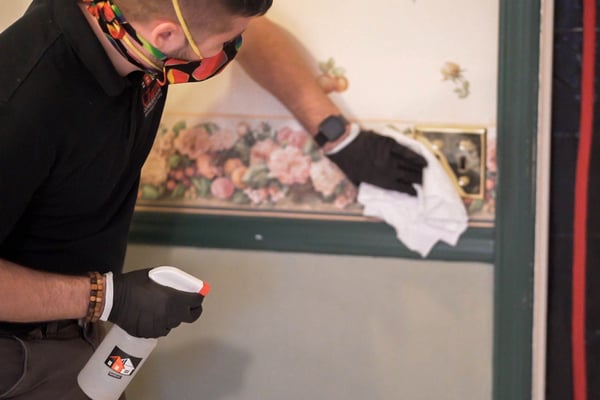 Each trade partner has signed an agreement about the procedure that they will use to help keep our clients and each other safe. These procedures include items such as wearing a mask when in the home or around others, disinfecting hands and surfaces often, and maintaining 6' social distancing as much as possible.
Preventing Cross Contamination through the HVAC System
Keeping dust and air from the construction area out of the heating and cooling system ductwork, and from getting into the rest of your house, is a top priority for us. We block off all the supply vents to the construction area, and turn off the HVAC zone when possible. To prevent air from the work area getting sucked into the HVAC system, and then distributed around the house, the return ducts either get rerouted to pull air from outside the work area, or minimally they will be outfitted with a pre-filter and HEPA filter.