Ten or twenty years from now, a remodeled kitchen should still look as attractive and function just as well as it does the day the remodeling crew clocks out.
However, that isn't something that always happens.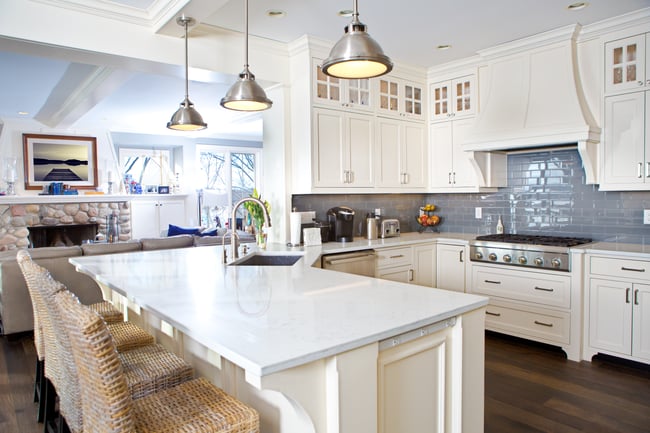 What goes into creating a timeless kitchen? Over the years, as we've designed a wide range of kitchens, from cozy and compact to lavish and spacious, we have often pondered this question.
Our conclusion is that the true timeless kitchens are the ones built with quality materials that will last for years to come. It is a well known fact that the kitchen is the true heart of the home and it is crucial that the design integrates well while serving your family with ongoing functionality as your life and family change.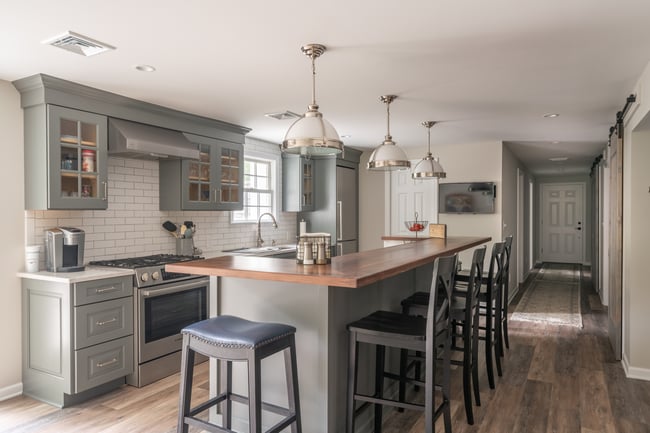 They have colors and styles that you continue to love as the years go by. They are kitchens that look beautiful and withstand ever changing trends, they remain in-style, they are classic but not confined.
With that, here are six tips for ensuring that your kitchen design is timeless.
1. Go With the Flow: Integrate the Kitchen into the Home.
A good kitchen integrates with adjacent rooms, and just "flows" with the home.
A kitchen isn't just for meal preparation. It's the hub of the house, the place where everyone wants to hang out—whether doing homework, working on craft projects, or entertaining casually.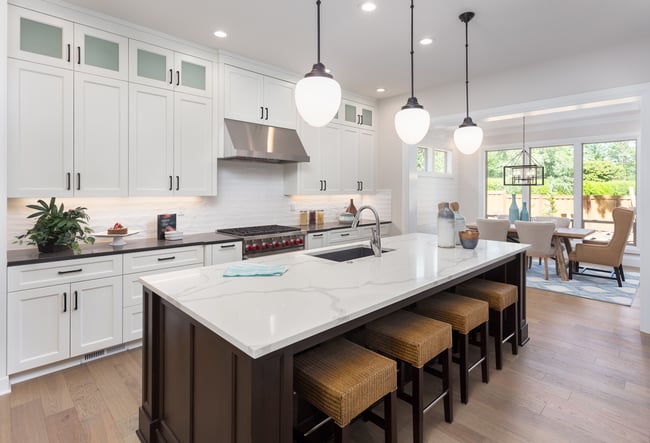 For that reason, successful kitchens allow easy access to adjacent spaces. What could be better than feeling the warmth and crackle of a fire in the fireplace and hearing the laughter of your children in the great room while you make dinner? Or having easy access to your fine china and linens for dinner parties or family gatherings with a butler's pantry conveniently located next to your dining room?
A successful kitchen design allows other family members to feel like they're part of the activities while at the same time being out of the way of the busy chef.
Transitional areas are important, and make the kitchen feel warm and welcoming. It may be as simple as a counter with stools, a breakfast bar, or perhaps a two-tiered island that your guests shimmy up to for pre-dinner drinks, just like at a fancy cocktail lounge. Or a big french window that opens up to the back deck?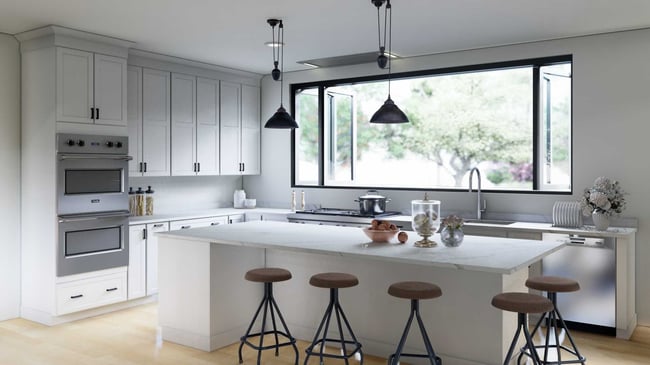 A timeless design works with your lifestyle and those around you for years to come, blending cohesively into your home.
2. Build Good Bones: Create An Intuitive Layout
A good layout provides a solid foundation for a timeless kitchen.
Specifying functional areas within the kitchen can help keep it organized and create efficient traffic patterns. It can designate areas for food prep, cooking, cleanup, meal planning, serving, baking, storage, mail and no kitchen would be complete without a dedicated coffee station.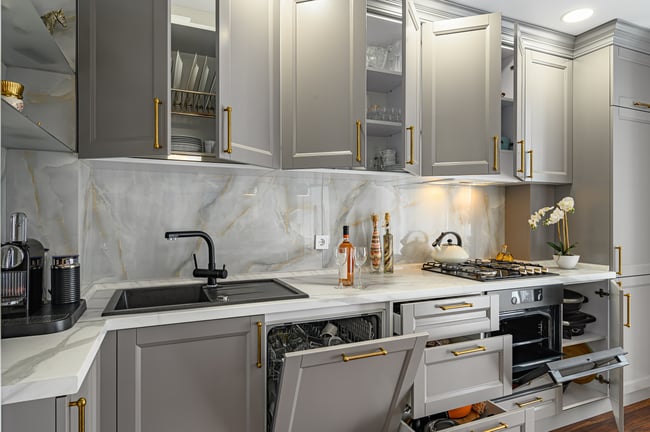 Everything needed goes in a logical place, creating workflows that allow for multiple participants without traffic jams.
When items are placed where they should logically be, and everything is readily accessible, guests and family can easily jump into the role of sous chef.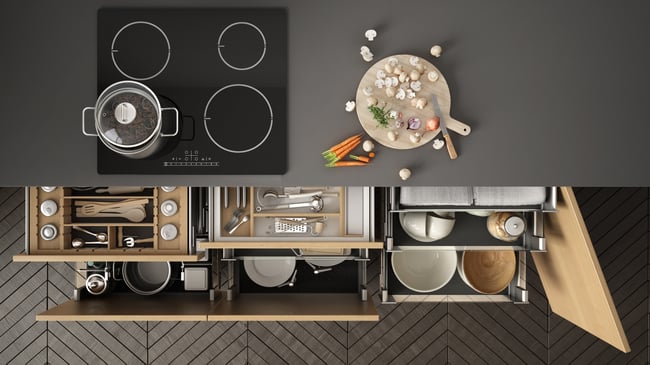 It makes sense for everyone to easily find the things they want to use. Pots, pans and spices should be closest to the stove. The knives should be located near the cutting surface in the prep area. Glasses and dishes should be located in the spaces you would expect them to be.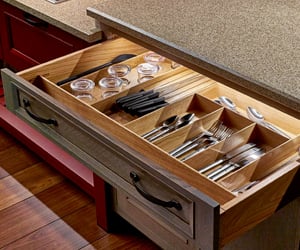 If several people will be using the kitchen at once on a regular basis, multiple sinks that are strategically placed are helpful. An island that allows access from different sides is a plus and also creates multiple workstations with access from all sides, perfect for gatherings with friends and family.
Creating an intuitive layout will ensure that you and others will be able to use the kitchen with ease year after year.
3. Make Sure That It Looks Like It Was Always There
The kitchen needs to be consistent with the design and style of the house.
Your new kitchen should look like it is original to the house, whether it's an antique reproduction, a mid-century modern or contemporary home. It doesn't have to match the rest of the house, but it should complement its design and style.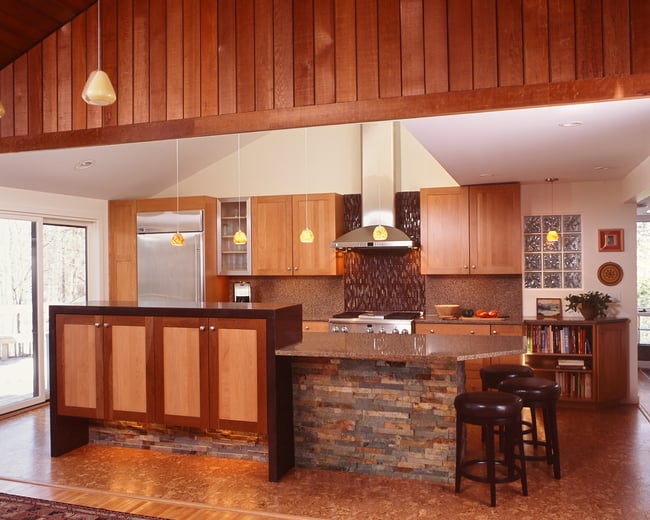 Even an antique home can be updated with modern amenities, yet have a kitchen that looks like it belongs. It's all in the details.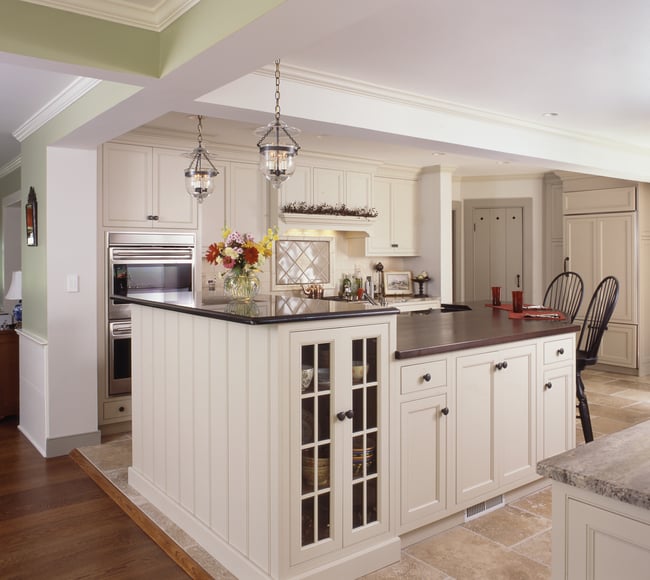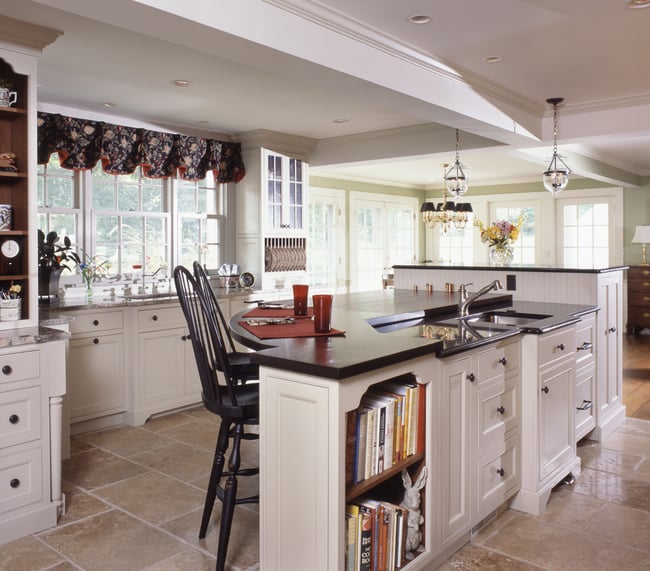 Perhaps the shiny bagel toaster that you can't live without is stored behind the closed doors of an appliance garage. A paneled SubZero fridge blends in with adjacent cabinetry. A big farm sink is functional, stylish, and historically appropriate.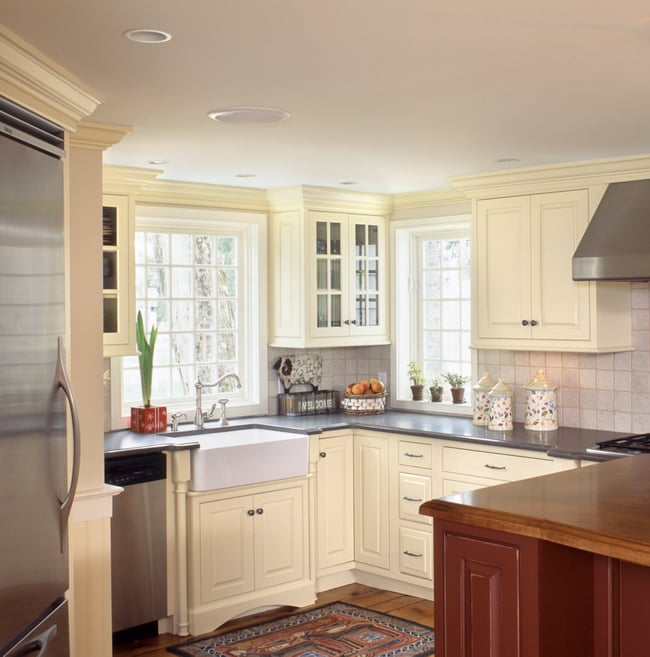 4. Go for Clean Lines, a Classic Style, and Quality Products
A timeless kitchen includes a classic cabinet door style and clean lines.
Consider something like Shaker style cabinets, which work beautifully in a range of décors. There is a reason why this1900's cabinet design is still around in 2021.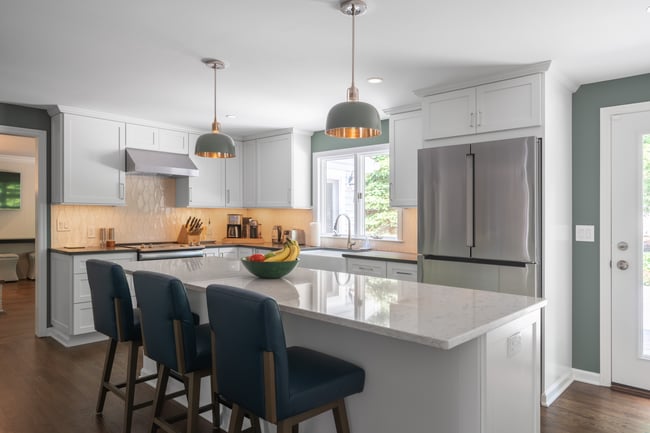 Shaker cabinets never seem to go out of style, which is why you will see them in most kitchen designs. From traditional to modern, shaker style cabinets can fit in almost anywhere. Upkeep is easy; there are very little areas on the cabinets that collect dirt, dust, or grease, so they require minimal effort to keep clean.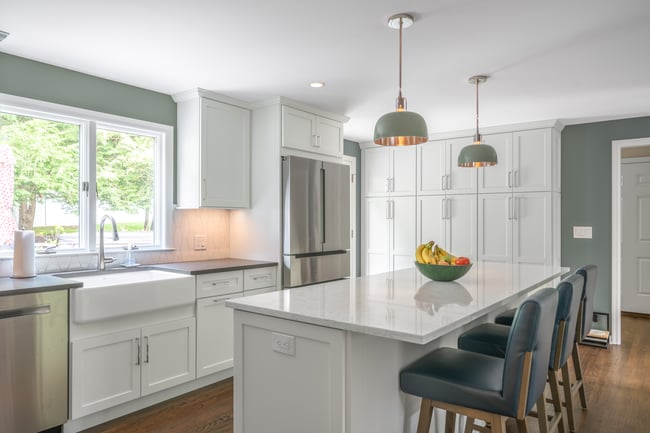 An unadorned kitchen doesn't have to be bland. A simple aesthetic is a great canvas for interesting hardware choices. Or jazz it up with simple moldings - such as a classic Shaker or traditional crown molding.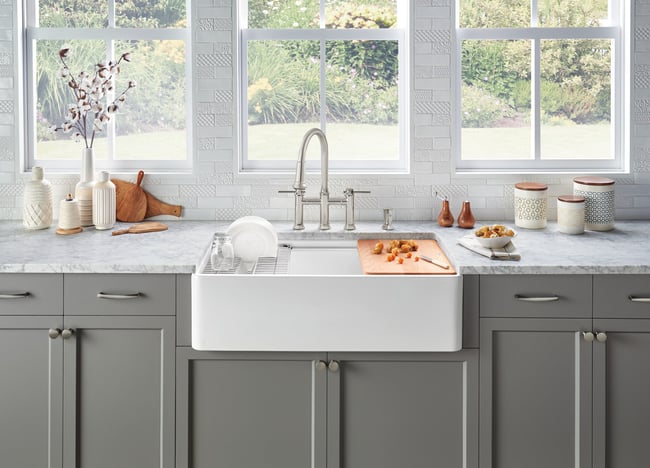 Add a light rail for subtle yet functional lighting. Interesting architectural elements, like a coffered ceiling or wainscoting, beautifully accent a timeless kitchen.
5. Utilize Loveable Colors
Use the Classic Toolbox to create an inviting and homey kitchen.
Using the Timeless Classic Toolbox palette of whites and neutrals does not necessarily make for a cold and industrial kitchen.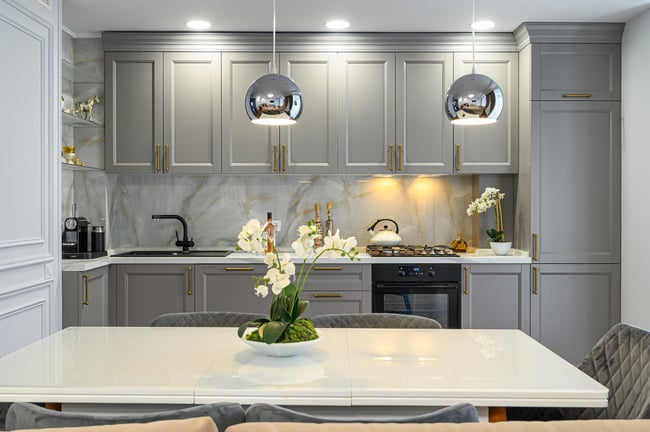 There are many beautiful off whites and creams that give a feeling of warmth to a kitchen. Neutrals include white, beige, ivory, taupe, black, or gray and even a few blues.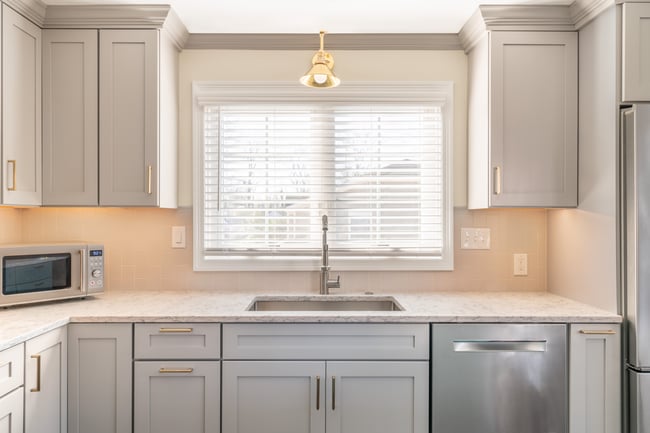 Many good designs marry cabinets in a combination of neutral paints with natural stained woods. Walnut, cherry, alder, red birch and maple are popular.
Kitchens with two color blocks create a classic look: we love the contrast of perimeter cabinets in one color, and the island in another. Think walnut island in a cinnamon or espresso stain, or one of the darker blues?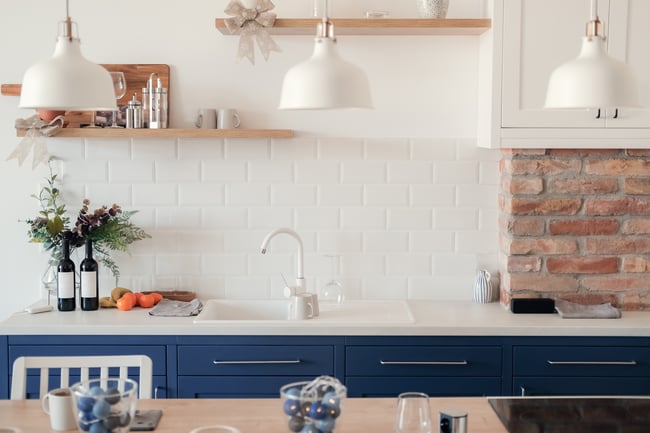 Succumbing to a trendy cabinet color is the fastest way to date your kitchen. Avoid the hot color of the moment, at least for the major part of your kitchen. If you want to make a statement, do it on a standalone piece, such as a hutch, or on your island. However, bold and bright colors tend to go out of style quicker than you think. Instead of choosing a bright yellow kitchen backsplash or an orange island countertop, go for color in the less permanent details, such as your chair cushions, window treatments, and accessories since they can be more easily changed as fads and trends wax and wane. That way, you can enjoy these colors and incorporate them in your space without having to worry about your kitchen design being easily outdated.
6. Use High Quality Materials
Don't chintz on materials.
High quality materials may cost you more upfront, but most people do not realize that they are a worthwhile investment. You are better off spending the extra few thousand now on Grade-A craftsmanship, rather than incurring the cost of redoing 80% of your kitchen in a few years because you decided to go with cheaper cabinets and countertops that don't hold up to daily use. Dovetail drawers with softclose glides are a must have.
A fabulous counter provides the icing on the cake for a stellar kitchen design. Composite quartz counters, such as Cambria, Caesarstone, and LG Viatera, are the newest "standard" for kitchen design. They come in a lot of beautiful granite or marble-like textures, and are known for their durability, as well as stain and bacterial resistance.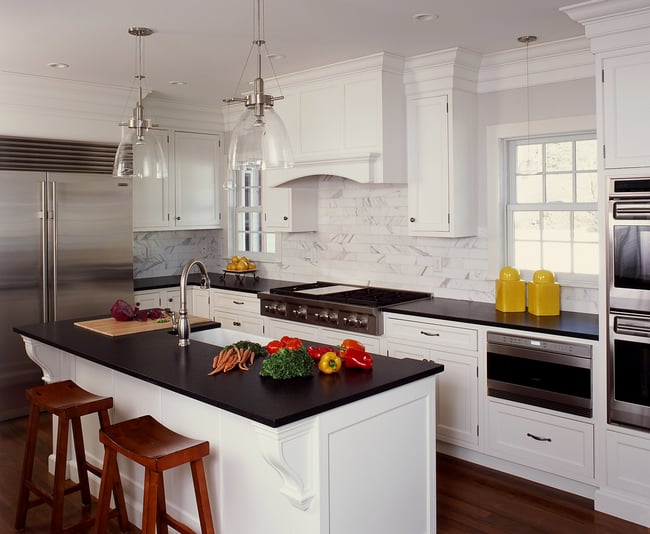 Timeless counter choices are the ones that everyone likes. While most everyone loves soapstones and granites, don't choose anything with too much movement.
Polished nickel hardware and faucets, plus stainless steel finishes on appliances, are stylish and timeless.
In Conclusion
A kitchen that's well proportioned and designed to seamlessly integrate well into your home, with quality materials and color selections, will last the test of time. Your timeless kitchen will be loved by family, friends and future homeowners for years to come. Let us know if we can help you get started on designing your kitchen!