If you're a parent, you'll no doubt agree that the room in your house that gets the most action is the kitchen. It's truly the heart of every home. You are almost sure to find family and friends cooking, eating, and enjoying each other's company late into the evening.
Here are six tips that will ensure that your kitchen is family-friendly a space that welcomes, draws everyone together and is comfortable, functional, safe and engaging for the whole family.
Layout and Seating take the top ranking spots on our 'Design Tips'
When a kitchen is well designed, you are guaranteed that the time spent together in the kitchen will make unforgettable family memories.
It makes sense to open up your kitchen to an adjacent space. This can give you important eye lines to a playroom or great room, where there can be a well-lit place for kids to sit and work within sight of the main area of the kitchen.
Sometimes a softer approach works. Rather than blowing out the whole wall, drop in an opening, with stools on the other side.
An island is most often a "must-have" in kitchen designs. Working on an island gives you a way to prep/cook that means you don't have to turn your back to the kids. Keep an eye on youngsters or answer homework questions with ease!
It's said that "Seating is everything". Seating, in the form of an eat-in table, breakfast nook, or bar stools pulled up to an island—is crucial for a kid-friendly kitchen.
It welcomes youngsters into the room, giving them a place to do homework or help prep food.
Who doesn't love arriving in a kitchen where there are a few comfortable stools where you can plop down and chat with the cook? It's welcoming, yet gives the cooks their own space to plow through meal prep on their own, while having some good company.
You want plenty of extra seating for when the meal is ready, such as a cozy banquette. The more comfortable your dinner time seating is, the more time your family will want to spend sitting around the table, whether you choose to eat at counter-height barstools around a kitchen island, or gathered around a traditional dining room table.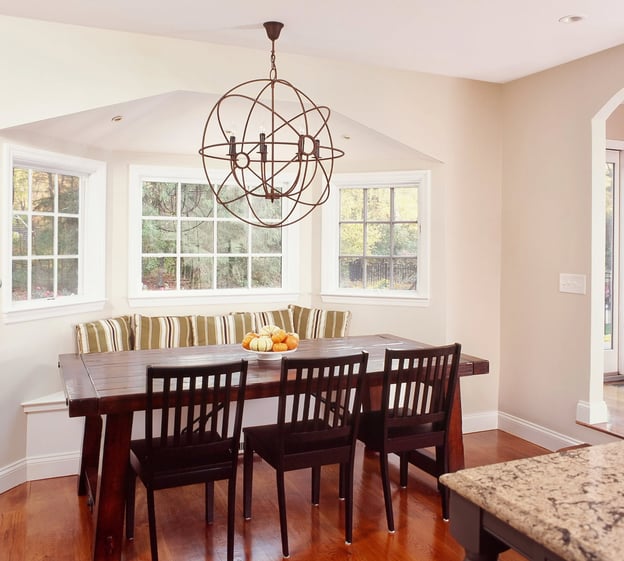 Get the Kids Involved; Include kids in the cooking
Make family time last longer and teach your child valuable life skills by letting them get involved in the meal preparations. Teaching your children how to cook from a young age and letting them express themselves in the kitchen can encourage them to develop healthy eating habits and become more adventurous eaters.
It's easiest for young cooks to work at a lower work surface that's around six inches lower than the standard kitchen counter height of 36 inches. A lowered counter will still be useful long after your kids have grown and left the nest. The ergonomic advantages give your back a break when kneading bread or rolling pastry dough. The lower counter is also handy for tall, top-loading appliances like blenders and toasters.
Incorporating a lower counter into an island allows it to have dual purpose - in addition to being a work area, it can be a comfortable place to sit and eat. Be sure that its designed deep enough so that you feel like you are sitting at a table rather than perched on a shelf.
If working the low counter into your plan isn't feasible, installing a pull-out work surface in a lower drawer won't break up the standard work surface. The drawer base can be designed in such a way that it can moved up a drawer as the child grows in height.
Good additions in the "kid zone" are an under-counter refrigerator and their own sink where possible. Faucet features such as anti-scald, clear cuing and motion sensor controls can minimize safety concerns. ;
Depending on the age of the child, the "kid zone" can also be a school lunch station, so storage for the necessary paraphernalia makes sense. Just like the rest of the kitchen, waste and recycling should be easily accessible and the dishwasher nearby.
Place light-switches at child-friendly heights; a fixed panel under counter height can be a good place for controls and outlets. You can even hide them behind a tilt-down panel.
Safety and Storage
Encourage kids to join you in the kitchen and learn how to cook by giving them their own storage space. Assemble a suite of kid-friendly utensils, their favorite dishes, cutlery, and an apron to give them their own set of tools to work with. Having a special drawer designated for your children's baking and cooking supplies allows them to learn how to put away their tools and dishes during cleanup.
Our designers, when considering kitchens with kids in mind, advise storing everything you don't want your children to use high up and store everything you want them to use lower down.
A practical way to separate your stuff and theirs is a floor-to-ceiling, 12-inch-deep bank of cabinets. As the kids get older, out of reach items can be moved into the lower cabinets making it easy for them to help with daily chores like unloading the dishwasher and setting the table. Dishes and glassware can be kept in the lower cabinets, along with the cookware that the children use. Drawers containing utensils and silverware can be moved to a lower position so that the kids have easier access.
Oftentimes, the layout and elevations within the kitchen itself can also discourage use of selected areas. If just saying "no" isn't enough, then a simple solution for cabinets containing those things that need to be off-limits like a mandolin is to add a cabinet lock to a cabinet door or drawer.
Choose easy-to clean materials
When thinking about a family friendly kitchen, think "easy to clean". After all, making a mess is part of the fun and kids sure can be messy in the kitchen.
For countertops, go with an engineered stone like Cambria and LG Viatera. They're beautiful yet low maintenance -virtually impossible to scratch or stain and easy to keep clean. Make a mess, wipe it clean and get on with life!
For cabinetry that fits the bill, finish is more crucial than style or material. Lighter cabinet colors show dirt and abuse easier but reflect natural light better making the most of the space. Darker stained wood conceals scuffs, dents and bruises, making it more forgiving. Soft-close doors and drawers come standard on most custom cabinets these days and help prevent slammed fingers.
For our clients, hardwood flooring is the most popular flooring choice. However, linoleum or vinyl planks are even more child-friendly; they are shock absorbent and easy to clean, plus dropped items are less likely to break. If you have a softer, more shock absorbent surface, standing at the stove stirring a risotto will be easier on you. Try this with tile flooring and you may find your legs beginning to ache before too long.
Keeping Kids Safe
While planning kitchen accessibility for young cooks, it's important to remember that restricting access to things not intended for the child's use is essential. Many modern appliances such as ovens, cooktops and dishwashers, are made with a control lockout feature. Prevent accidental use of the garbage disposal by installing a batch feed disposer or a continuous feed model with a clearly marked control, out of the reach of small children.
If the cooking area has generous clearances, the risk of natural curiosity leading to injuries or burns is reduced. Encouraging your young cook is both better and safer when you have planned to have them in the kitchen from the start.
When you're picking appliances, choose the ones that offer features of specific benefit to children such as kid-friendly induction cooktops. The surface of an induction cooktop doesn't get hot, only the pot gets hot (when in contact with the cooking surface) and the risk of a burn is eliminated as soon as the hot pan or pot is removed.
Is a refrigerator with a water and ice dispenser child-friendly or a hostile feature? It's open to debate but you'll get more mileage out of a side-by-side fridge or a fridge with a dedicated snack space, easy for kids to access.
Some Parent-Friendly Ideas
Assign one drawer for healthy snacks and make rules about their availability i.e. choose one for an afternoon snack, or they're free anytime.
For a play drawer, put a bunch of plastic-ware into a bottom drawer and allow the children to play with anything in there while you're cooking.
A fruit bowl stocked with washed fruit in the kitchen will make fresh fruit an anytime snack.
Attaching a magnetic board inside a cabinet door to hold a calendar, appointment cards, and those special pieces of artwork.
Installing lowered hooks at kid height so your kids can reach hand towels and help with cleanup.
There are many lessons for kids to learn when the family cooks together. As they crack the eggs, whisk, read, and talk about recipes, children learn physical, mental, and social skills. And they'll be watching Mom and Dad demonstrating key components of adult capability in action. Bon appetit!