Green is a word many manufacturers use to sell themselves to environment-conscious customers. It may mean that they are indeed environmentally responsible; it may mean they simply want to appear that way.
So when you're remodeling your kitchen or bathroom, how can you be sure that you are making good responsible green choices? When our clients ask us about green credentials , we are proud to answer them openly and honestly, and tell them about our relationship with Grabill cabinets.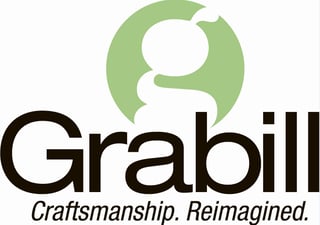 Not only is the quality of Grabill's products impeccable, their commitment to the environment is second to none. They practically invented the idea of green cabinets. Located in a rural farming community outside Fort Wayne, Indiana, Grabill made sure their manufacturing unit was eco-friendly from its inception in 1946 – way before being eco-friendly was a topic of interest to most people.
Big on sustainable sourcing
Grabill has always partnered with local suppliers to select from sustainable, managed forestry within close proximity. They partner with several lumber suppliers who have completed the certification process for the Forest Stewardship Council and offer FSC-certified lumber upon request.
The Forest Stewardship Council (FSC) is an independent, non‐governmental, not-for-profit organization established to promote the responsible management of the world's forests. Products carrying the FSC label are independently certified to assure consumers that they come from forests that are managed to meet the social, economic and ecological needs of present and future generations.
Low on waste products
Wherever possible, they give by-products to the local community. Large wood block cut-offs go into Grabill's beautifully solid lumber finger-jointed shelves but the smaller cut-offs they can't use go to the local community to burn for heating homes and outbuildings.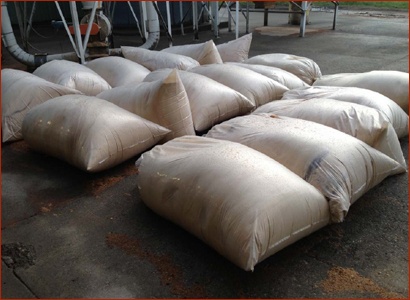 The locals also collect Grabill's sawdust every week to use as bedding in animal stalls on their farms. We love this idea: locally raised trees producing chips and sawdust that keep the local people and animals warm! And our clients get some pretty stunning cabinets out of the whole process too.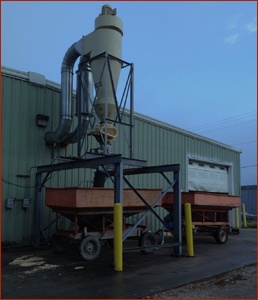 In addition, Grabill has an active recycling program for cardboard and paper waste products as well as a documented energy conservation program.
Leave it to the experts
All Grabill's products are compliant with the U.S. Green Building Council's Leadership in Energy and Environmental Design (LEED) standards and they satisfy the emission standards of the California Air Resources Board (CARB) Phase 2 regulations. Grabill ensures that all the varnishes and sub-components used in and on the wood are also compliant with CARB requirements. Being green is an involved scientific and technical subject and it takes a lot of expert knowledge to make good decisions. And at Clark Construction we have years of experience working with Grabill to pick the green options which will work best for you, our client.
Low on harmful emissions
Urea formaldehyde is naturally occurring but nasty stuff that gives off unhealthy fumes, said to cause cancer and contribute to other health conditions. It's certainly not something we would want lurking around but astonishingly, many standard composite wood-based kitchen cabinet panels are still made from wood, glue, and paint or stain that contain UF. Grabill offers hardwood plywood panels that have undergone formaldehyde-free assembly, like Columbia Forest Product PUREBOND which we like to have incorporated into kitchen or bathroom cabinets.
Conclusion
Grabill Cabinet Company has a serious, strong and long-held commitment to the environment. They share our belief at Clark Construction that manufacturers, designers and remodelers are all responsible for maintaining the natural environment as well as creating beautiful, safe homes for people and their families. We are honored to partner with them. year after year.