The Kohler Real Rain Shower Overhead Panel is both elegant and efficient. Kohler has designed this panel to be customizable to best suit the clients need and presentation. With the given ability to have a white or deep grey panel, the customer also has the option to change the outer trim color to match it's surroundings.
Design
This shower head features 775 individual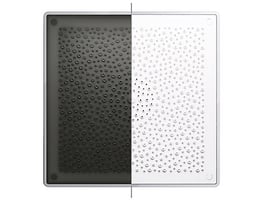 silicone nozzles beneath a water reservoir that allows water to flow evenly throughout the panel in order to simulate rainfall. The water will feel like raindrops until you need an extra burst of power supplied by the "deluge" function. This sends half a gallon of water in 8 seconds through the center to replicate a heavy downpour. All of this tech comes in respectfully efficient with a flow rate of two gallons per minute when on normal settings.

Check out the rainhead.