Whether due to budgetary reasons or lack of room on your lot, an addition may not be the answer for many homeowners. An unfinished basement, however, could solve your problems when you convert this underutilized lower level into a finished and functional space. The basement of your home can be remodeled so that it not only integrates with the rest of your home but becomes a beautiful and valuable asset for the property. In the United States, on average, finishing a basement will give you a return of 70 to 75% of your investment.
Remodeling a basement requires extra care to properly handle water issues, like moisture and drainage, plus egress windows, electrical wires, and other challenges. Be sure to work with a qualified professional remodeler to get the best result. If you would like our help, we're ready to guide you through our process and help you renovate your basement.
These are some of the top trends we are seeing in finished lower levels but we can also help you get the custom space you want, one that meets all your needs
Guest Suite/Bedroom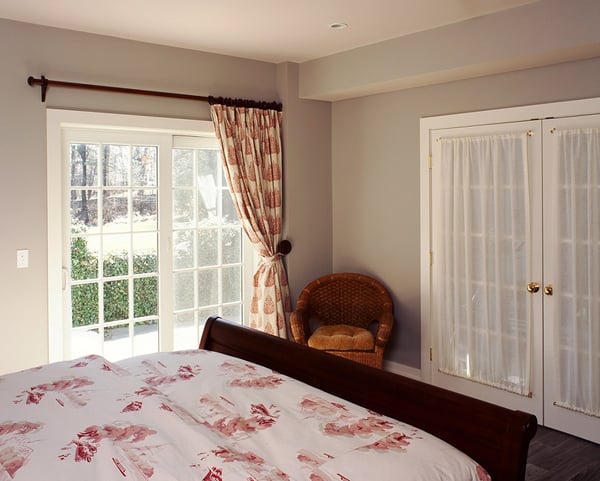 The basement is a perfect space that could be transformed into a warm and welcoming area for your family and friends to enjoy. Putting a bedroom and separate full bath in the basement offers a space with plenty of privacy. This can be great for a guest suite, especially if you have family or friends that come for extended visits. This suite can be as simple as a bedroom and bath or include features like a sitting/lounge area or wet bar, depending on your budget.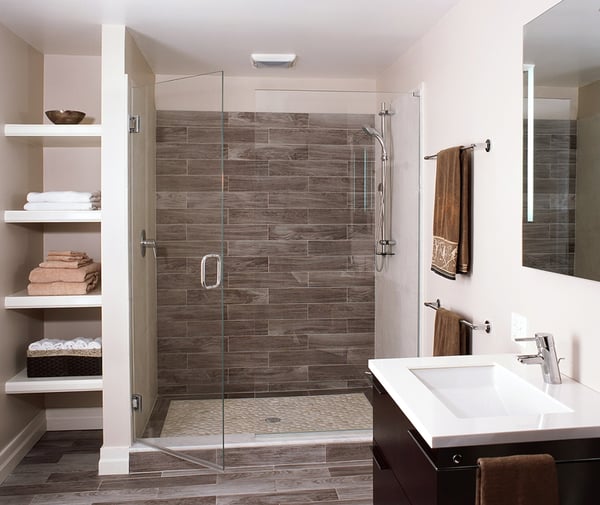 A basement is also a good space to put a bedroom for one of your family members who needs a little more privacy, such as a teenager. They get their space, and you get a little peace and quiet. It's an even better solution for an older child commuting to college or working that first job.
It's important to remember that building codes require that a new "bedroom space" must have an egress (exit) window or door. This is an imperative step to ensure safety. It also helps to bring natural light into the bedroom. Since most basements have little natural light, it is also a good idea to paint the entire room in a shade like golden yellow or cream for an inviting, warm appeal.
Home Theater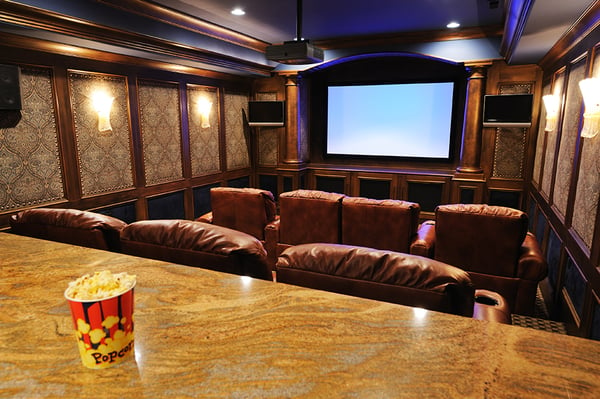 For many homeowners, the thought of a home theatre can be exciting. It's a great place to gather your family and friends for a night of watching movies, or your favorite TV show, while snacking on popcorn and your favorite beverage. If you're considering building a home theatre, but aren't sure where to put it, look no further than the basement!
There are dozens of ways to design your home theater or media room. Some comfy couches, a big-screen TV, and sound system can get the job done, but the real movie enthusiast can opt for a room with a projection system, theater-style chairs, surround sound and a giant hi-def widescreen TV. Another important factor to think about when designing a movie room is acoustics and isolating the space from the rest of your home. While the décor of the space will help to deaden the sound reflection, adding some additional sound control features can help to shape the sound in the room. Isolating the space from the rest of the house so those late night horror movie marathons won't keep the rest of your family awake.
Lighting is also a key element for creating a true theater experience at home. A great choice is a combination of recessed ceiling lights and wall sconces all controlled by dimmer switches. Today, you can even get "smart" lighting that allows you to control the room ambiance from your smartphone or a lighting controller so you can sit in comfort and enjoy the show.
PlayRoom/ Game Room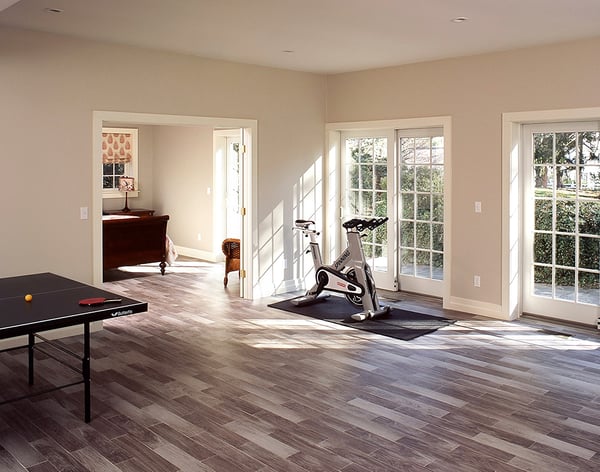 If you've got kids, you know their ability to make a mess knows no bounds. A comfortable space in the basement is a great way to keep some of that clutter out of sight.
As children enter their middle school or high school years, the space can be converted to a game room, making space for pool tables, air hockey, foosball – whatever your family is interested in. The best way to figure out how to put your finished basement to use is to determine what your home is missing.
Golf Room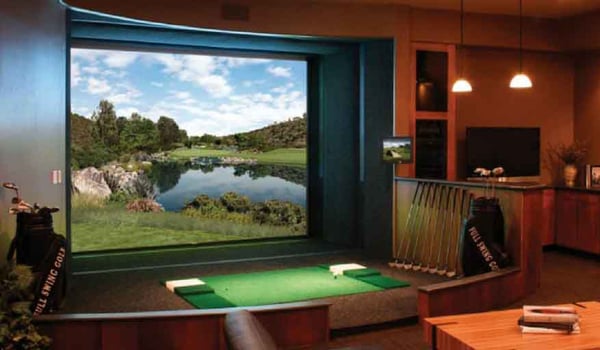 Image courtesy of Practical-golf.com
Every golfer has dreams of playing a round of golf in the comfort of their own home. With the winter weather and safety precautions in place, it is nice to have the ability to relax and practice your favorite game any time you wish. Having a home golf simulator is now within reach for many golfers due to advancements in technology and cost reductions.
Children's Nook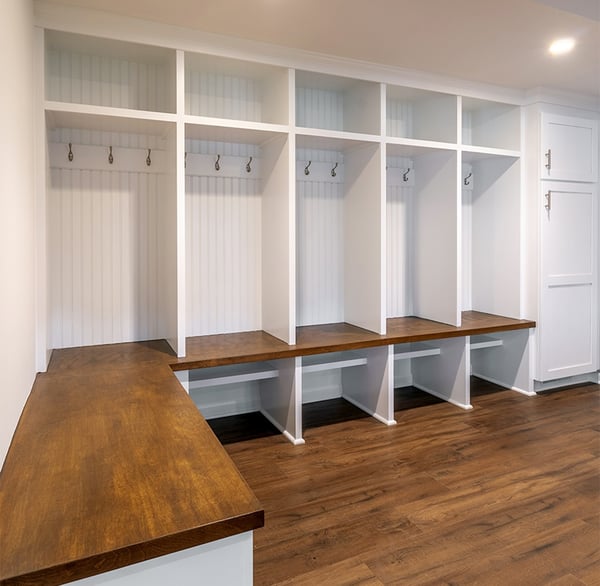 If there's not enough space to give the kids their own room, why not get creative with the space under the Staircase or in that one corner to help with organization? Even a small area can be perfect for their own little hiding space and to store all their stuff. Add a bean bag chair, maybe a small table or lamp, and make it a comfy hideaway.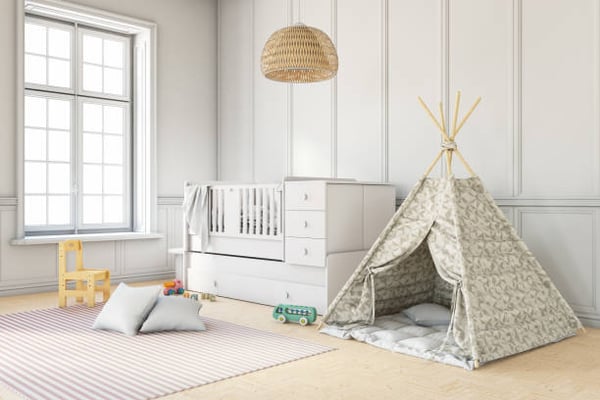 Wet Bar/Kitchen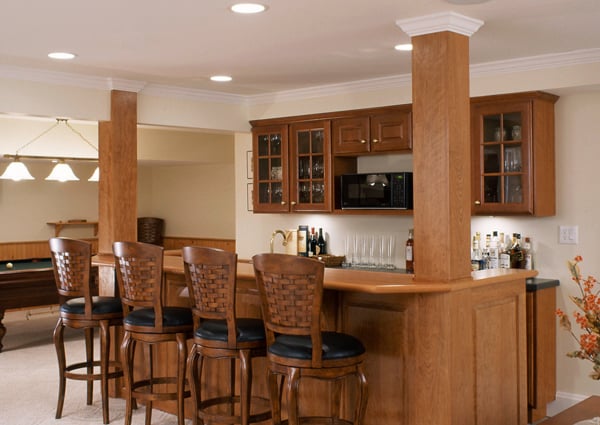 As long as there have been finished basements, there have been basement bars. It's great if you like to host parties or just have some friends over while watching football. Adding kitchen amenities like a a microwave, refrigerator and sink enhances the convenience.
Gym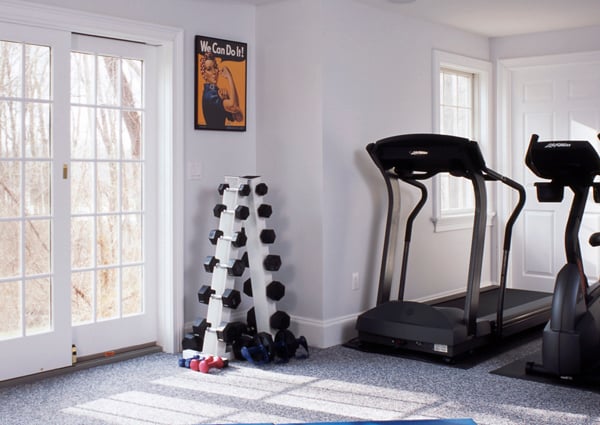 Maybe you found yourself working out at home last year because of the pandemic, but even as things are opening back up, a home gym has some advantages. Most notably, you're not paying the monthly fees anymore but investing in your home. Want to go high-end? Consider adding spa-like features, such as a sauna or steam shower.
In Conclusion
However you choose to use your basement, when renovating the space it's important to do it correctly. Hiring a professional to do the work can help you avoid hidden and unforeseen issues down the road.
Give us a call when you are ready. We would love to help you with your basement project!