The idea that we, or our loved ones, may lose mobility or dexterity at some point is not pleasant to think about. We can, however, set ourselves up so that we can remain comfortable and take care of ourselves as we approach our golden years. Whether a loved one is coming to stay that has limited mobility or you are simply preparing for the future, here are some thoughts about some smart decisions that you can make while remodeling that will ease accessibility within your home.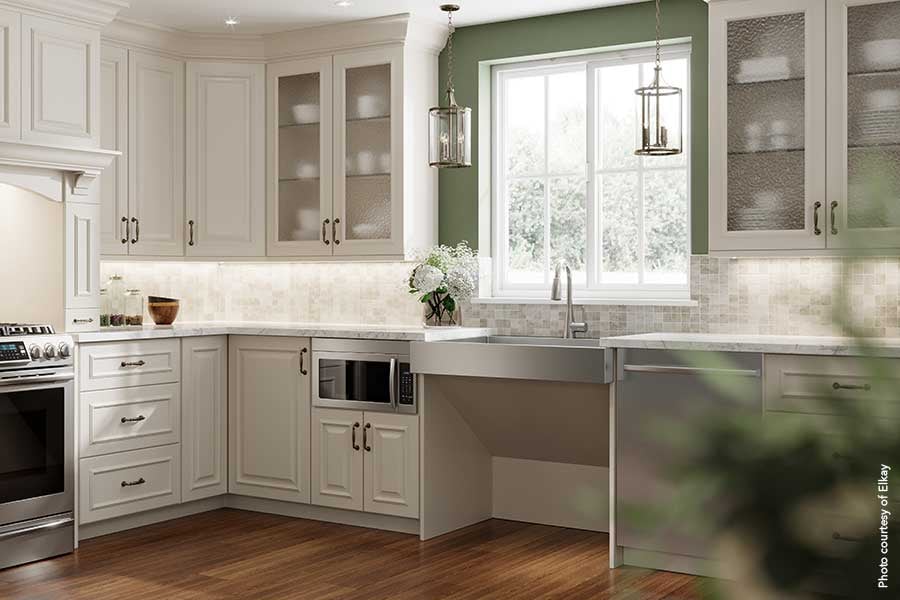 Accessible Kitchen
One of the most vital areas of any home is the kitchen. There are smart decisions that can be made now while you are updating your kitchen that will help accommodate mobility and dexterity issues should they arise.
Drawers that can accommodate pots, pans and all the other items that are typically stored in base cabinets are quickly becoming the new trend.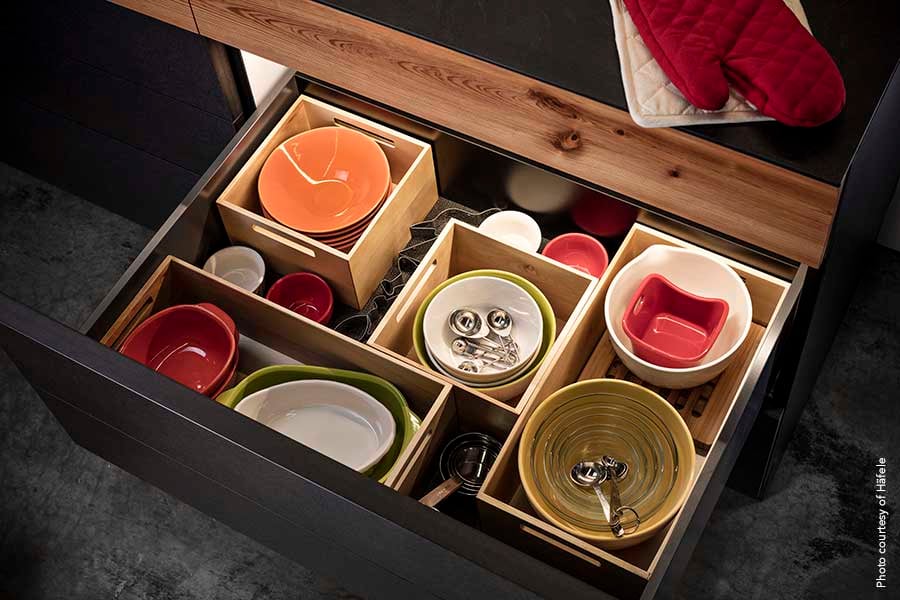 Reaching deep inside a base cabinet can be problematic for many people developing arthritis or with other physical limitations. Replacing them with storage drawers for cookware and dinnerware can make these items easier to reach and the heavy duty glides make them seamless to open and close with little effort. Also, drawers fashioned with pegs are a great option for storing plates and other dinnerware with the same level of accessibility.
Refrigerator and freezer drawers placed in base cabinets allow frequently used items to remain visible and accessible at all times.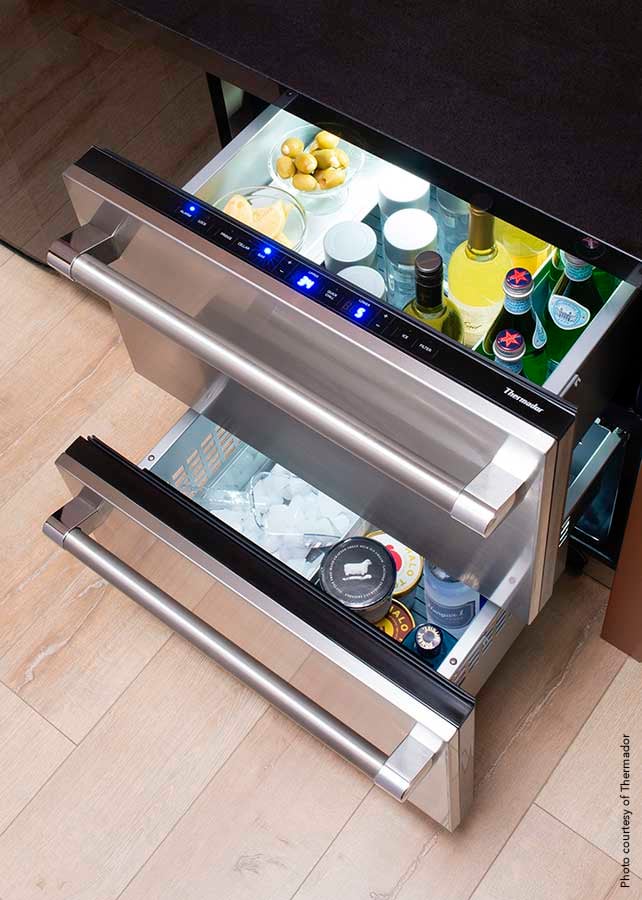 An under-counter microwave drawer with touchpad that opens and closes allows for use from a seated position, or for those of us with shoulder issues and arthritis who are not so able to lift things down from a microwave that is mounted within a wall cabinet.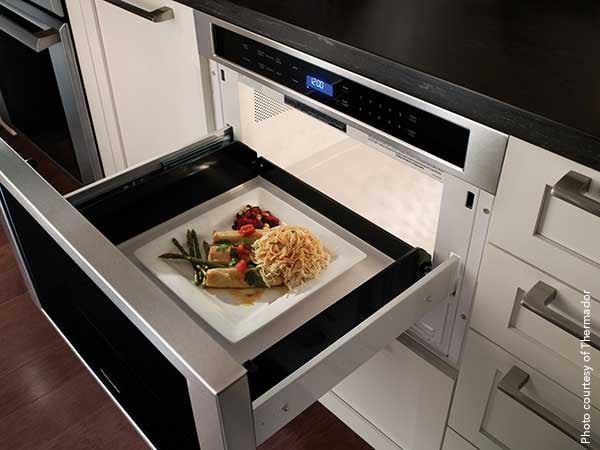 Clients with these issues are excited by pulldown shelf units within their upper cabinets. They make accessing food products possible for people who can't reach up because of mobility issues.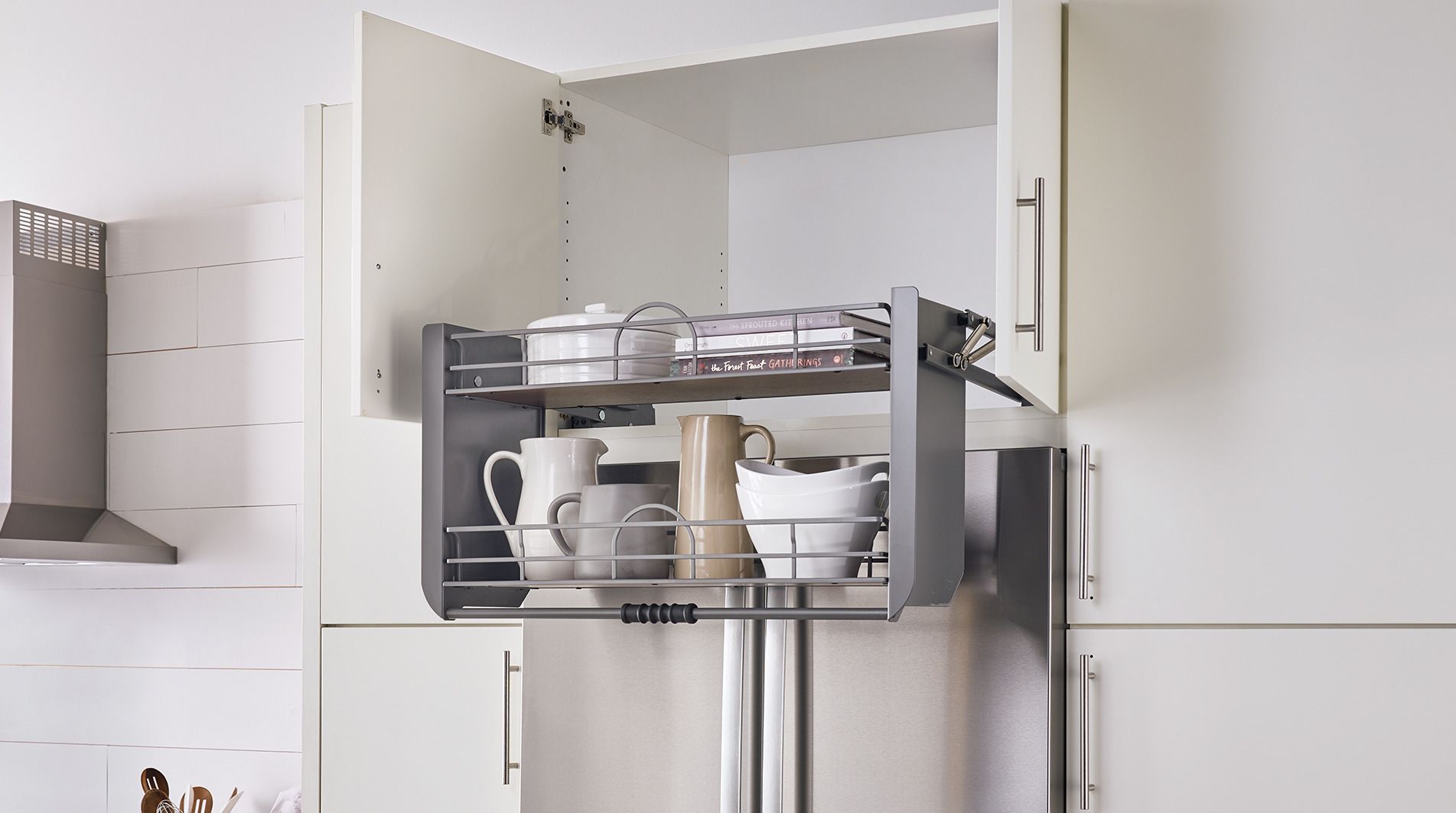 Pullouts for spices, canned goods and trays follow in the same vein of creating easier access, and as an added bonus, making it easier for you to see everything you need, without having to bend down and look deep into a cabinet.
When it comes to the art of cooking, changing out a traditional stove with an induction cooktop that stays cool to the touch can reduce the possibility of injury from burns.
Your kitchen wouldn't be complete without an oven. Installing one with French doors can help when lifting heavy cookware in and out and will avoid having to work around a flip down hot door as you maneuver around.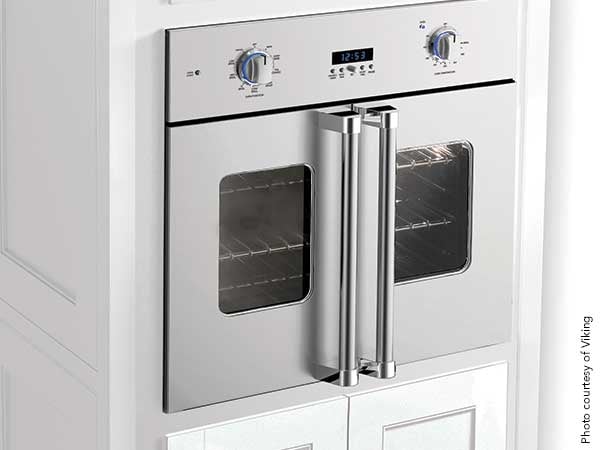 Smart technology has come a long way and can often make things easier for everyone. Having voice-activated, touchless operated appliances and systems can help in many situations. The voice-activated kitchen faucets that are on the market today like the Moen U Faucet works with Alexa to not only turn on and off water, but allow you to select the temperature and even the amount of water, which is useful in things such as filling a pot with exactly 2 cups. Even turning on and monitoring your dinner's progress can be scheduled from your IPhone or IPad.
Should you anticipate the need for wheelchair access, counters can be lowered as well as other accommodations are available to make sure your kitchen will be functional as you spin around. We can create an accessible space while maintaining the cozy, comfortable feel that we all desire. Just because you have a wheelchair doesn't mean you need an institutional looking kitchen.
Bathroom Accessibility
Another crucial part of the home that requires enhancements for the mobility and dexterity challenged are the bathrooms. They can be not only inaccessible but also dangerous for people with disabilities. Many household injuries happen because of slip-and-fall accidents in the bathroom.
Zero-threshold showers provide a smooth transition from the bathroom floor to the shower, eliminating a tripping hazard while keeping the water contained. Think of a barrier-free, no-step, no-curb, zero entry shower system which eliminates the necessity of stepping into a bathtub or a curbed shower stall.
A built-in or fold down seat for bathing and showering comfort is a must have addition, as is a handheld wand and shower valve within reach. When the handheld shower head is on a slide bar/track, it makes it functional to use from either a standing or seated position.
Grab bars are another must, and it is possible to integrate them into a shower design that doesn't feel industrial. Solid blocking now can be stylish grab bars later.
As for the toilet, you can go with a chair-height version that is easier for people with limited mobility and strength. Handrails should be installed to help someone keep their balance while sitting down and standing up or in
There are some very stylish options for floating vanities that are open underneath, and extremely wheelchair-accessible which allow for access to the sink. The vanities include easy-access storage to hold everything from towels to hair-dryers as well as all of the other daily-used items.
Like your door knobs, lever style handles on the faucets and shower valve are much easier to use when you have limited mobility.
One Level
Everyone knows that living on one level is the dream, so as you develop the master plan for your home, think about optimizing your first floor for options that are going to work for your family down the road. You may want to carve out a master suite within the space you have or perhaps convert a downstairs area into a future bedroom? A laundry room near the master bedroom now could lend itself to an extra shower needed later.
Some useful changes present themselves organically as we redesign interiors. Older homes tend to have doorways that are not the ideal width for individuals with mobility challenges. Remodeling offers a chance to widen some of those openings. Incorporating lever style door knobs would make sense, as they are much easier for people with arthritis or limited hand strength.
Flex Space
Do you have flex space in your home?. Oftentimes our clients create spaces with one purpose now, and the intent of adjusting for another purpose in a few years. For example, when their children become old enough to want their own space, then when they become empty nesters the same area lends itself to a multitude of uses. We built an in-law suite addition for one of our clients with the expectation that it would be used as a home office after the in-laws moved to a more permanent home, and then eventually it was to be converted into a master bedroom for themselves.
When you are thinking about adding space to your home, consider the location for your addition. Does it make sense to go a little bigger and add space for a first floor master down the road? Even if that is not in the plans now, you might consider playing it safe and make sure the addition in a place that wouldn't prevent the build out of a master should your plans change later.
Elevator
The cost of elevators has decreased and there are small ones that can be added to your home for under 30K. Their use in residences has become more common place. Adding an elevator can tremendously increase the amount of accessibility in your home. For one family, it meant that the basement could be utilized as an in-law suite because there was elevator access to the first floor. Think about carving out a space now where it can be installed later. Perhaps a closet space now that would accommodate an elevator later.
Flooring Options for Easy Mobility
When thinking of flooring, our minds might immediately go to making sure they are not slippery which is a good start. The best flooring choices are those that are fairly smooth as well as slip-resistant, such as tile, laminate, vinyl plank or hardwood floors. These surfaces are durable and allow more free movement, even for people that rely on gadgets like wheelchairs and walkers.
If you have different types of flooring throughout the house, make sure the transition treatment works well for wheels and the change in height is 1⁄4 inch or less.
Carpeting is not recommended as it can make getting around difficult for people with wheelchairs, walkers, or those with just some basic mobility issues.
Conclusion
These are just a few changes to consider and many of them would be helpful for everyone, young or old. Whether you have been planning a kitchen or bathroom remodel for other reasons or you've recently started considering accessibility in your home, we're happy to discuss ways to integrate these disability-friendly upgrades to your home. The best home improvements always start with a full understanding of the options available.