In boom times past, the notion of moving up was a no brainer – you bought a house, lived in it for a few years, then sold it (promptly) at a considerable profit, acquiring a higher-value place that better suited your current needs. But now we are in a "buyer's market", with bargain sale prices for homes and a glut of homes on the market. The decision to sell your house and trade up is not as clear-cut as it used to be, and owners are left wondering; should we stay, or should we go?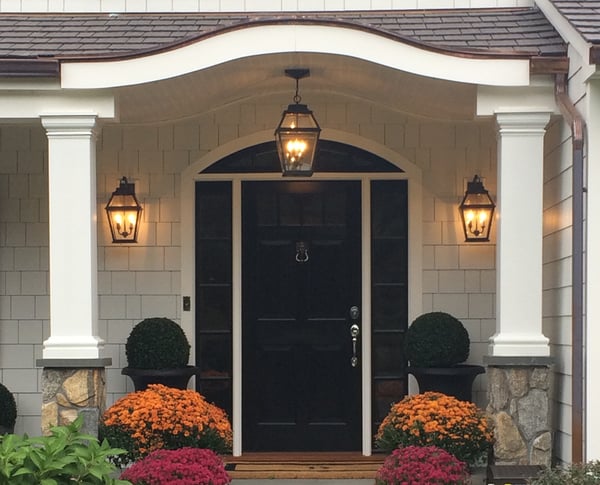 Clearly, as families evolve, their needs change. As families expand, more room is needed. Often, how we use the home changes as our kids grow up. We want to increase privacy and open things up at the same time. Older couples often find that homes that were once perfect for a bustling family seems suddenly big and uncomfortably idle.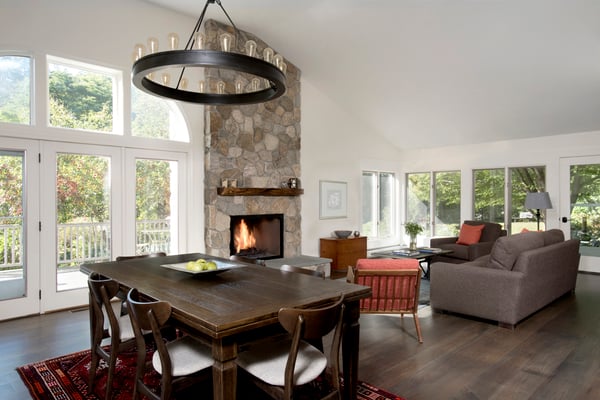 Whether a family sells or stays, each choice has unique advantages and disadvantages.
Here are five reasons to remodel:
1. You love your location.
If you love where you live, that's a good reason to stay. Perhaps it's the tree lined streets of our New England town you love, or the annual tree lighting community celebration. Perhaps you love your yard's mature trees and established landscaping. Staying put means having the same neighbors, shopping at the same stores, and going to the same schools. Remodeling allows you to have that stability, staying in comfortable surroundings. Very little in life is more stressful than a home move.
2. You like some things about your home.
There may be a combination of special features you really value, such as morning sun or a special view, that may be hard to replicate in another home. A revamped domicile can take what you have and enhance it - the icing on the cake, with a new flow, bigger or better spaces, more closets - improvements to both function and form.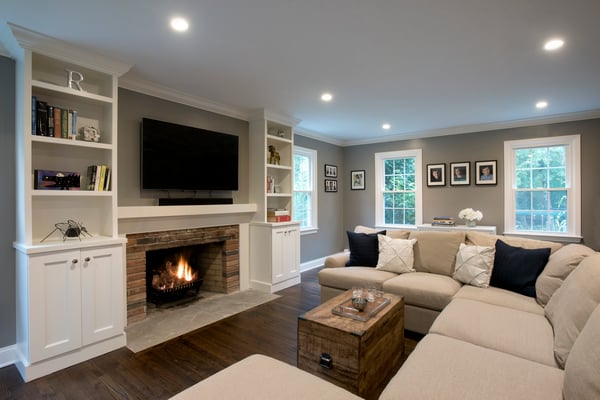 3. You can get exactly the home you want.
Remodeling allows you to customize a home, and tailor it exactly to your lifestyle. You have control over the look and feel of everything, from the color of the walls to the finish on the cabinets.

The possibilities are many. You can make major changes even without adding on, by re-configuring within the four walls. A once-needed formal dining room could be popped out to expand an existing kitchen.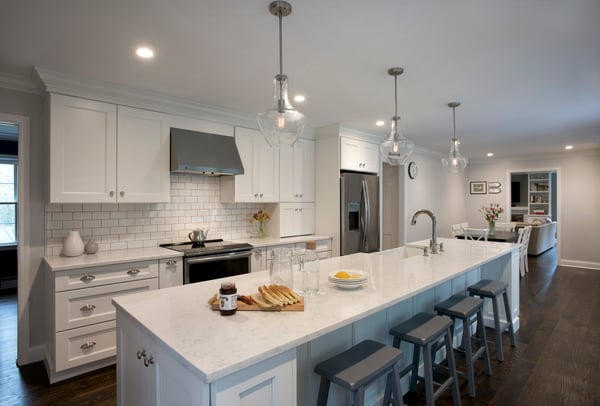 Eat into a bedroom to create a walk-in closet for your master suite. Two kids' bedrooms might become a single roomy home office. There may be things that can be done to your home that you haven't even envisioned. Invite a designer out for a look!
Most people who buy a different home spend up to 30 percent of its value fixing it up the way they want. If you find a different house to buy, it may still lack at least some of those special features that have you yearning, and you would have to remodel anyway.
4. You know what you have.
Better the devil you know that than the devil you don't.
Living in a house for a while means you know the age of the air conditioner, when the most recent roof repair was performed, and when hundreds of other necessary little tweaks were made over the years. You know what to expect in utility bills and if the septic tank is likely to need replacement next year or in 10 years. There is something comforting about that level of familiarity.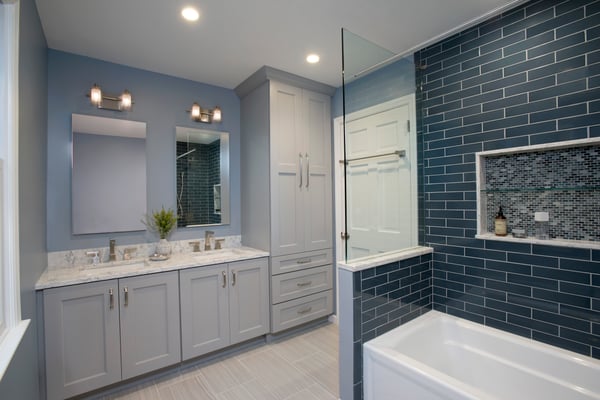 5. It may make better financial sense.
In some cases, remodeling may be less expensive than buying a different house with the same features. Check in with a contractor to get some budgetary numbers for the improvements you're considering. A real estate agent can let you know how much comparable homes with the features you are looking for will run.
Smart improvements, like a new kitchen, opening up the kitchen to the adjacent rooms, a master bedroom suite, or finishing off your bonus room will make your house more marketable, as well as bring high-percentage return on the dollars spent; it just might be a no-brainer.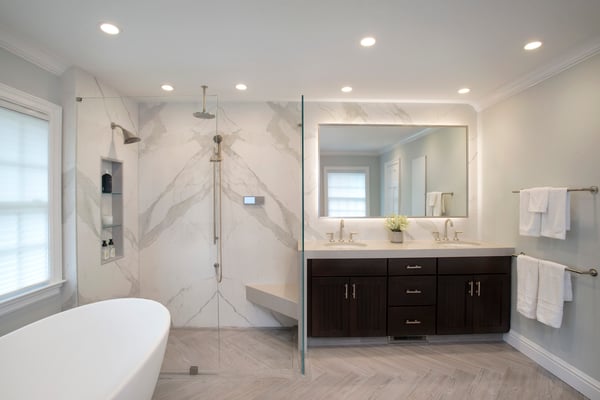 Relocating
Moving is always exciting, as the unknown holds within its grip all kinds of potential, although selling and purchasing a new home is really not very fun. There's a buzz you get from moving into a new home, with new surroundings, new neighbors, and the ability to build any type of life you want. It's a chance to slough off those old annoying neighbors and expand your social network. Open to the possibilities?
Here are five reasons to move:
1. Your current location just isn't working
If your goal is to downsize, remodeling rarely makes sense. Or, if your current location is detracting from your overall quality of life, it's time to consider moving; Unruly neighbors, a miserable commute, or a less-than-desirable school district—are reasons to move.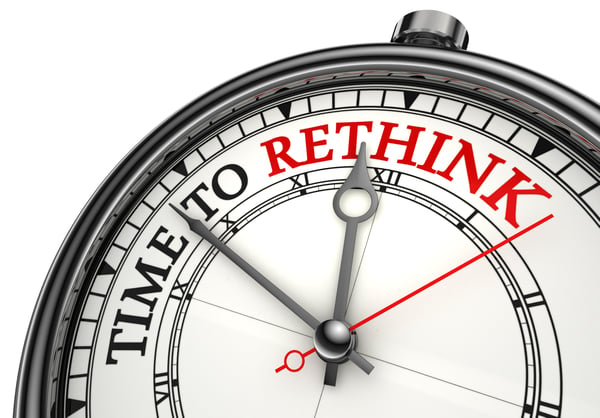 2. Your home is already one of the nicest in the neighborhood.
A general rule of thumb for remodeling is to make sure that you don't over-improve your home for the neighborhood. If your property is already the most valuable house on the block, additional upgrades usually won't pay off in return on investment at selling time, but you may need to do them in order for your home to be marketable.
3. There is a good chance you will move soon anyway.
If your likelihood of moving in the next two years is high, a big remodeling project probably isn't your best choice. The hassle and expense of remodeling may exceed your potential enjoyment on such a short time frame. If possible, it may be better to move sooner, to get the house you want.
4.You need to make too many improvements to meet your needs.
This is particularly an issue with growing families. What was cozy for a young couple may be totally inadequate when you add small children. Increasing the space to make your home workable may cost more than moving to another house. In addition, lot size, building codes, and neighborhood covenants may restrict what you can do.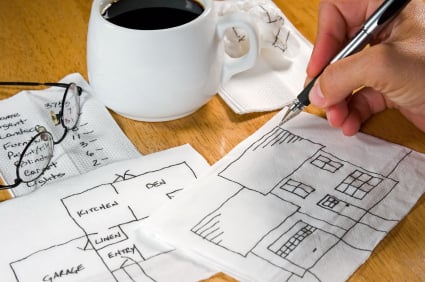 5. You don't like remodeling.
While it's really worth it, remodeling is a little dusty and oftentimes disruptive to your routine. Remodeling also requires making a lot of decisions. Some people love the whole journey of having projects done, as well as the beautiful end result. If you're not one of them, it is probably easier to scout out a house that has the features you want already in place.
Remodel or move checklist:
Here are some questions to ask when considering whether to move or remodel.
How do you feel about your current location?
Do you like the general floor plan of your current house?
Will the remodeling you're considering make your home more marketable offer a rate of return that you are comfortable with?
Can you get more house for the money in another location that you like?
How long do you plan to live in your current home?
How much money can you afford to spend?
Final Word
It's easy to know when you need more space or a new configuration – the trick is in how best to achieve it. Both relocating and remodeling can lead to accomplishing this objective, and each has its own perks and joys.
Choose what's best for you and your family, and enjoy your digs, where ever and whatever they may be!