As a kid, my favorite place to sit was on the stairs, halfway up, like Kermit. Neither up nor down. I loved being able to see into both the upstairs world and survey the ground floor comings and goings. There's something to be said for these 'best of both worlds' living spaces in a home – and screen porches are one of the most charming. Sometimes you just want to be in and out. You want shelter and sunlight. You want to watch the world go by without being in the wind. You want to watch nature without being eaten alive by it. And sometimes you just want to be away from your family members!

Designed well and built with quality in mind, screen porches can add valuable embellishment to your property and boost its curbside appeal. Plus they're much easier than open porches to keep clean and ready for use, since you don't have to sweep away leaves and other debris. Bear in mind though: pollen and snow can still get through.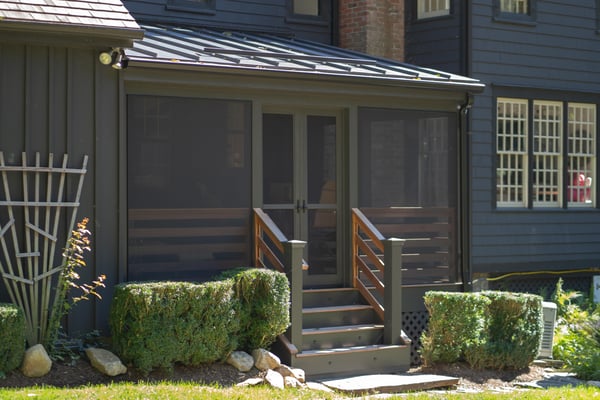 Planning your Screen Porch
So what are the practical things to consider when building a screen porch? Like adding any new room to your home, think about creating a seamless transition to and from the new zone. Planning where to put it and what materials to use should be top of your list of considerations:
1. Location
Screen porches make great transitional spaces between your yard and your house. You can connect them to a deck or patio to create fantastic social spaces for parties, barbecues and playrooms. To extend the season for a screen porch and make the most of the sun in the cooler months, choose a south-facing spot for your screen porch.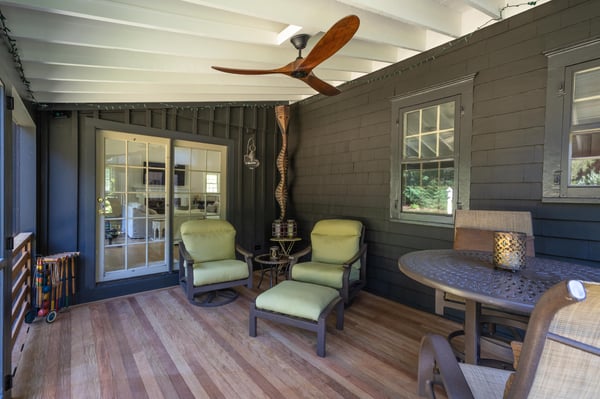 Avoid that flat-pack, 'porch out-of-a-box' look by adding a few architectural features to your new room such as a high ceiling, a fireplace, decorative latticework or a stunning tile or IPE floor. Touches like these make any room appear lived-in, much larger and more loved.
2. Light and air
Getting light into a screen porch itself is not usually a concern, but adjacent rooms can be in danger of being dimmed. If you're building a screen porch near or next to another room, consider the impact: will your newly added roof diminish block light or airflow or both? If possible, add skylights or position the new porch next to a room that has other windows that bring in light. You can retain existing windows as part of the new screen porch, allowing those interior spaces to still benefit from borrowed light and air.
3. Stunning Materials
Jutting out on the side, rear or front of a house, screen porches come in for more than their fair share of weathering. This little room needs to withstand the worst of the elements: storm, rain, wind, extreme cold, extreme heat, the weight of snow and ice. But that doesn't mean it has to look like a nuclear bunker!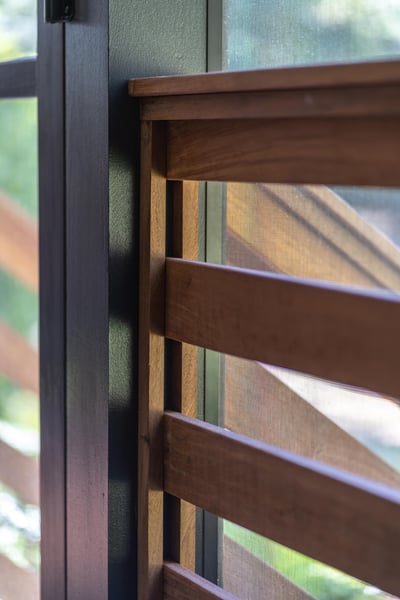 For the ceiling and floor, natural woods like fir and cedar look stunning and can blend in beautifully with the surrounding nature. Many of our clients choose to use a lower maintenance composite on the outside and a more natural substance on the inside.The most durable screened porches are this perfect combination of function and form.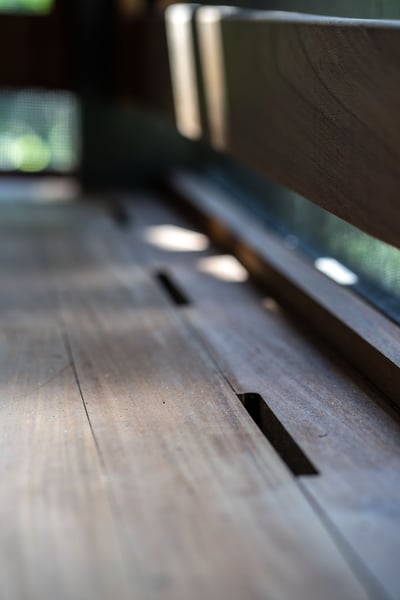 4. Extending the season
With a little planning though it is possible to extend the season for your 3-season screen porch. If you want to avoid the autumn chill and perhaps use the space a little during the winter, you can make your porch more comfortable when the temperature drops by adding removable glass panels made to fit your screened openings.
So if like me, you find yourself drawn to those little halfway spaces, extend your comfort zone with a new screen porch. These little rooms add a lot of value and allow you to enjoy the fun of the outdoors with all the coziness of being indoors.