Our hearts, and our family's soul, are in the kitchen. It is by far the most important space in the house, and second place isn't even close. It's mission central where you cook, eat, gather and plan your day.
Take a look at this all-important room. Is it working well for you and your family? Is it cluttered, dated or dysfunctional? It's important to have a kitchen that reflects your personality and tastes, a space that resonates with your very core.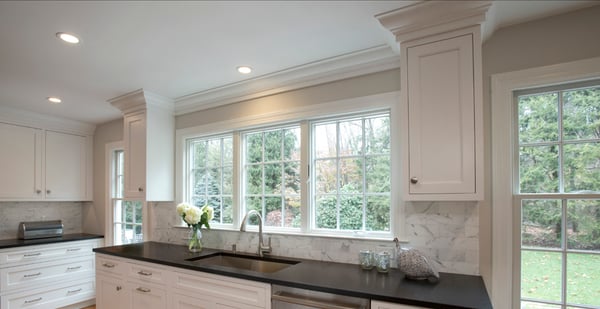 A new kitchen can effortlessly weave together beauty, comfort and convenience creating a real sanctuary in your home. Here are seven reasons why a new kitchen may make sense for you and your family.
1. Beauty
You never get a second chance to make a good impression. Your family and guests tend to congregate in the kitchen more often than even in the living room.
A beautiful new kitchen will always greet your family and guests with classic elegance and style.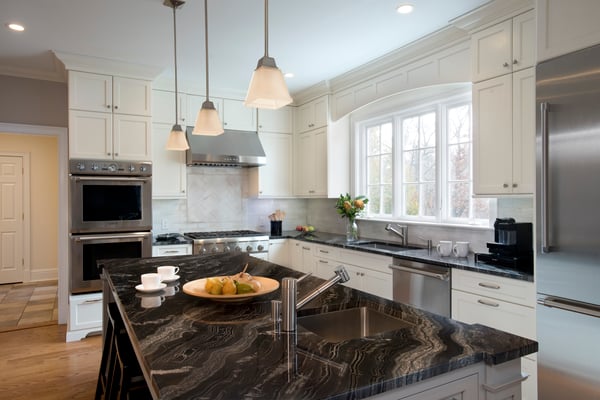 2. Lifestyle: It's The Heart of Your Home
In the past, the kitchen was separated from the rest of the house. Today's new home designs recognize that the kitchen isn't the back room of a cafeteria, but the hub of the home. Cooking can be a family event when the room is open to the rest of the living space.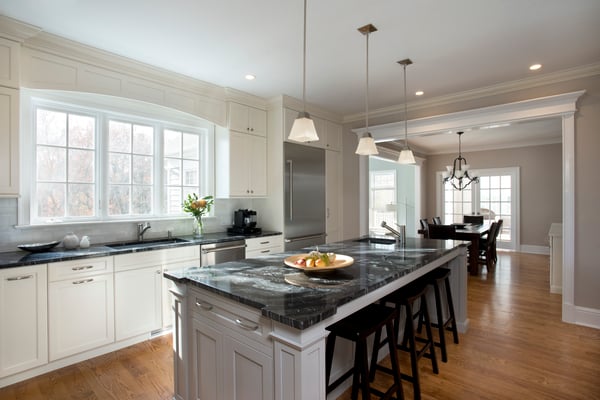 So, if you've been confined behind walls, break free and re-create your kitchen; add space and open up your home.
Expanding and integrating into adjacent areas makes this "heart of the home" a more warm and welcoming space where you can accommodate and entertain family and friends.
3. Save Time, Make Your Kitchen Work for You
You're going to be spending a ton of time in your kitchen, no matter what. Think about it. Depending on how often you cook dinner and where your dinner table is located, you may spend as much as three hours a day in the kitchen, on average. That's one-eighth of your entire life!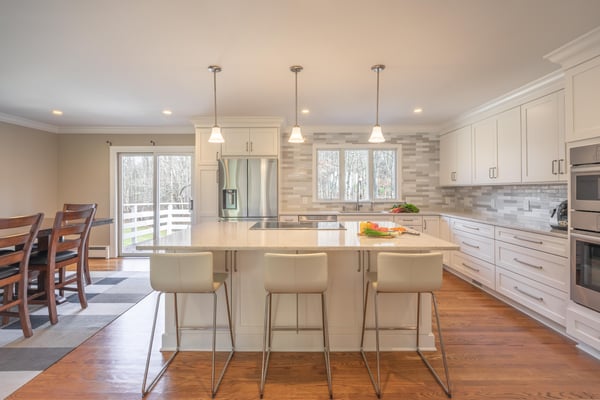 First and foremost, a kitchen should function optimally. A kitchen that is more efficient will save you steps and time when preparing family meals.
Are you bumping into someone else while you share the space? Are you navigating an obstacle course in order to get food to the table. Don't let the old layout dictate to you rather than being the chef in charge.
A new kitchen layout will remove bottlenecks that cause you to waste time as you work in your kitchen. A kitchen island, a second sink, a pantry, or more cabinets are some options that may make the space work better for you.
Maybe you'd like to consider a design that works around a Galley Workstation or take advantage of some of the new storage features that have come out since your kitchen was installed.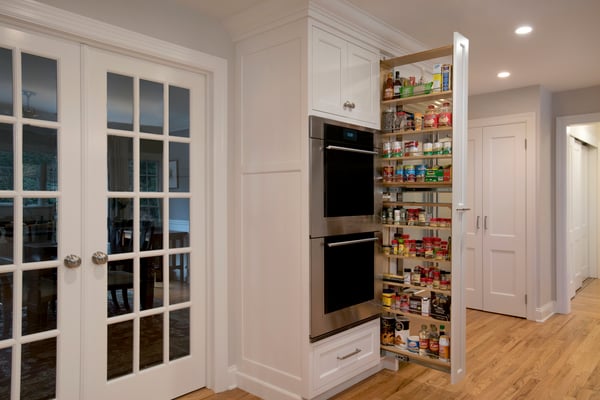 4. Take Advantage of New Technology
Take a look at how the industry is changing the way you can cook!
Kitchen appliances have seen major advances in the past few years. There are ovens that cook faster and better, using new technologies such as convection and steam.
Induction cook tops have added a new dimension in cooking, and dual-fuel ranges give you the best of both gas and electric cooking.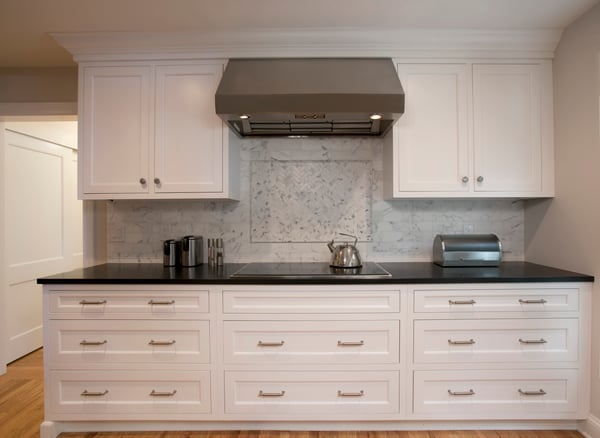 Dishwashers are quieter, more efficient and do a better job of cleaning your dishes. French door refrigerators allow for easier access than traditional side-by-side units.
Whether you would benefit from refrigerator drawers to accommodate your passion for locally grown vegetables, or a warming drawer for a loved one with a long commute, or a microwave drawer, a new kitchen can easily incorporate these life improving appliances.
5. Eco-friendly Advantages: A Greener Kitchen
With fuel prices still fluctuating, energy efficiency continues to be a high priority. Replace your bulky/awkward/energy guzzling appliances with energy-efficient appliances that cut the utility bill and place less stress on the environment.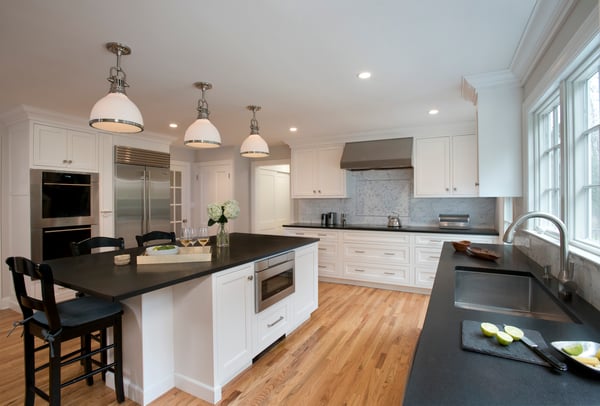 A "Green Kitchen" will perform better, using less energy, which saves you money.
6. Value: It's an Investment, Not an Expense.
Nothing adds value to a home like a fully updated kitchen. A kitchen can make or break the deal when it comes to resale. Even if you are not planning to sell your home, a new kitchen makes day-to-day family life more pleasant and enjoyable. Plus your home is more marketable later. It's a win-win situation.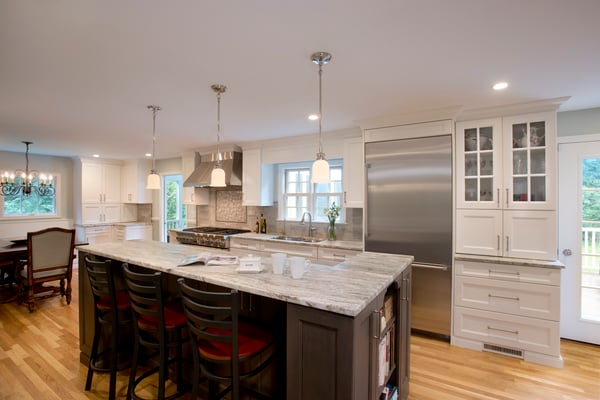 7. Honestly? You Deserve Better.
How do you feel when you visit other homes that have a beautiful kitchen? Admit it. You're a little envious. Imagine being the homeowner that other people are envying! When your kitchen is stylish, functional, and updated, you take pride in the space. It's a focal point of your home, so why not treat the kitchen with the respect it deserves?
Start thinking about what you want in your dream kitchen. Wander through appliance showrooms to see what's new since last time you bought appliances. Check out kitchen designs and cabinet trends on Instagram and Houzz. Or, do it the old fashioned way! Clip photos from magazines.
Contact us today at Clark Construction. We'd love to start working with you on a new kitchen!