Freelancers have always known that nothing beats a killer home office for a lifestyle that's both productive and creative. For the rest of us, COVID-19 has offered us an opportunity to work remotely and try this out. Many of us find that we really like it. Maybe we'll work from home more once things open back up? Get a leg up on forging a great work-life balance, with six tips for creating a successful work-at-home space.
Tip 1: Use a room that has just one purpose.
The ideal home office is a dedicated space, ideally a dedicated room with that purpose with minimal distractions and good access to natural light and air.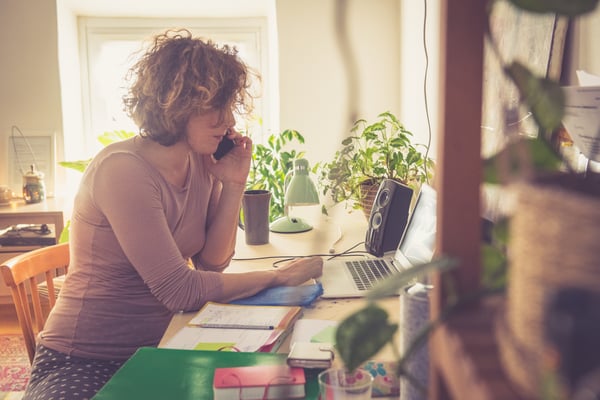 Although people's first inclination when starting to work at home is to plop down with your laptop on the couch or in the corner of the family room, these locations can be problematic in the long term.
Psychologically, you're more likely to get into and stay in the mood for working when you're in surroundings that you associate with work. Plus who can think with kids tugging at your feet?
Secondly, the ability to close the door to any and all paperwork at the end of the work day allows you to "Leave your work at the office", giving yourself and your family some good quality time together.
Thirdly, researchers have found that telecommuters' family demands interfere more with their work than the other way around. Family members who would be reluctant to interrupt someone in the workplace had no such reluctance to interrupt at home. Having a distinct office space may make the boundary more distinct, and help minimize those intrusions.
If you don't have space for a full room, consider a Pocket Office, a workspace carved out near the high-traffic areas of the home, often in a closet with the door removed or in an alcove. It may be the hub for home management as well as your "office"; paying bills, coordinating the family's schedules and keeping everyone organized.
Tip 2: Focus on usability and comfort.
The best home offices are ones that incorporate good feng shui and ergonomic principles. You're worth it.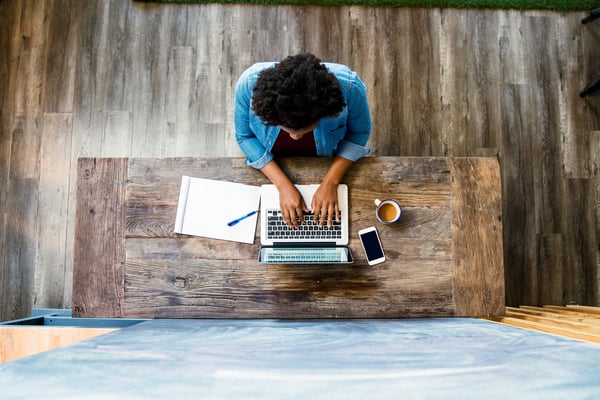 Be creative with your desk. Big desks with giant leather chairs are for big formal offices. A smaller writing desk or work surface, or an adjustable height work surface may be better suited to your at home office style. Consider stand up desks that allow you to sit or stand during the day as your work flow permits. Sitting all day just isn't good for you, and one of these desks desks can allow you to make a significant change in your life. Make your own counter out of a material you love, and you'll love working at it.
The right chair is super important, so don't skimp. Get a comfortable chair and make sure you adjust it to the right height. There are many chairs available that offer adjustable angles, heights and head rests. While you are working, take lots of breaks to rest your eyes, clear your head and stretch your body – at least once every hour.
Splurge for a great monitor, keyboard and mouse. When we return to our brick and mortar offices, it will be nice if the office workstation and the at home station are clones, with the same keyboard, same mouse, same monitor, same layout. It will allow you to smoothly transition from one to the other.
If you're working on an iPad or tablet, extras such as a keyboard and Bluetooth speakers make work life easier and more comfortable. Make sure you've allowed for plenty of handy outlets in the room layout for plugging in everything for recharging.
Up the internet speed! When possible use a hardwired ethernet cable rather than wireless to optimize your bandwidth.
For remote meetings, great noise cancelling headphones are a must. For short meetings, ear pods are great. If you are video conferencing all day, you may prefer noise cancelling over the standard headphones.
Tip 3: Make your space Facetime-appropriate.
When you work remotely, chances are that you will do some FaceTime or video conferencing.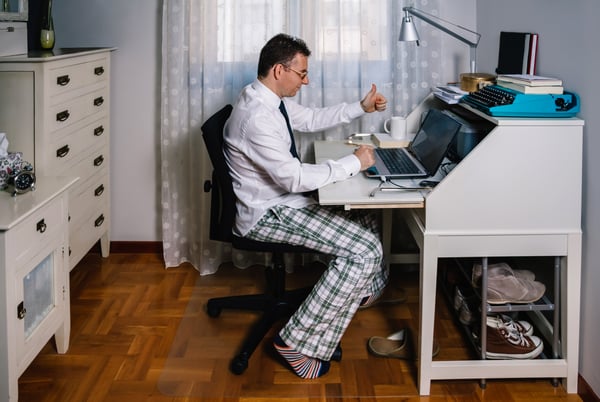 It's fun to work in your pajamas, but keep the fuzzy slippers under your desk and the view behind you as simple as possible. Wear pants. Adding built-in cabinets, shelves and bookcases can be a great way to maintain a clean look and provide a place to get papers out of sight when you have a meeting or video conference.
Tip 4: Organize your stuff.
Organize your stuff to keep yourself sane. People who work from home are likely to spend the vast majority of their work hours online, with files in the cloud. With a cloud-based storage solution and a scanner, you can keep all your documents easily accessible, regardless of where you are, even from your iPhone in the middle of nowhere. Your files will be maintained online, and synced to multiple desktops/laptops as you wish.
But even the most web-based worker occasionally needs to interface with the physical world. If you have a real office and an at home office, part of working at home typically means picking up your paperwork and taking it to the office. Keep these aspects of your work day in mind as you design your home office.
An expandable folder or binder with tabbed pockets can compactly keep your papers organized, as can a wall-mounted tray system. Color-coding helps too. Treat yourself to some of the innovative, practical, space-efficient products for sorting and storing files.
Invest in a backpack or briefcase you love. If you find yourself working on-the-fly, in the train, or in multiple locations, a well organized backpack will help keep everything in line, and is an extension of your home office.
Tip 5: Enjoy the view.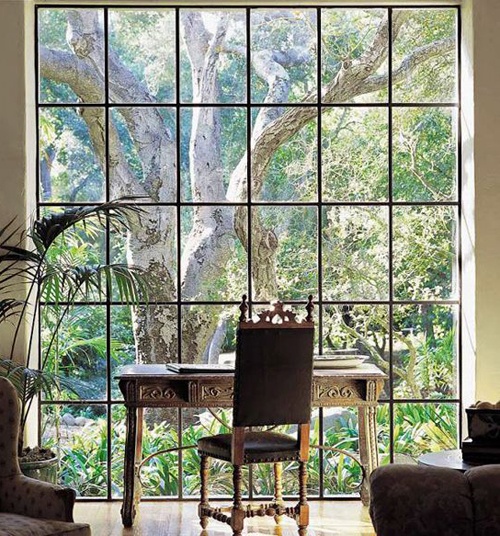 My home office looks out a triple glass door at the backyard. An efficient office doesn't have to be bare and sterile. Surround yourself with things you love to look at, whether it is art prints, photos, sculpture or plants (which improve air quality). When you are happy your productivity increases.
Tip 6: Working "at" home but not "in" the home.
If you don't want to commute, but still need a quiet place to think, away from the comings and goings of family life, consider a detached home office. It can be similar to a guest house; your own private work space just steps from your door. It can be a room over a detached garage. These spaces combine the convenience of a home office with the physical and psychological separation between "working" and "relaxing" that is often missing when you work from home.
Working from home in your pajamas with a cup of joe in hand is something many of us have long dreamt of. Carving out some space for a home office that welcomes you with plenty of work area, lots of storage and wonderful natural light is the first step in the transition to a better work/life balance and making that dream come true. Enjoy!