Everyone's talking about the game changing Velux ACTIVE system. It's the first smart system that is able to monitor your indoor air quality, automatically opening and closing solar skylights to optimize the temperature within your home, and keep your indoor air fresh.
How does it work?
It's a two pronged approach:
Sensor-based ventilation: Smart sensors continuously monitor temperature, humidity and CO2 levels and open or close your skylights accordingly.

The system will periodically ventilate your home, even if the temperature, the humidity or the CO2 are already at a good level. This allows you to enjoy fresh air and get rid of unpleasant smells all day long.

You can control via an app: Use the VELUX ACTIVE app to operate your VELUX skylights and blinds from anywhere using your smartphone.
What exactly does it do?
VELUX ACTIVE has two main algorithms for the automatic control of your indoor climate. They are:
1) A ventilation algorithm that automatically controls your VELUX skylights to regulate room temperature, humidity and carbon dioxide (CO2).
The ventilation algorithm relies on indoor measurements made by your sensor and weather forecasts retrieved from the Internet. By using this information, the VELUX ACTIVE algorithm can decide whether ventilating the room will improve the indoor climate, or whether the skylight should remain closed because the indoor climate cannot be improved. To ensure a constant supply of fresh air, the algorithm also has an air recycling functionality, that ventilates the room on a regular basis (every 1-6 hours) for a period of 5-15 minutes depending on indoor and outdoor conditions.
2) If there is an impending heat wave, another algorithm is designed to prevent potential overheating. It will close your blinds to block out the sun when appropriate. This algorithm also relies on weather forecast information to make smart decisions.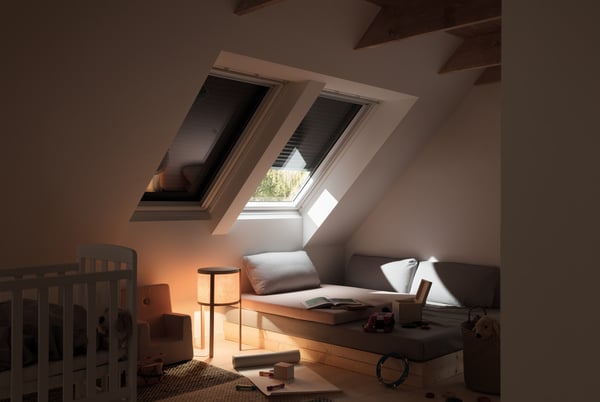 What happens when it rains?
Rain sensors close the skylights automatically.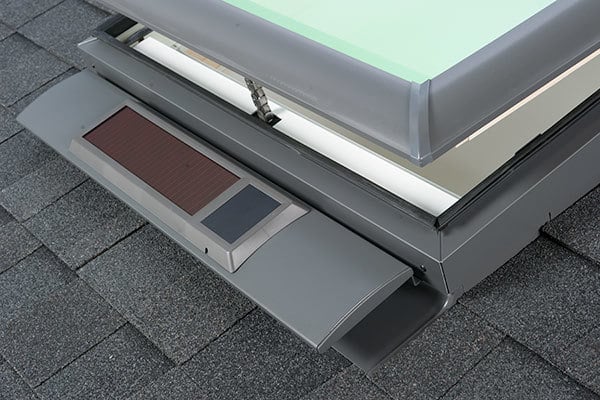 What happens in the winter?
VELUX ACTIVE is designed to provide automatic control of your indoor climate year-round. During the cold season, the algorithms will be automatically adjusted to prevent cold drafts. When the outside temperature drops below 35°F, the ability for the skylights to open automatically is overridden, preventing snow and ice from entering your home.
Velux reports that if snow covers the solar panel, there may be short periods of time when ACTIVE control may be unavailable due to battery discharge.
What happens when you go out?
There is a departure switch that you can touch on your way out to simultaneously close your skylights and ventilate your home in a secured ventilation position.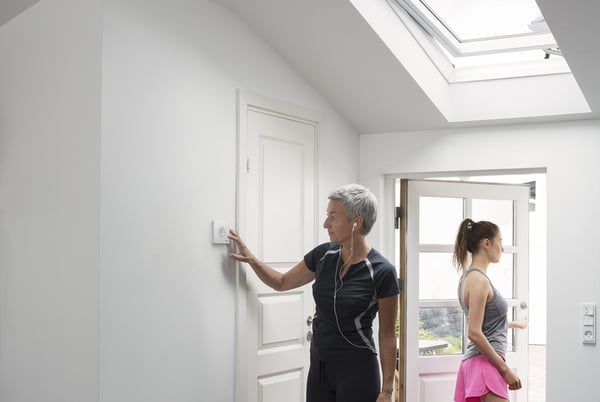 What's the tax credit on solar skylights and solar powered blinds?
The Federal Tax Credit is 26% in 2020. (Click on link for details). It will be 22% in 2021.