People often ask us how they should get started. If the idea of taking on an addition or large remodeling project seems scary and overwhelming, don't worry. Your top priority should be to find "your person" ( or "the team") who will guide you through the process. Then you can relax enjoy the journey while someone else wraps their head around your project and worries it for you. That's the key.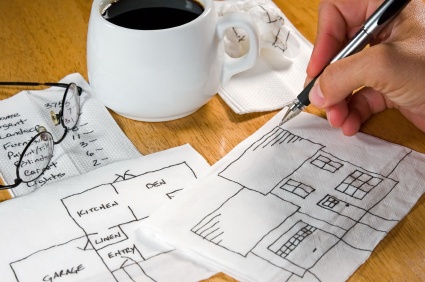 You don't have to figure out exactly what you want to do before reaching out to them. "Your person" will help you with defining the scope of the project. "Your person" will bring a talented designer to the table, along with an experienced project supervisor to orchestrate a well crafted project.
Your primary and most important job is to choose "your person." "Your person" and their team are the people that you will be able to count on at every step along the way.
You don't need in depth remodeling knowledge, and you don't need to worry the project. It's the difference between knowing what time it is and how the innards of a watch work. "Your person" will know how the watch works.
So how do you find "your person", the remodeling team who is the best match for you?
Step 1. Ask around
You're only going to be interested in companies with a track record of successful projects. Within those companies, the people you are interested in working with will stand out as a strong leaders.
What sets them apart?
He/she understands every aspect of your project; from meeting your budget and design objectives to problem solving during construction .
He/she has the know-how to coordinate and orchestrate the utmost of results from numerous trade contractors and countless suppliers.
He/she will accept responsibility for the actions of the company.
He/she will present solutions, not excuses, when a problem arises.
He/she will have the expertise in bringing your job to a speedy close.
He/she will have a commitment to after care, so you aren't left hanging.
Step 2. House Call
Have them come out, get to know them. Talk about your house, how it's working for you, what is not working, your goals. Share a couple laughs. See if good rapport starts to develop. If you have a significant other, include them in this house visit as well, so that you can make sure that it feels like a good match to both of you.
Step 3. Showroom/Office Visit
After they come out to see you, invite yourself in to see the place they work out of - their offices and showroom. You can learn so much about them during this visit.
By seeing who is there and what they are doing, you can find out more about how they operate and how they will run your job. Are they organized? How do they track things? What is their system for ensuring jobs stay on track and for following up on loose ends?
Step 4. Talk to Past Clients
Get to know some past clients. There's nothing better than talking to people like you who have just been through the remodeling process. Positive and enthusiastic responses from past clients are telling.
Step 5. Choose "Your Person"
Weigh your feedback, and choose an excellent remodeling company that you have faith in, one who will build a top notch project for you in a timely manner, within your budget and with a minimum of headaches.
Jump In /Start Working Together
"Your person" will work with you in depth to flesh out what you want to do. Together you will develop mutually agreeable objectives and (transparent) budget goals. And then foot hits the metal; design starts.
You are off and running, with "your person" managing the big picture and the details, so that you can keep doing the things you enjoy.
We would love to be "your person".