Visually rich and warm to the touch, wood countertops and tables are making a comeback. Each piece is unique and they make an unforgettable impression, and allow us to respectfully admire the untouched beauty of nature in our homes.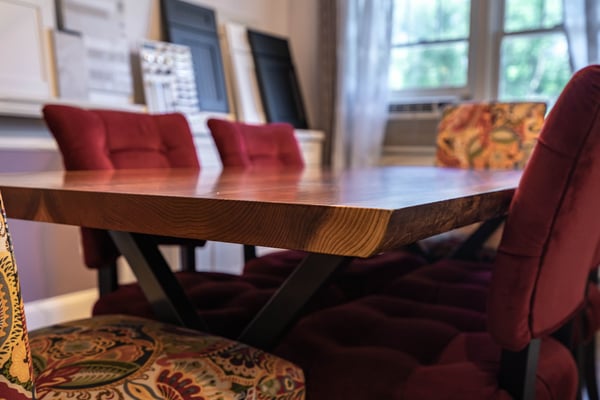 After being eclipsed for a number of years by showy granites and quartz-based engineered materials, natural wood counter tops are enjoying a real revival in kitchens. Both wide plank wood counter tops accented with a natural live edge and traditional butcher block tops are on the uptrend, primarily as island tops and accent pieces. There is an artistic juxtaposition of the contrast between the natural organic look and feel of a wood countertop and the practicality and sleek look of complimenting quartz-based.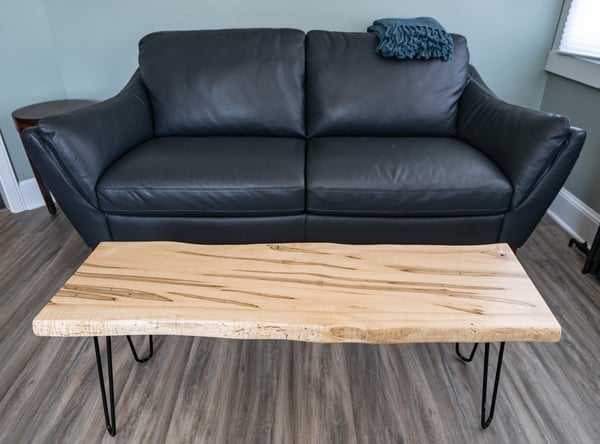 The natural wood grain patterns of knots, curl, and marbling combined with the rich color tones make them game changers as countertops. Ross Clark, General Manger of Clark Construction says, "Our clients appreciate having something beautiful and unique, and appreciate the fact that wood counters are organic and sustainably sourced. Natural wood countertops are a win-win situation on many levels, bringing rustic charm, and the peace and ambiance of the forest into our clients' homes."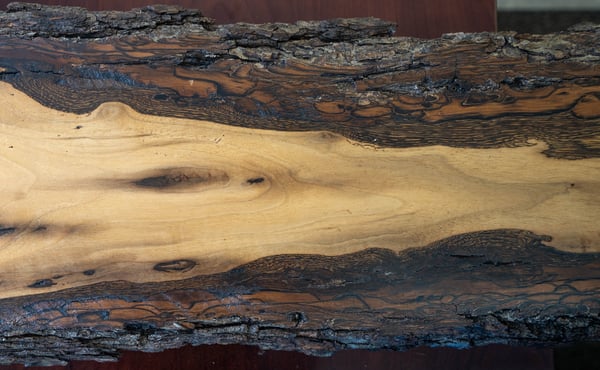 With the trend away from a full kitchen of heavy stone, the natural warmth of wood shines through. Natural wood countertops are crafted using ethically sourced wood slabs, milled from dead standing trees or trees and root systems left on the forest floor. Some of the slabs we use are local, and some are harvested from the Pacific Northwest. Natural beauties include maple, black walnut, redwood, elm, claro walnut, western juniper and old growth redwood.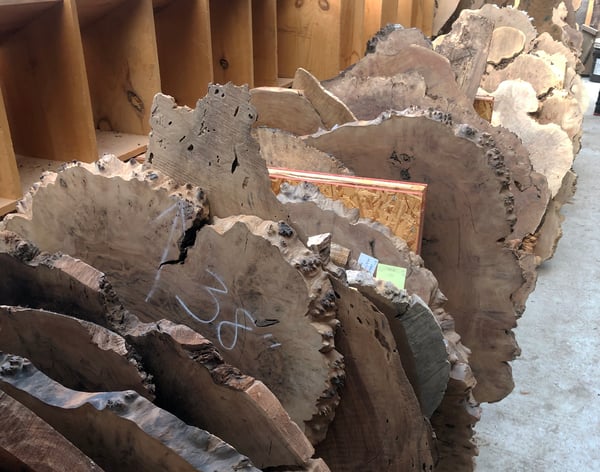 Live Edge Wood Countertops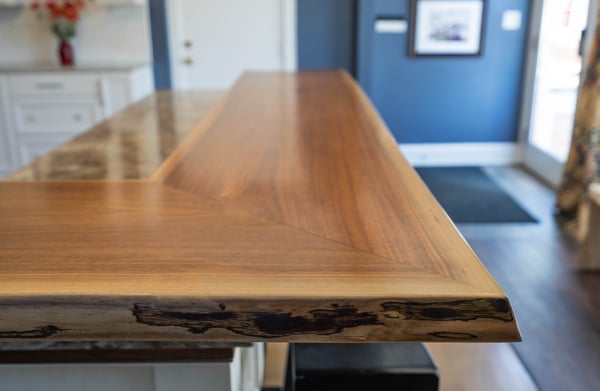 One natural wood option is a counter with a live edge. Live edge wood slabs leave the outside edge in its natural state.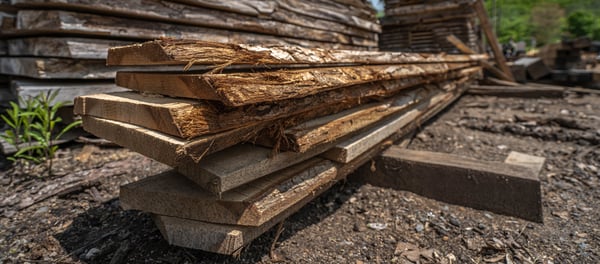 The bark left intact enhances the natural look or can be removed to expose the organic edge. These are used for kitchen counters, tables and mantles.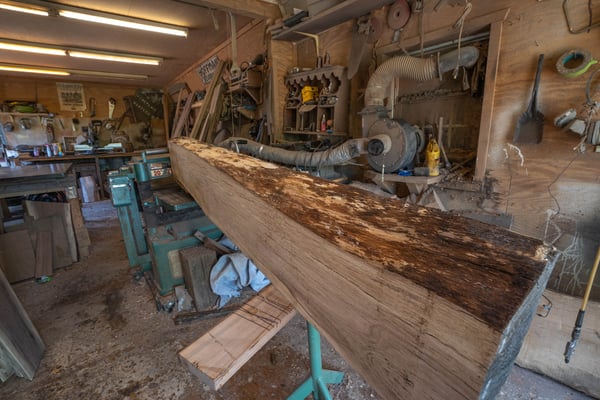 Standing dead trees or trees that have recently fallen are the sources for these slabs. Our local supplier, Board Silly, keeps themselves in-the-know about trees that come down during storms and arranges for delivery to their sawmill, providing them with a consistent source for live edge counters.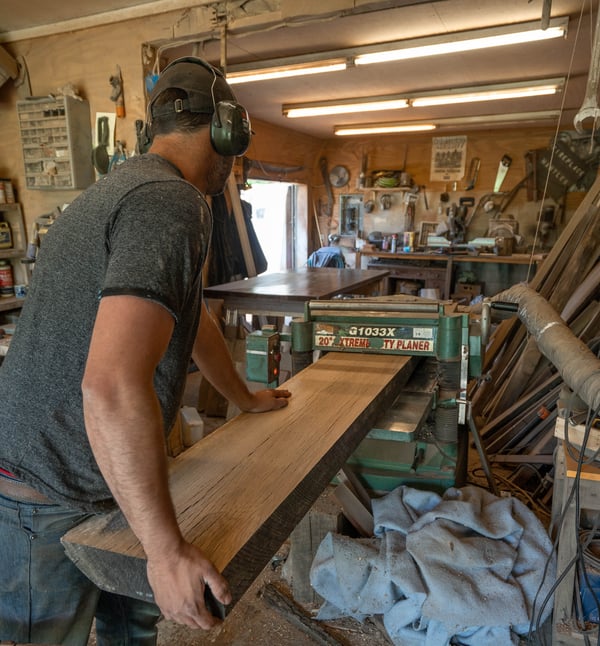 Reclaimed Wood Countertops
Reclaimed wood countertops have rustic beauty. Plus, you're saving something from being carted off to the landfill. Apart from being green, reclaimed wood is durable, and if properly cared for, will last another hundred years or more. The naturally aged appearance of reclaimed wood counterbalances the necessarily squeaky-clean environment that a kitchen tends to be.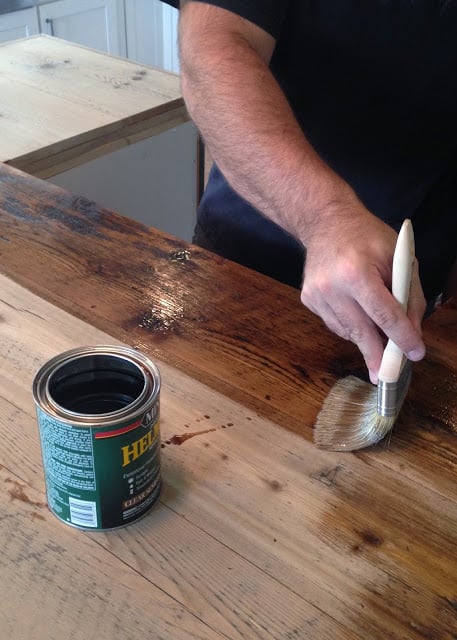 Reclaimed wood countertops are available in many styles and colors and come from a variety of sources. Wood with insect scars, disintegrated knots, and nail holes, tend to be the most interesting.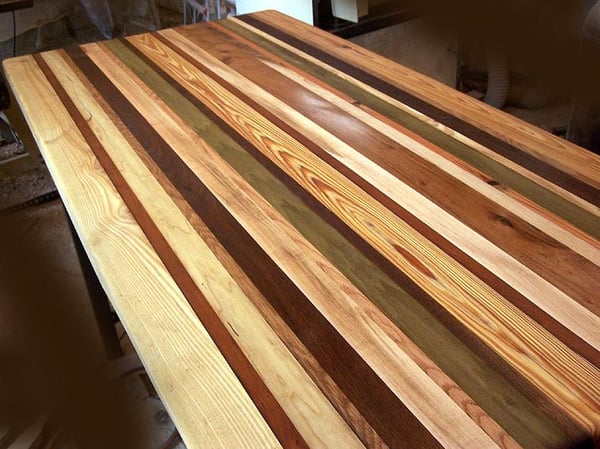 Old buildings going through renovations or demolition are common sources for reclaimed wood slabs. When large hardwood trees covered the land in the 1700's and 1800's, planks of solid oak were the cheapest building material. As a result, much oak was used for the construction of factory floors and barns and oak and pine remain as the most readily available reclaimed materials. Some reclaimed elm and maple is available as well.
Distressed wood tells a story. Each imperfection, scar and nail hole in reclaimed wood countertops is part of of its history.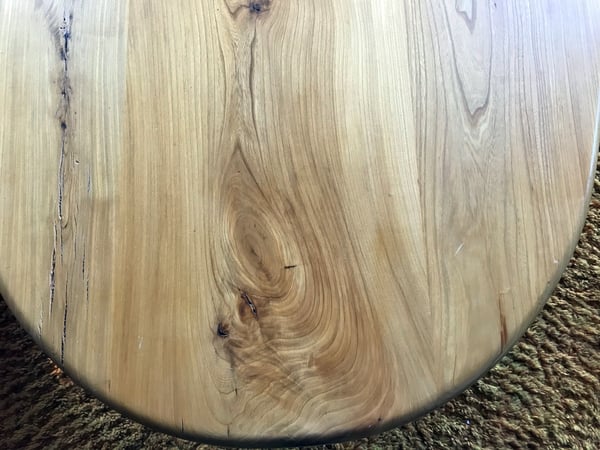 If you know where it came from you may have a story to share, and if not, the one you imagine adds romance to the room you put it in.
Butcher Block Counters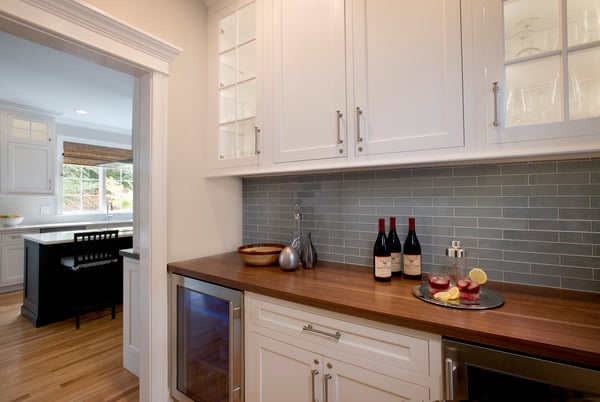 Butcher block counters have been used in kitchens for centuries. They are constructed from pieces of hardwood laminated together with glue for strength and stability. They are available in end grain and wide plank in a variety of thicknesses and wood species.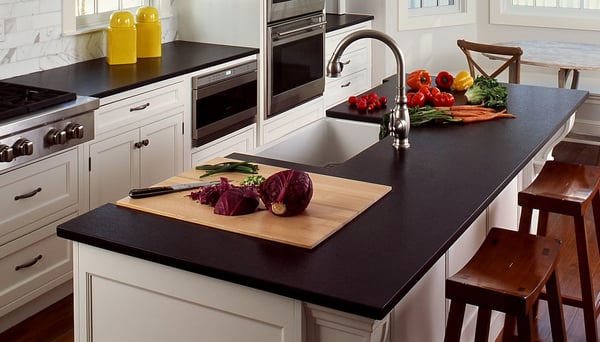 Moving beyond just the traditional John Boos maple butcher blocks, we install butcher block counters in walnut, character walnut, cherry, hickory, and beech. They provide a warm, organic landing surface in a kitchen, one that is wonderfully forgiving, gentle on dishware, and helps to absorb the noise of a busy household.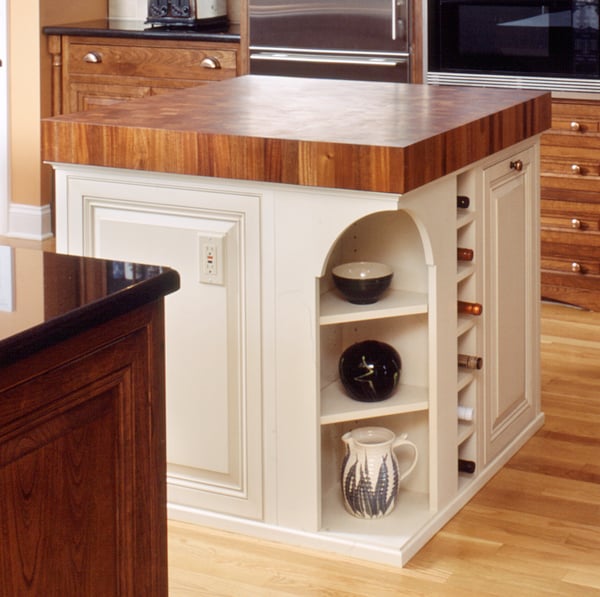 Finishing and Maintaining Your Wood Counters
Some of the wood counters we install are intended for chopping on, and many others are just not. How you intend to use your wood for cooking effects what you choose to finish it with.
If it is not intended for food use, tung oil will provide for the most natural look. There is a balance between durability and the natural look. A heavier finish of polyurethane is innately durable and satin and matte polyurethanes are the most popular finishes with our clients.
For food use, your countertop should be finished with a generous coating of mineral oil to make it food safe. Mineral oil penetrates the block, thus sealing the pores of the wood, inhibiting moisture penetration and extending the life of the block.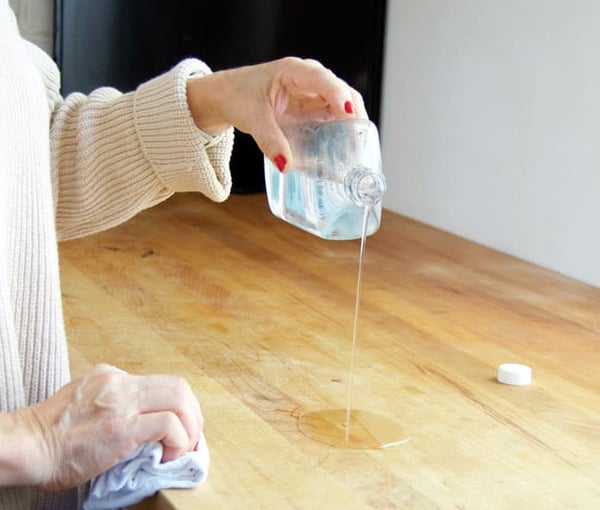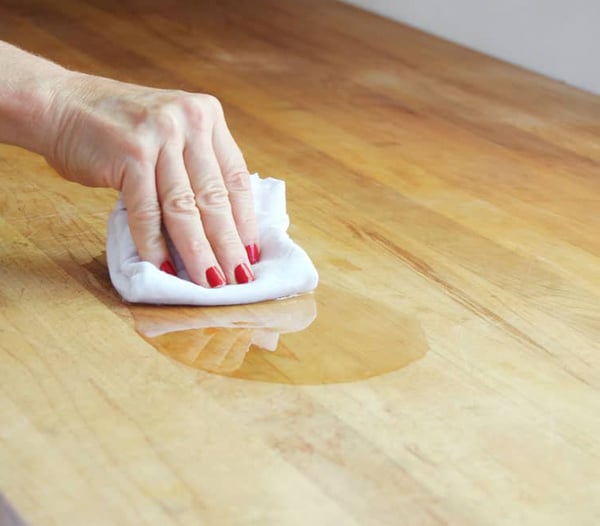 A mineral oil finish requires occasional maintenance depending upon the environment and the amount of use it gets. When the block begins to look dry and "chalky", the block should be re-oiled. Don't use any oil made of vegetable or animal fats, as these types of oils run the risk of going rancid and can be a health issue.
Regardless of which finish you choose for your counters, you will want to keep them as dry as possible. While spilling water on your countertop is inevitable, do not let it sit there for hours. Whatever the finish, your countertop will stand up well to quickly removed spills of coffee, juice, milk, and vinegar, etc. Damage from stains, should it happen, is quite easy to repair with a new coat of oil.
Of course, wood can also be revived if damaged; whether it is oiled or finished with polyurethane, if it gets dinged, stained, or gouged, you can refinish it.
Conclusion:
We have all come to love the remarkable, the exceptional, and the extraordinary individuality of the slabs of wood that we have found. Our clients are enthusiastic about including wood tops and tables in their designs. Reclaimed wood countertops and live edge wood countertops are something we love, and they are here to stay!