Most people don't use their tubs. Even if the existing bathroom's dimensions are modest, eliminating that big tub could free-up an area for a generous shower. Remodeling trends like large walk-in showers without shower doors, boutique tiles, multi-purpose shower sprays and wet rooms define "luxury" in new ways.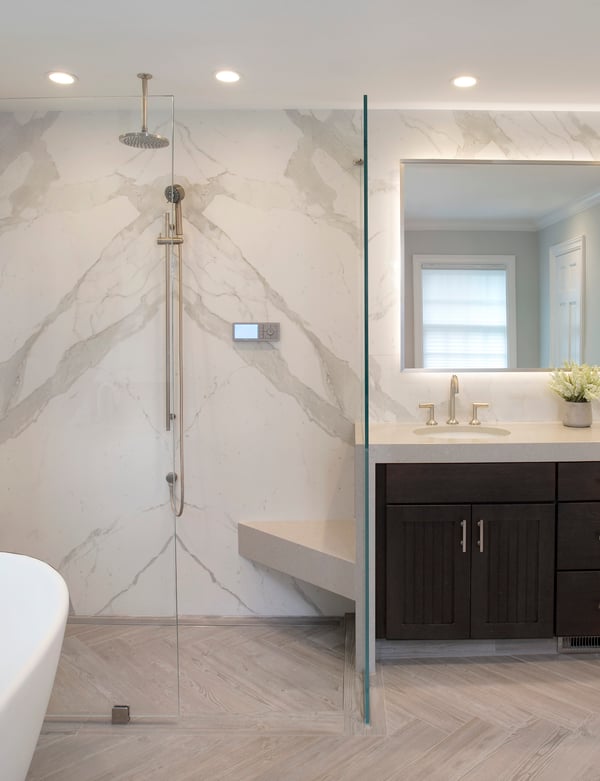 Once you have a custom shower built, you'll wonder how you ever lived without it. While your home is your haven, your biggest asset and the heart of your family life, the custom shower becomes the inner sanctum, a sanctuary that you enjoy spending time in, personalized just for you.
Here's 7 reasons why taking away the tub makes sense:
1. Trends: Showers are in.
With the great tsunami of Baby Boomers influencing market trends, the shower has hit its heyday. A soothing steam shower with body sprays for aching muscles promotes relaxation and well being. Wasting water and negotiating a slippery tub has lost much of its appeal.
2. Showers open up the space.
Not only will a spa-like shower add a touch of luxury to your bathroom, it won't feel like it's taking up all of your space.
In a smaller bathroom, a tub does little more than make the bathroom feel cramped and pokey. Removing the tub during your bathroom renovations allows you to turn that hard to access, under-used or out-of-date bathtub into a fully functional, easy to access shower.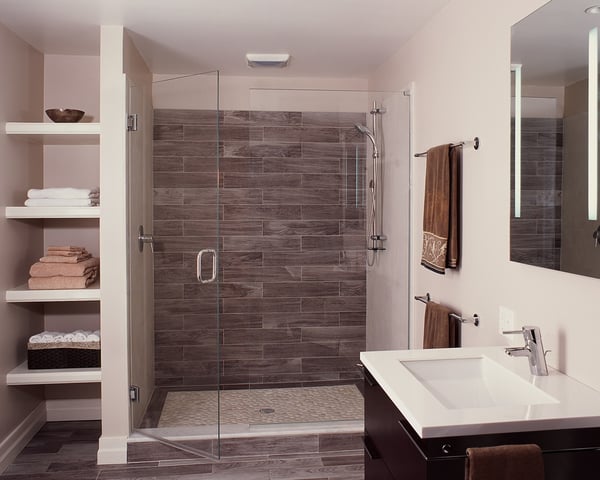 Showers, after all, feel much more open and less constricting than bathtubs. And if it's a cramped and dark room, reshuffling can do a remarkable job of opening up the space.
Plus, who likes bumping into that slimy shower curtain?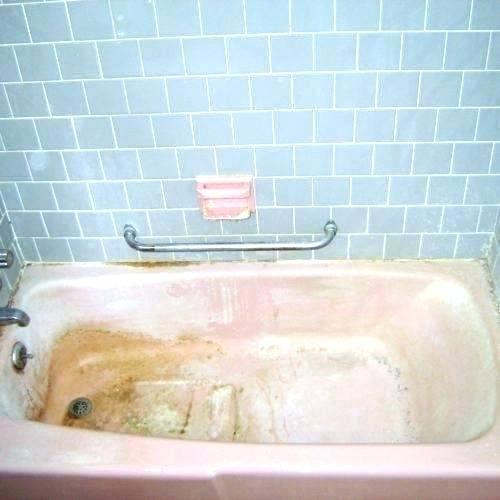 3. There's room for two
Utility-size showers are going the way of the dinosaur. With so many great shower features available, big, beautiful showers allow you to soak in comfort and style.
In a bigger shower, you can open your arms and move around easily and even share the space comfortably. Showering with your partner can be an efficient use of time in the morning, plus there's someone to wash your back... and as a bonus you get a few extra minutes together!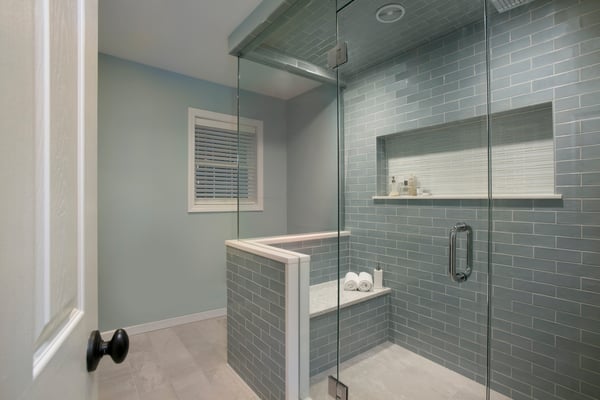 Dimensions for a multi-functional shower should be at least three feet square and have a wide access. There should be ample space to get in and move around. If you opt for no door, 42 by 60 inches is a better minimum size, as the larger area helps keep the water from straying out.
4. Rain Showers, Multiple Shower Heads, hand helds, rain shower heads.
Advances in plumbing fixtures are focusing more and more toward the luxurious and beneficial, from body sprays to rain shower heads,
Shower heads do more than just output water. Kohler's Moxie plays your music via Bluetooth, and Eco Lilly allows you to turn on the water so it can warm up and then shuts off when it's up to temperature.
Plus, today's showers typically have multiple shower heads and sprayers.
A popular combination providing maximum flexibility is a rain shower head plus an adjustable handheld shower.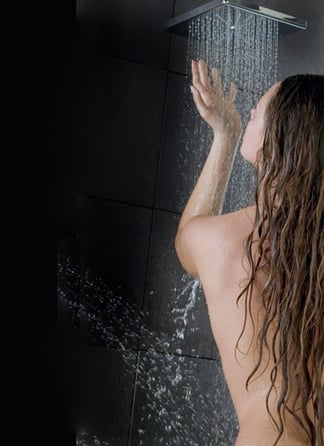 The handheld slides on a wall-mounted rod, and can be locked into place or pulled out on a retractable hose making the spray available anywhere it may be needed.
For the upmost convenience, we have mounted water volume controls outside showers, (with thermostatic valves inside the shower) so that the water can be turned on without the future bather getting wet. The thermostatic valve gets you water the temperature you want every time.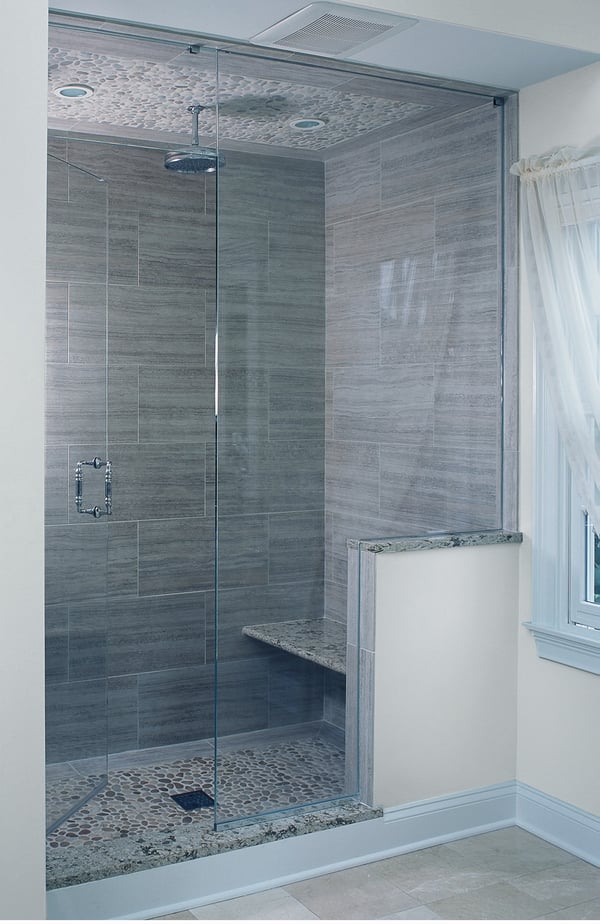 5. Easier access and safety
A shower is easier to get in and out of than a bathtub. Showers, with some strategically placed grab bars, can even be used easily by those who require a wheelchair. Gone are the days of institutional looking grab bars; nowadays they're available in wonderful colors, chic shapes and elegant finishes.
Plan ahead to make the dream shower work for everyone, regardless of age, size and ability, guaranteeing that it will serve you faithfully for years to come.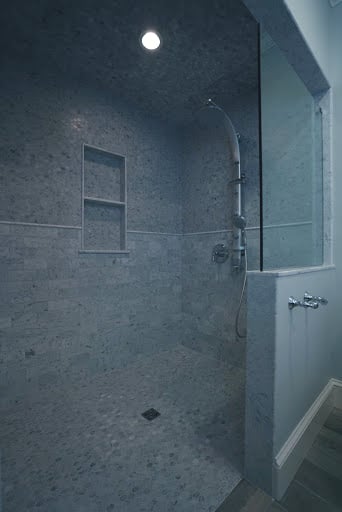 Showers these days can easily be designed without doors. Instead of a solid rim at the threshold to contain the shower water, make the shower access barrier-free and level with the bathroom floor as this allows disabled users to maneuver with ease. It's more pleasant for the rest of us too.
Shower walls that are angled or curved can also keep water inside and provide privacy even when there's no door.
With these open showers, the water is deliberately oriented to avoid spraying any of the surrounding area.
And what if space doesn't allow for a big shower stall? What about another hot trend? Turn the entire bathroom into a "wet room," where the shower and bathroom share one big, open space. Be sure your remodeler uses Schluter System products to ensure a waterproof space.
6. What's in the shower: Cool tile, seats, shelves, and niches.
You can create a spa-like effect in your new shower by using wood, stone, tile, or glass. Be artistic and try some exterior stone, or unusual tiles to create a distinctive feature. It doesn't take much to make a great statement.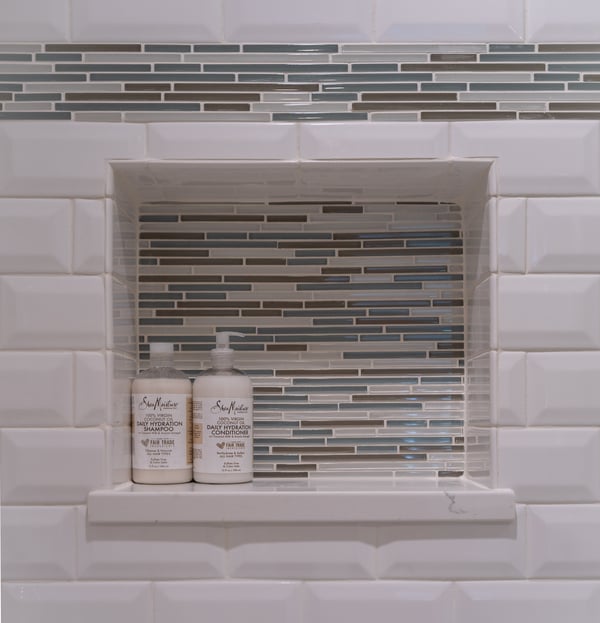 There are ample opportunities for storage, and to easily organize your stuff; from corner well shelves to multiple wall niches for soap and shampoo. We often put one lower and one higher or include one tall one with multiple shelves.
Most showers include a bench or corner seat, but will you use it to sit on, or just to rest your foot on when you shave your legs.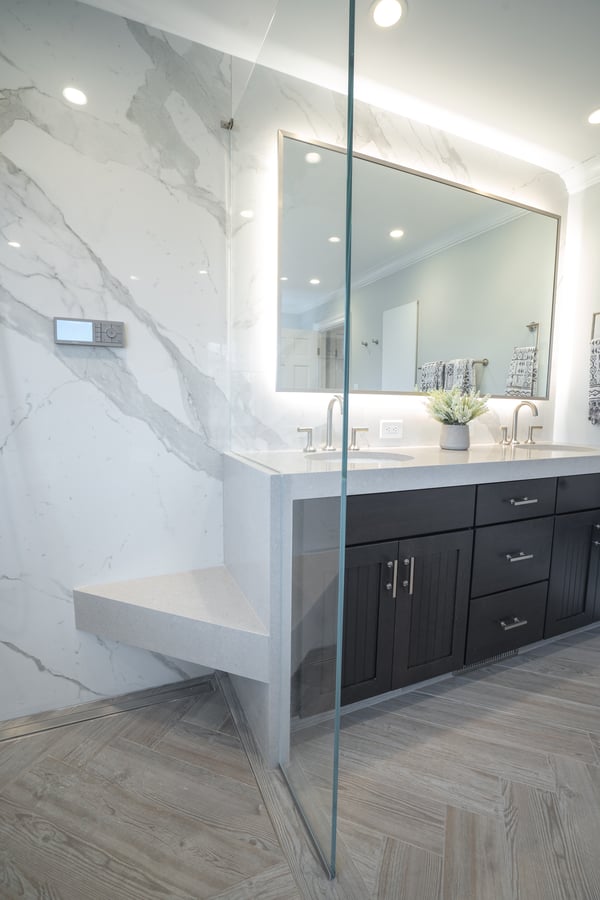 For smaller showers, a fold-down seat gives you the option for having a seat when you need one, and keeps it out of the way when you don't; this makes everyone happy.
7. Less maintenance
Cleaning a bathtub, especially one that's hardly ever used, is a disagreeable task. By removing the tub entirely, you will be freed from needless scrubbing.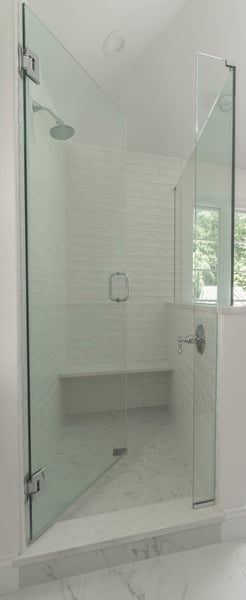 Secondly, when you replace your bathtub with a shower, not only will your family enjoy an easier, safer bathing experience, but you'll potentially have less repairs to worry about. Boys in particular are not that great about ensuring the shower curtain in the tub is in exactly the right place. This often results in water coming through the ceiling below. You'll eliminate this issue with a proper shower stall.
Plus a shower is a great for hosing off Bowser, or even muddy kids, and allows for quick cleanup.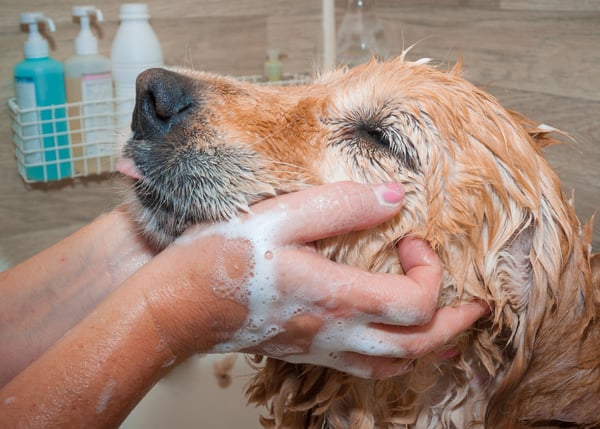 Two Possible Counterpoints: You Love to Soak and The Resale Factor
There are those of us who treasure nothing more than a good bubble soak with a book. Even for us, nothing beats a quick, invigorating shower before work or a soak in the steam shower after a long run.
Conventional thinking for resale has been that every home must have one bathroom with a shower and one with a tub. Many parents of young children still engage in the nightly ritual of bath time, although there is movement towards the grand shower as the location for this care. So tub or not is your choice and no longer a mandate for resale!
Many of our clients are opting for larger more luxurious showers and eliminating the tubs in all their bathrooms as they remodel and upgrade their homes, (most are taking them out in hall baths). So as the hall bath shower only becomes the norm, the real question owners must ask is whether to have any tubs at all, or whether to have a free standing tub in the master bath for soaking and rubber ducky bath time!